I knew little about Andrew Jackson, our seventh President, when I entered the Jacobs Theatre on Broadway at an Actors' Fund Benefit performance this past week.  When I left, I knew quite a lot, but it certainly wasn't presented to me in the ways of the old schoolhouse I knew as a kid taking my grade school history course.   No, Alex Timbers and Michael Friedman have taken into their minds a kind of Li'l Abner musical using Andy Jackson as the Tennessee hillbilly whose sad beginnings included the loss of his mother and father when he was 13. He ran off and became what would later be known as a "self made man", rising all the way through odd jobs, then  law school,  before becoming a Major General in the War of 1812 and a two-term president from 1829-1837.
The authors have chosen to tell us Jackson's story in a wham bam thank you ma'am rock 'n roll manner, and though it packed 'em in at the Public Theatre for a time, the Broadway crowd hasn't tuned in, and the musical will close on January 2nd as a flop.  I think the biggest mistake here was the one that moved it from its successful berth at the Public Theatre, adding  colored lights, lots of scenery and props (a dead horse was hanging upside down right above my seat!), a small orchestra with a lot of help from the sound designer. None of the musical material is memorable, the humor is mostly potty-mouthed and precocious.  The only thing interesting going on up there is the technical proficiency of the staging by Mr. Timbers, and the performance of Benjamin Walker in the title role. Walker is a giant macho man, very right for Li'l Abner as mentioned above. His take on Jackson is to make him goofy, ready to go right from the 1830s White House into Grease as  Danny Zuko, but unlike Danny and Abner, his Andrew Jackson is dangerous and demi-godlike. He'd have to be ruthless to betray the Cree Indians as he did, making them promises he didn't keep, sending them and other tribes west into wilderness, conning them into giving up their homelands in the middle and eastern sections of the nation.
Into this stew, not unlike the recipe used by John Guare in the mess he called A Free Man of Color, we are introduced to a saucy Kristine Nielson as The Storyteller. Ten minutes into the 90 minute one-acter, Ms. Nielson pushes herself on in a wheelchair, and proceeds to grin at us for what seemed like five minutes, as though to say "I know. I don't know what I'm doing here either."  She would seem to be from our own time, and she comments every now and then on what's going on in Andy's  life  as he co-habits with a woman who is someone else's wife, as he defeats the Cree Indians in 1814, and takes New Orleans from the British in 1815. Somewhere in there he invents the Democratic Party and calls himself "The People's President", shouting a lot about taking our country back to its original values, listening to constituents offering to throw him "a tea party".
It all seems very Harvard Lampoonish and though the whole piece had energy, a devoted company each of whom was willing to get silly for a while, fun production effects and most comforting, a merciful short 90 minutes to cover the thirty years or so with which its story dealt, it didn't add up to much. No characters to root for, no dramatic material to engage us.                             .
It could have kept a small group of rockers happy down in the Village where it began life, but no, fifteen  bigtime producers  including several who should have known better, wanted the bright lights of Broadway.  Bad decision.  This little show with a large central character was easy to take, but I kept thinking, "I don't have any kid of my own  in this high school or college romp of a show, so why am I here?"  If you missed it, you didn't miss much.
Bloody Bloody Andrew Jackson continues thru Jan 2, 2011 at the Bernard B. Jacobs Theatre, 242 W. 45th St, NYC.
Buy tickets.
———–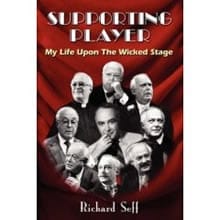 Performer, agent, writer: among his many accomplishments, Richard Seff has written the book for Shine! The Horatio Alger Musical!, which debuted at the 2010 New York Musical Theatre Festival.
He is also author of Supporting Player: My Life Upon the Wicked Stage celebrating his lifetime on stage and behind the scenes, available through online booksellers, including Amazon.com.
Richard Seff chats with Joel Markowitz: