If you're looking for a recipe for a successful revival of Oscar Wilde's 1895 masterpiece, a major ingredient has to be Brian Bedford.  This British born Canadian resident is among the world's greatest actors of classical material, tragic and comical.  In comedy, he has no peer. The career path he's chosen since 1959 when he  arrived  from Britain in Peter Shaffer's Five  Finger Exercise became clear early on when he later moved to Canada, and became a member of the company at Stratford Ontario Shakespeare Festival for 27 years.
He's taken his great hits all over the globe, to the Kennedy Center and Chicago Shakespeare Theatre to the Mark Taper in Los Angeles, the Old Globe in San Diego and pretty much anywhere else his fancy took him. He's won a Tony for his performance on Broadway in Molière's The School For Wives. Ever Yours, Oscar, his one-man show on Oscar Wilde, has taken him around  the world.
But these are just facts, a list of credits, and don't begin to describe what's actually going on onstage at the American Airlines Theatre in Roundabout's production of Earnest.
To make certain that nothing went wrong, Bedford himself took on the directorial reins, very often a bad idea. But he seems to know the play and Lady Bracknell, his current character, so well that in this instance it would have been damaging to have anyone's viewpoint up there other than his own. As director, I am assuming he cast the play as well, and it is so all of a piece it is pure joy.
The inventive and insane plot involves Algernon and John, both of whom use  the name Earnest when romping around the countryside chasing girls. In drawing room comedies such as this, no one ever seems to need to earn a living, so it leaves lots of time for having tea, pruning buds in a garden, giving orders to discreet butlers and maids, and handling Lady Bracknell. She, a formidable presence, is aunt to one of the gents, and mother of his girl friend to the other.
I'm not going to tell you what happens because I'm not certain I know – I had discussion with those around me in the intermission unraveling plot points that seemed to mean different things to each of us. But no matter, what is important is the style with which the story is played out. Right on down to the two butlers and one maid, they've all got the knack and as a result Wilde's wit comes bouncing over the footlights with abandon. And yes, there are actual footlights in the set (lighting designs of Desmond Heeley and Duane Schuler).  There's an olio, pre-curtain music, and all three sets got a hand on the curtain's rise. We were back in the glory days of theatre when shows like this could afford casts of ten, three sets and a small orchestra creating a mood before and between acts. I don't know how the Roundabout financed it, but it's a beauty.
But back to Bedford and his Lady Bracknell.  I've seen my share of stars in the role. In the 1940s, Margaret Rutherford played her onstage, in 1977 it was Elizabeth Wilson. On screen, we've had Judi Dench and Edith Evans among others. They were all fun and up to the job. But Mr. Bedford tops them; I don't know how he does it, but from the moment he is announced by the butler, he takes the stage and holds it firmly till he's said his say.
He's sly, this Bedford – no histrionics on display, though he's miles away from the Strasberg Studio method, and thanks for that.  He knows how to remain deadly still to allow a laugh to build to a crescendo, then retreat like a proper wave.  Lady Bracknell is a complete fake, full of hypocrisy, prejudice, guile.  Her standards are impossibly high and totally pretentious but she's not aware of it. She's that rare breed that is rich enough to believe their way is the only way – but she's got power, she knows it, and she knows how to wield it. At the proper time, on learning that she's about to have a very wealthy daughter-in-law, she throws all her principles out the window and turns into Charley's Aunt, with her daughter and her future daughter-in-law all cuddly on the couch with her. You don't get much funnier than a gargoyle acting coy.  The laughs are loud and long.
So if you're in the mood for a 2 ½ hour vacation from the 21st Century, book seats  at the American Airlines Theatre for a session of merriment and mirth, served on a sterling silver platter.
Roundabout Theatre's production of The Importance of Being Earnest continues thru March 6, 2011 at the American Airlines Theatre, 227 W. 42nd St. (7th & 8th Aves), NYC.
Buy tickets.
———–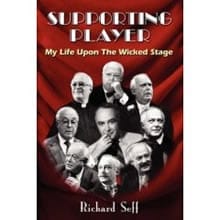 Performer, agent, writer: among his many accomplishments, Richard Seff has written the book for Shine! The Horatio Alger Musical!, which debuted at the 2010 New York Musical Theatre Festival.
He is also author of Supporting Player: My Life Upon the Wicked Stage celebrating his lifetime on stage and behind the scenes, available through online booksellers, including Amazon.com.
Richard Seff chats with Joel Markowitz: