A perfect cast in a fine play under the direction of a seasoned professional and usually all will be well. Actually it's better than "well"  at the Samuel J.Friedman Theatre where the Manhattan Theatre Club is offering us an engrossing new family dramedy called Good People.
It's the sort of play ideally suited to the MTC under the management of Lynne Meadow and Barry Grove. Just as the Group Theatre, the Theatre Guild , George Abbott , the Playwrights Company Productions, Kermit Bloomgarden  in the 20th Century had,  with rare exception, recognizable genres, consistent agendas, so the MTC has come to mean solid contemporary theatre by a family of excellent 21st Century playwrights.
David Lindsay-Abaire is certainly one of those and he returns to MTC with this followup to his Pulitzer Prize winning Rabbit Hole. Remarkable, in that he's written the book and lyrics to Shrek the Musical in between and was awarded the Ken Kliban Award as most promising lyricist for that production. His previous plays, among them Kimberly Akimbo and Fuddy Mears were off-the-wall funny comedies, so clearly Mr. Lindsay-Abaire refuses  to be categorized. He's just a good writer, and whatever his latest work, we can count on it being original and well crafted.
Daniel Sullivan, the director, has an equally varied background, guiding all sorts of stage material home. Shakespeare, Donald Margulies, Wendy Wasserstein,  Craig Lucas, Herb Gardner, Harold Pinter, Eugene O'Neill  and other playwrights have all supplied him with material which he has staged with great success. His work on Good People is magical, for he has totally captured the milieu of the 'Southies', those  blue collar residents of a poorer section of Boston.
The brilliant Frances McDormand heads the cast of six, playing an ordinary woman who is living hand to mouth, forced to seek help from an old boy friend from her neighborhood who has moved up in the world. She has two lady friends, pals with whom she plays Bingo on her nights on the town, and the author, the director, and the actresses who play them, Estelle Parsons and Becky Ann Baker bring them to vivid and hilarious/touching life.
Each character is deliciously complicated. Even Ms. Dormand's "Margaret", a heroine with character flaws, is human and appealing, though she's capable of nasty shenanigans when required for survival. To watch her sparring with her ex, now a happily married Doctor with all the trimmings that come with a successful career, is a joy and a half. When she shows up at a party to which he'd invited her, then uninvited her by leaving a message saying it had been cancelled, she's capable of chicanery born of the difficult life she's been forced to live. The lovely thing about all Mr. Abaire's characters is their humanity, the basic 'goodness' inherent in each, that makes them recognizable and appealing despite their weaknesses.
Consistent with Dan Sullivan's overall vision apparent in his work, he's put together a design team second to none. You can smell the oilcloth and linoleum in John Lee Beatty's living room and bingo parlor as well as in the conventionally spiffed up Doctor's office and home.
In the performances of the actors mentioned above as well as Renee Elise Goldsberry who plays the Doctor's wife, Tate Donovan the Doctor, and Patrick Carroll, Margie's boss who is forced to fire her even though he's known her most of his life, you can feel ensemble work at its best – almost as though they were part of a company that's played together for years. Of course they are not such a company, but they've managed to put together a cohesive world that is very particular and totally believable.  It's a group of people I don't know; I suspect most of the MTC audience doesn't know it either. However, two hours in their company and I understood, believed in, and trusted each of them to be complete human beings acting to perfection their role in this very  human comedy.
My recommendation:  C'mon up and see it!
Manhattan Theatre Club's production of Good People is scheduled to run thru May 8, 2011 at the Samuel J. Friedman Theatre, 261 West 47th St, NYC.
Buy tickets.
———–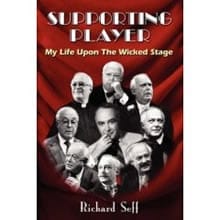 Broadway performer, agent, writer, and now librettist, among his many accomplishments, Richard Seff has written the book for Shine! The Horatio Alger Musical!, which debuted at the 2010 New York Musical Theatre Festival.
He is also author of Supporting Player: My Life Upon the Wicked Stagecelebrating his lifetime on stage and behind the scenes, available through online booksellers, including Amazon.com.
Richard Seff chats with Joel Markowitz: