It's interesting and informative (and fun) to revisit some of the classical musicals. A new director, new stars, even a new scenic design can alter our memory of it, or allow us to share it with a friend who wasn't around when it was last in the vicinity.
I've seen La Cage aux Folles, the Jerry Herman-Harvey Fierstein adaptation of the French film, in all its incarnations; in 1983 with George Hearn and Gene Barry, in 2004 with Robert Goulet and Gary Beach and again in 2010 with Kelsey Grammer and Douglas Hodge.
I've enjoyed them all, because it has a well constructed book, it tells a fun story which even includes a tender moment or two, it has a glorious score, one that earned Jerry Herman a Tony Award, in a season when Stephen Sondheim was up for one too. Herman's acceptance speech was over the top, so thrilled was he to have been prized for bringing showtune melodies and mirth as opposed to intellect and semi-classical music back to Broadway. He may have over-reacted but it was understandable and somewhat endearing, for he'd pretty much been written off by the press after a series of failures following his triumphs with Mame and Hello, Dolly!.
When Terry Johnson first mounted this production at the Menier Chocolate Factory in London, it triumphed in the tiny little black box from which so much magic has emanated. Its physical production was cut to the bone, and La Cage became a sort of seedy Coney Island-on-the- Riviera version of the club that titles the show. George and Albin's apartment "over the store" was very middle class, not grand at all. There were fewer "Cagelles" (chorus) as well, and the new few were more bouncy than balletic, more of the milieu than of the Ritz. Here was a musical that actually benefited from its deglamourization, as it made the story more accessible. The size of the theatre forced its audiences right into the laps of the performers and that seemed to work too.
Now at the Longacre, one of the smallest Broadway houses to accommodate musicals, it is comfortable and cozy, and it's been a success these past eleven months. The departure of Kelsey Grammer (who was the box office draw) and Douglas Hodge (who was brilliant and original in the role of Albin, but not a draw) required replacements of some stature. Harvey Fierstein, who wrote the book to the show, stepped in as Albin, and after a few missteps in the role of George, Christopher Sieber arrived just a week or two ago. It was these two I saw at a matinee last week, and all I can say is – chemistry is back onstage, as these two marvelous actors spread love all over the place.
From his opening moment, Sieber assures us he is the perfect MC for his little show at La Cage. He's attractive, bright, broad when he should be and marvelously nuanced when he's flirting with a gent in the first row. He gets things off to a flying start. When the delicious tub of butter that is Harvey Fierstein pops up a scene later, the crowd goes wild, for he's cooking on all burners. He's in a dressing gown, he's got curlers in his wig, he's bereft of makeup, he's a gorgon on the march. By the time he gets around to putting on his face and costume with the spicy song "A Little More Mascara", he's ready to announce "ZaZa is Here!" and boy are we glad to welcome her.
A.J. Shively and Elena Shaddow are still present as son Jean-Michel and his girl Anne, and Shively still does a lilting job on "With Anne on My Arm" and the reprise of "Look Over There", two gorgeous Herman ballads that helped win him his Tony. The rest of the cast is game, here and there a little bitten by the long-run bug, but no matter. The core is in the best possible hands, and a far-from capacity house went wild for it. It was refreshing to note that audiences still appreciate the best of Broadway, and don't need to be paying $250 for the best seats at the trendiest of the hits.
I could not recommend this La Cage more highly. Surprisingly, since its central characters are a gay couple, I recommend it as the perfect family musical, for family is what it ultimately celebrates.
La Cage aux Folles is currently playing at the Longacre Theatre, 220 W. 48th St, NYC.
Buy tickets.
———–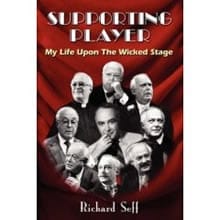 Broadway performer, agent, writer, and now librettist, among his many accomplishments, Richard Seff has written the book for Shine! The Horatio Alger Musical!, which debuted at the 2010 New York Musical Theatre Festival.
He is also author of Supporting Player: My Life Upon the Wicked Stagecelebrating his lifetime on stage and behind the scenes, available through online booksellers, including Amazon.com.
Richard Seff chats with Joel Markowitz: