Lynn Nottage's Ruined won the Pulitzer Prize and a slew of other honors a couple of seasons ago [and just opened at Arena Stage]. Her Intimate Apparel was also acclaimed in its Roundabout production. But her bio is filled with other awards for other plays. She is prolific, she is gifted, and she seems to have no limits to her range. In this, her first play since Ruined, By the Way, Meet Vera Stark reveals a comic agility, and its current smashing production courtesy of Second Stage Theatre brings its own set of distinctive rewards.
This time Ms. Nottage takes us on a ride through the Hollywood of 1933, 1973 and 2003 to introduce us to Vera Stark, a black actress whose career began when she was young and playing whatever the studios offered, which in most cases was "The Maid". Stark was not of the Hattie McDaniels-Louise Beavers "Mammy" image; she was more like Theresa Harris, who played maid to major stars like Barbara Stanwyck (in Baby Face), Greer Garson (in Blossoms in the Dust), Bette Davis (in Jezebel).  Stark, like Ms. Harris, is attractive, slim, intelligent, a fine actress who is stuck in the early film niche of stereotype casting. The "By the way" that precedes her name in the title clearly states that in the history of  movies, she was strictly an "also".
I don't think any playwright has ever poked into this particular corner of our history. The play begins as Vera Stark and  Gloria Mitchell rehearse a scene from a screen test Mitchell is about to take for the leading role in a major studio epic (think Gone with the Wind).  Stark actually is Mitchell's maid and friend, but she aspires to act and is perfectly capable of feeding lines to her boss lady. Things develop, circumstances cause them to develop entertainingly and Ms. Nottage manages to write with wit, humor and insight, often all three at the same time.
Sanaa Lathan plays Vera with all the charm, sass and intelligence required to bring the lady to vivid life. Her vis-à-vis is played by Stephanie J. Block with the right amount of synthetic honesty required of actresses in the early days of film, when image was everything, and the more durable the image the longer the career. The best of these were more personalities than actresses,
And the public wanted them to remain true to their images, only rarely allowing them to step out of their boxes. When Betty Grable attempted film noir (I Wake Up Screaming), when Bette Davis attempted broad comedy (The Bride Came C.O.D), when Clark Gable trimmed his moustache and played a foreigner (Parnell), the public said "No!" and stayed away.  Now and then, they'd let a James Cagney sing and dance, give Greer Garson a chance to show her legs (Julia Misbehaves), allow Garbo one shot at comedy (Ninotchka) but not two (Two Faced Woman).
And so, according to the gospel of Lynn Nottage, it went with her "Vera Stark". It had  to be maids, and the ways in which her leading lady deals with this forms the spine of her beautifully wrought  complex comedy. A fine cast of five supporting players transforms itself into ten disparate characters who weave in and out of this tale of a little-known side of  a life in the performing arts world of the U.S.A. Next for Ms. Nottage? Perhaps the book and lyrics to a musical comedy, for her talents seem to have no bounds.
By the Way, Meet Vera Stark is now playing at the 2econd Stage Theatre, 305 West 43rd St, NYC.
Buy tickets.
On creating the play and film for By the Way, Meet Vera Stark

——-
A Minister's Wife
Moving on to a very different type of theatre, the musical adaptation of a famous play by a famous author. Austin Pendleton has taken Bernard Shaw's Candida as his source, teamed up with Joshua Schmidt and Jan Levy Tranen to supply a score, and Lincoln Center Theatre is presenting it in its small Mitzi E. Newhouse underground theatre-in-the-semi-round. To be blunt about it, despite its impeccable pedigree, it doesn't work.
In the first place, it never needs to sing. Shaw gave us a triangle – the Reverend Morell, a teetotalling socialist whose Sunday sermons are filled with fire and brimstone, a young poet, rescued from the streets by Morell who has been in residence with Morell and his wife Candida, with whom he has fallen madly in love. So there we have it – a triangle.
The play has served many a star actress since its debut in 1898 as a sort of response to Ibsen's A Doll's House but it has dated far more than that early Women's Lib master work. This adaptation sticks closely to Shaw's play, so it brings no new insights or back stories to it. Unlike My Fair Lady, based on another of Shaw's happy plays, here we don't have glorious musical moments with the heroine's father (in this case, a similar character, Candida's father "Burgess" has been removed entirely), we have no love songs about the street where she lives. No, composer Schmidt, who wrote an ingenious mood piece called The Adding Machine, has once again decided not to write "songs" but to merely underscore the recitatives that were originally book material. His music adds nothing to the emotional wallop that can come when three worthy adversaries have at each other in a fully defined dramatic piece.
There is no 'opening up' here. The musical remains moribund in the atmospheric office of the Reverend Morell into which his secretary and his curate appear from time to time, to which Candida returns from her brief holiday, in which the 18 year old Marchbanks sits around criticizing the man who saved him from freezing on the streets of London.
The evening is saved by the 5 performances, all of which are filled with nuance and authority. Kate Fry, a holdover from a Chicago tryout of the show, is lovely to look at, has a charming voice, and is a believable object for the love of two very different men – her husband and her would-be lover.  Marc Kudisch is once again a stalwart leading man, lending good looks, a fine baritone and great presence to Morell. Bobby Steggert, THE juvenile musical actor of the moment (he was so very good in Yank!, The Grand Manner, Ragtime among others) brings energy and eloquence to Marchbanks, though it's inconceivable that Candida, aged 30, would even consider leaving her husband for this adolescent who has a lot of growing up to do. Drew Gehling and Liz Bates (another holdover from the Chicago tryout) complete the quintet of  five fine actors.
But the consuming question at the end of the evening remains "Why a musical?"  Through the years, audiences have had an opportunity to enjoy a star tackling Candida – it began with Dorothy Donnelly in the original run and subsequent revivals, on to Katherine Cornell who played it at least three times (once with Marlon Brando as Marchbanks!) to Olivia de Havilland to Joanne Woodward to Mary Steenburgen. And there will be others. But I don't expect it will attract a similar number of singing actresses to the Schmidt-Tranan-Pendleton current offering. It's respectable, it's well-intentioned, it's by two gifted artists (this is Ms. Tranan's New York debut and may not be indicative of her potential), but I can't honestly urge you to rush to the Mitzi E. Newhouse.
A Minister's Wife is now playing at the Lincoln Center, Mitzi E. Newhouse Theatre, 150 W. 65th St, NYC.
Buy tickets.
———–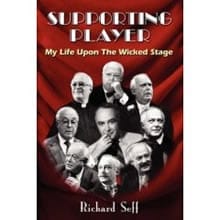 Broadway performer, agent, writer, and now librettist, among his many accomplishments, Richard Seff has written the book for Shine! The Horatio Alger Musical!, which debuted at the 2010 New York Musical Theatre Festival.
He is also author of Supporting Player: My Life Upon the Wicked Stagecelebrating his lifetime on stage and behind the scenes, available through online booksellers, including Amazon.com.
Richard Seff chats with Joel Markowitz: