I've been thinking a lot lately about the transitional phase that the Broadway musical is currently enjoying, or suffering, depending on your personal viewpoint.
It's not always easy to realize you are in the midst of a turnaround or changeover; often it's not until years later that you look back and realize, "Oh, I see. Operetta was ending as the mid-1920s arrived, musical comedy was coming in" or "Funny, but with the birth of Oklahoma! we dropped the incidental light hearted book from musicals, and replaced them with character driven stories of substance, and scores that truly developed character and story."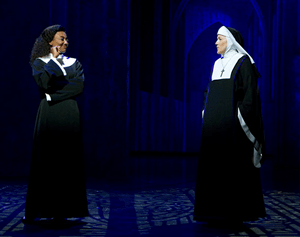 When Hair brought the new rock 'n roll to Broadway, we thought, "oops, another cycle is gone with the wind." It didn't quite work that way, not at first.  It took another 30 years for the Rodgers and Hammerstein model to become unfashionable, but now that rock has become the norm, jukebox musicals the second choice, we seem to be entering a third and fourth region in musical theatre history.
Broadway has somehow ceased to be a playground for the so-called New York theatre crowd. As its devotees continue to age, less and less material is being written and presented for their pleasure. Because the older crowd still has the bucks to pay $125 a ticket, revivals are having a field day, to the delight of the older folks, and to the heirs of the estates of the musical masters of the golden age. Presented with Broadway precision and big budgets, the likes of Kiss Me Kate, Wonderful Town, Sweet Charity, How to Succeed in Business Without Really Trying, Promises, Promises, Anything Goes, La Cage Aux Folles, even the crossover Hair have kept the "carriage trade" from leaving the fold entirely.
When it comes to "new musicals", the standards have simply lowered, and beautifully mounted, well cast, dazzlingly staged properties have begun to proliferate and come to be the norm, written often by pop writers who don't even bother to attend casting sessions or rehearsals, writers who send in their re-writes by email from their homes in California or their private jets that are carting them around the world on their concert tours.
Perfect examples of these New Musicals are the recent Priscilla (Queen of the Desert), Wonderland, Women on the Verge of a Nervous Breakdown, Mama Mia!, Catch Me If You Can. Most of these have had, or are having decent or extended runs, they keep the theatres filled. The difference is there is now a distinct majority of tourists in those seats, and the material seems more and more directed towards these perfectly lovely people who come to New York, not to see 'theatre', but to have a fun evening at a nice, safe, familiar story that lets them relax (I've seen people with their shoes off, their cell phones on, dressed in shorts and sneakers.) I'm not judging, I promise I'm not, but I am commenting on the change in audience and the change in the material they prefer, and which they are being offered more and more.
Once in a while a Billy Elliot, In The Heights, The Book of Mormon shows up, and the "carriage trade" welcomes them, as does the "tourist trade" – and excitement returns to the great white way.
But the limited interest in theatre generally has made it difficult for any straight play of merit or wonderfully original but dark musicals to make it, to have a long run and make a profit. I doubt that Death of a Salesman, The Little Foxes, A Delicate Balance, Watch on the Rhine, The Dark at the Top of the Stairs – all dramas, all money makers in their day – would have a prayer in this climate.
Which brings me to the recent musical offering, the newly arrived Sister Act, based on the popular movie of that name that starred Whoopi Goldberg. With a score by the gifted Alan Menken, lyrics by the still promising Glenn Slater (nice job on The Little Mermaid, not so hot on Love Never Dies) and a touch up to Cheri Steinkellner and Bill Steinkellner's book by Broadway vet Douglas Carter Beane, Sister Act, with a shiny polish by director Jerry Zaks, is exactly the sort of musical that should please the folks and keep the Broadway Theatre filled for months to come. It's a fun show, it tells a familiar story very craftily (lady hiding from gangsters lands in the last place in the world they'd expect her to be; a convent!), and its score is more than serviceable – now and then it's fresh and funny and tuneful, and who could ask for more?
A "classic" it's not, but aided by lovely performances from its leading ladies Patina Miller and Victoria Clark (how good to have her back in a leading role after her beautiful work in The Light in the Piazza), and a top notch cast, it fills the bill very handily. Musicals like Sister Act also flourished in the past – happy and light hearted, not particularly distinguished in the writing, shows like Plain and Fancy, Early to Bed, Follow the Girls, Flower Drum Song, Destry,– and so many more – none of them likely to be revived, but all of them satisfactory to audiences looking for a night on the town with no care about catching a Master Work.
Sister Act is likable, it's got 18 numbers, all of which are stage worthy, it's got a gaggle of singing nuns who are clearly having the time of their lives and their enjoyment is contagious. Mr. Beane's come up with some funny one-liners and he's got the actors to deliver them home. It's no longer genius time on the Street of Dreams, it's more like sitcom time with tunes, but if that's where Sister Act fits in, it's one of the better sitcoms and as such I'm sure you'll have a good time if you pay it a visit.
———–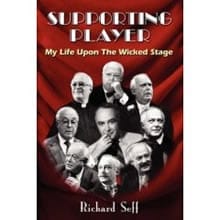 Broadway performer, agent, writer, and now librettist, among his many accomplishments, Richard Seff has written the book for Shine! The Horatio Alger Musical!, which debuted at the 2010 New York Musical Theatre Festival.
He is also author of Supporting Player: My Life Upon the Wicked Stagecelebrating his lifetime on stage and behind the scenes, available through online booksellers, including Amazon.com.
Richard Seff chats with Joel Markowitz: