It's always with fear and trepidation that I approach a revival of a classic Broadway hit of the 1940s or 1950s because some of them were head and shoulders above the crowd in their own time, and some were blessed with star turns that became iconic.
For those of us who were around then, the images of those star turns are as fresh as a week ago Thursday. So it was with Garson Kanin's 1946 smash Born Yesterday. In addition to launching a fine career for Gary Merrill and Paul Douglas, it sent into orbit the young Judy Holliday, the first "Billie Dawn" (after film star Jean Arthur abandoned the role in Boston during the play's tryout) gave her ownership for as long as any living creature who'd seen her could remember. For those who missed her magic onstage, there she was again on the big screen five years later with a performance that won her an Oscar. So the play has had only one revival on Broadway prior to this one — in 1989 when it eked out a run of 153 performances. The very talented Madeline Kahn played Billie, and was ok. But Ms. Holliday still owned the role.
Now here we are in 2011, and Billie Dawn is back on Broadway, probably because a lady named Nina Arianda appeared last season Off Broadway in David Ives' Venus in Fur in which she created such a stir that eight producers decided to find the right role with which to give her a Broadway debut – and it's to all our benefit that they did.
Ms. Arianda inhabits the role, and brings to it her own distinctive body, voice and general deportment so we can savor the joy in the girl all over again. I'm sure Ms. Holliday, who would have been ninety this year, would have been happy to know that the most famous character she breathed life into is in the hands of a worthy successor. Arianda's Billie is tougher than Holliday's – she's feistier, cruder, less vulnerable and her features are perhaps not quite as photogenic as Holliday's – but she has sunk her teeth into the character and come up with a wonderful new Billie Dawn. She even dares to play the second act curtain differently than her predecessor. I won't tell you how, but it's a great second act curtain (the play is in three acts, as was the fashion in 1946) and she hits the bull's eye with her interpretation of its famous curtain line. When you're watching a famous role re-created (Hamlet, Mme. Rose, Billie Dawn) it's always fun to see what new generations bring to it.
Director Doug Hughes, who's been batting almost a thousand with a dozen plays he's brought us just since 2007, is in control once again, and wisely cast Robert Sean Leonard in the role that Gary Merrill played in the original Broadway production, and William Holden played in the film. Leonard is known from years on the tv series "House", but his stage credentials are impressive, and he brings honesty and very laid back charm to "Paul Verall", the news guy who is hired to "smarten up" Billie so she can "fit in" with the power people of Washington. She's been with Harry Brock, the crude self-made millionaire who owns he-doesn't-even-know-how-many junkyards, and they've come to D.C. to bribe his way into favoritism in the senate by meeting with one Senator Hedges who's not above accommodating him.
True love finds its way in this very well crafted comedy which may seem naïve to today's audiences, but there is enough truth in the basic shenanigans that sadly go on today that most audiences, especially baby boomers and older, can enjoy this tip top Broadway revival.
James Belushi hasn't quite tapped into all sides of Harry Brock's character. Mostly he bellows and bullies and throws his weight around. There isn't a lot of range in the writing of this little monster, but Paul Douglas and Broderick Crawford, who played him originally on stage and in the film, somehow made the romance between Harry and Billie a tad more logical. Re: the chemistry between Billie and Paul Verall, well – let's just say "opposites do on occasion attract" and these two have got to be as opposite as any two people can be.
In support, Terry Beaver does a fine job as the spineless senator, and he manages to give him a conscience to round him out. Michael McGrath, always welcome on any stage, brings a comic sense and great stage presence to the small role of Eddie Brock, Harry's hapless cousin and assistant monster. Patricia Hodges, always reliable, brings brio and a strong dose of musical comedy broadness to the sappy happy senator's wife. She can get a laugh with a look, a giggle, a twitch. Even Jennifer Regan, in the staple role of "the maid" (almost every comedy of the '40s had a funny maid in it) lands with the zingers supplied by playwright Garson Kanin, whose career was given a big boost when this early play of his opened. He was 34 at the time, and he went on writing and directing for the rest of his long life, much of it co-writing screenplays with his brilliant wife Ruth Gordon.
If you don't know Born Yesterday, this production is a fine way to get acquainted. If you are familiar with the original stage and/or film versions, it should be fun to revisit it, to admire one of the best of the "well made" comedies of another era.
Born Yesterday runs thru July 31, 2011 at the Cort Theatre, 138 W. 48th Street, NYC.
Buy tickets.
———–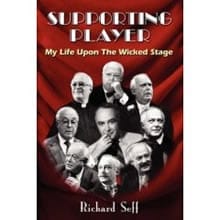 Broadway performer, agent, writer, and now librettist, among his many accomplishments, Richard Seff has written the book for Shine! The Horatio Alger Musical!, which debuted at the 2010 New York Musical Theatre Festival.
He is also author of Supporting Player: My Life Upon the Wicked Stagecelebrating his lifetime on stage and behind the scenes, available through online booksellers, including Amazon.com.
Richard Seff chats with Joel Markowitz: