I have no argument with the general consensus among the critics I've read about Jerusalem, the well intended and occasionally powerful play by Jez Butterworth, which has crossed the Atlantic after a very successful run in London's West End. I have no argument, but I cannot agree. I've now read five reviews from respected colleagues, including Ben Brantley of the NY Times, all of which are very high on the play itself. I'll tell you why I am not.
Ian Rickson, the play's director, informs us in a note in the Playbill, that the hymn "Jerusalem" is held very dear by the English people. Its poet, William Blake, wrote the poem in 1804, inspired by an apocryphal story that Jesus, in his so-called "wandering years" actually traveled to the West country in England and did "those feet in ancient times walk upon England's mountain green."
Jerusalem itself functions as a metaphor for a heaven on earth, where people live in peace in connection with the land. When the poem was set to music in 1916 by Hubert Parry, it became something of a national treasure, and each year it is sung at the end of the Labour Party Conference. It is said that "it transcends ownership because its sentiment is so optimistic, yearning and human."
That's all well and good, and it may mean a great deal to the British, but none of that business about folks living in peace in connection with the land seems evident to me in Mr. Butterworth's play.
It's centered around a very bizarre booze hound and drug addict named John "Rooster" Byron who has been living rent-free in a battered Quonset hut-type trailer in the middle of a forest just outside the town of Flintock in Wiltshire, England. It's 2011 now and he's been camped there for some 26 years, and has attracted a group of camp followers, mostly young slackers who want to join him in railing against the town folks and anyone else who opts for making a living by working for it. A raffish lot, it's difficult to work up much empathy for them.
Byron's ex-wife comes to see him, with their 10 year old son in tow, on her way to a county fair which is playing just offstage. There is also a young woman, a lost soul who opens the play by singing a bit of the hymn to us (I'm not certain; her voice was frail, and as sung by Aimée-Ffion Edwards not a word was decipherable.) Ms. Edwards has been with the play since it first opened in England in 2009, and her energy level was so low that one can only conclude she's bored to death by now, and she managed to get us off to a very shaky start.
The gathering of the flock and the introduction of "Rooster" himself injected some life into the play for a half hour or so. Certainly the appearance of the central character as played by the brilliant Mark Rylance suggested we'd finally take off on a magic carpet ride. This incredible actor, who lit up Boeing, Boeing and La Bête in this very season and the last one, spends the next two hours building to a climax worthy of a Lear, of an angry Larry Kramer in The Normal Heart, of a mad Norma Desmond as she marches wide-eyed into the camera for a close up in Sunset Boulevard.
To me, the play has not earned the size of this performance. To me, it's about a bunch of adolescent dreamers who throw garbage into the woods, wash infrequently, offer each other little except company as they desperately romp and frolic their way to certain death. When the police come to tell Byron that he must quit the forest, for the land is needed for a housing development, he pays no attention at all. He has no intention of leaving, and when he's sufficiently riled up his cohorts, he's got them raising fists in the air and threatening to go into town and burn the bloody place down, killing anyone who happens to get in their way. We're led to believe they'd never actually do that, because they've never had the courage or discipline to stick with much of anything. They'd rather goof off, booze it up, smoke anything that can be set afire, and blame the world for all their ills.
I found them a tiresome lot, and I suspect many in the audience did too. The intermission talk was listless.
But at the final curtain, after Mr. Rylance's literally rolling-on-the-floor hysterical five minute aria, they rose to their feet as one and brought him to tears with their cheers of approval. It may be me, but judging from the comments on the way out, I think they were trying to say "Come back to us, Mr. Rylance. We love you, but next time find a character for whom we can have some compassion, with whom we can share some empathy, in a play that relates to us on this side of the Atlantic."
I was reminded of the character of Jeeter Lester, the lead in Jack Kirkland's adaptation of Erskine Caldwell's novel "Tobacco Road." It held a Broadway stage for over eight years in the 1930s. Jeeter was a Georgia sharecropper during the depression who retained his faith in the land and in the tobacco crop on whose deliverance he and his family relied for a living. The play was populated with his family, all 'odd characters' and dealt, as does Jerusalem, with simple people wishing only to live a simple life on land they love because they think of it as theirs, as home. I do think that Lester's group connected with audiences because they strove for something, they showed courage and fortitude as well as humor.
I wouldn't have missed Mark Rylance's star turn for anything – but I feel like yelling 'The Emperor has no clothes on!" when it comes to the merits of his current vehicle. It might well win several Tony Awards (based on its excellent critical response) but I have to warn – if brilliant acting is less important to you than a richly satisfying evening with a good play, come at your own risk.
The Court Theatre's production of Jerusalem is at the Music Box Theatre, 239 45th St, NYC.
Buy tickets.
———–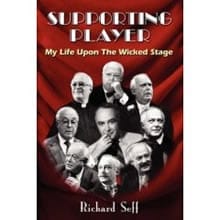 Broadway performer, agent, writer, and now librettist, among his many accomplishments, Richard Seff has written the book for Shine! The Horatio Alger Musical!, which debuted at the 2010 New York Musical Theatre Festival. He is also author of Supporting Player: My Life Upon the Wicked Stagecelebrating his lifetime on stage and behind the scenes, available through online booksellers, including Amazon.com.
Richard Seff chats with Joel Markowitz: