A perfect example of the well-made boulevard comedy of the early twentieth century has been resurrected by Jonathan Bank and his lovely company of players at the Mint Theatre on the third floor of an office building on West 43rd Street. Under the direction of Jackson Gay, a company of fourteen dedicated actors (playing fifteen roles) has breathed life into Rachel Crothers' hit (242 performances) of the 1918-1919 Broadway season, and once again let us in on what was pleasing audiences of that more innocent time.Crothers was one of the bright lights of the twenties and thirties on Broadway, delivering over 20 plays, most of them hits. She supplied Katherine Cornell and Tallulah Bankhead with their first important roles in Nice People in 1921, she wrote what was then heralded as "the first great American play" in A Man's World which followed a young woman's struggle to establish an artistic career while raising an adopted son, which at the time was a startling theme, particularly for a woman playwright. Her early play, The Three of Us, offered Ethel Barrymore a choice role as the sister of orphaned children who helps them move from rags to riches. Crothers took the European "problem play" and transformed it with a distinctly American idiom, infusing it with zippy dialogue and richly drawn characters.
In A Little Journey, she hands us a disparate group of travelers heading west, and places them in a Pullman sleeping car on a four day trip which is bound for the Pacific Coast in the spring of 1914. There is a war still going on 'over there' but her concerns are totally those of her passengers, and none seem involved with the big issues of the war. Why are they heading west, what are they leaving behind, what do they hope to find at journey's end? Central to her story are Julie Rutherford and Jim West, both lonely and lost, seemingly with little in common, but the four days of confinement on the train reveals to each something he/she didn't fully even realize he/she wanted. Julie finds real life after having been sheltered and bound by conventions and traditions – Jim, who has been bound by nothing, discovers his deep need for connection and commitment. Crothers, a born story teller, supplies enough plot, including a shocking second act surprise, to shake things up and deliver a rousingly good crowd pleaser.
I suppose playwrights are still trying to accomplish this – recent entries like Good People, Other Diesert Cities, Black Tie and others came through for us on this level. Except for language (there are now no boundaries here) so did Jerusalem and The Mother F…er With The Hat.
I'm sure the younger audiences would revolt at the craft of Crothers, for she spins her yarn in the then customary three acts with two intermissions, demanding two and a quarter hours of our time instead of the 90 minutes usually required nowadays. Today everyone seems to develop a rash if they can't get back to their iPhones and Twitters, but I still feel these older plays offer a full meal instead of the hamburger and fries of the less ambitious works. Of course we still have our Tony Kushners who like us to spend four hours with him in the grand tradition of Eugene O'Neill, but clearly they're in the minority. At the end of A Little Journey there's lots to discuss on the way home.
It's to Jonathan Bank's credit that he has the taste and the reputation to attract actors of the caliber of this entire company, for without the range of his players, some of these forgotten plays would remain just that – forgotten. But with Samantha Soule and McCaleb Burnett as Julie and Jim, with Laurie Birmingham as the snotty Mrs. Welch (a grand dame with a hidden heart), Rosemary Prinz as a still wise but slightly dotty old lady, Chet Siegel as her charming and spritely granddaughter, Joey Parsons and Victoria Mack as two highly limited debutantes and a host of others who bring rich detail to their neatly sketched characters, there's life in the old girls yet. There are a couple of about-faces for characters that don't bear close scrutiny but this long-lost gem is so endearing you just don't have the heart to probe too deeply.
On a limited budget the production is remarkably effective, with its expensive looking 1914 gowns designed by Martha Hally and its versatile set design by Roger Hanna which moves on demand so that all key scenes are played front and center even though they may be happening in one berth or parlor car suite. Sound design credit must go to Jane Shaw, for there is an infant in this cast who is able to cry or coo on demand, with proper amount of comic twist or tragic howl to the point where she becomes a very real 16th character in the play.
Keep 'em coming Mr. Bank – for those of us who love theatre it's nice to know there is indeed an after-life.
A Little Journey is scheduled to run thru July 10, 2011 at the Mint Theatre, 311 W. 43rd Street, NYC.
———–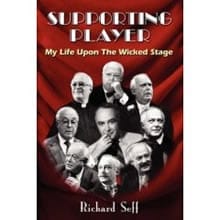 Broadway performer, agent, writer, and now librettist, among his many accomplishments, Richard Seff has written the book for Shine! The Horatio Alger Musical!, which debuted at the 2010 New York Musical Theatre Festival. He is also author of Supporting Player: My Life Upon the Wicked Stagecelebrating his lifetime on stage and behind the scenes, available through online booksellers, including Amazon.com.
Richard Seff chats with Joel Markowitz: