The Roundabout is offering Donna Murphy to its audiences for a run in a new musical with book and lyrics by Iris Rainer Dart, with music by Mike Stoller and Artie Butler.
Ms. Dart is a best selling author, and her novel "Beaches" supplied a great role for Bette Midler when it was filmed some years ago. She's written nine novels and many TV variety shows, sitcoms, miniseries and film series. She was the first woman writer on 'The Sonny and Cher Show". Mr. Stoller wrote so many hits as half of the Stoller and Lieber team, they supplied the material for a compilation called Smokey Joe's Café which had a very long run on Broadway. Artie Butler is a protégé of Mr. Stoller and on his own has contributed mightily to the Brill Building years of prominence in the field of American pop music.
Somehow, despite those impressive credits, these clearly talented writers have come up with a disappointing memory musical, in which Ms. Murphy plays "Bubbie", the matriarch of a Jewish family who survived the Warsaw Ghetto of World War II. She also plays herself as a young woman who starred in a revue with a ragamuffin troupe of vaudevillians who toured the shtetls in Poland in the years before Hitler moved in and banned all that. Her job in this musical is to teach her granddaughter Jenny how to 'remember who you are" (the title of a big song in the first act.)
A huge picture frame zooms up from the orchestra pit (though the orchestra isn't in it; the players are split in two, sitting in the side boxes facing the proscenium) and leans precariously up high into the flies. During the course of the evening, other picture frames figure prominently, some of them broken, some askew, to remind us that we are looking back, remembering those who have gone, leaving images of themselves behind. Six of the principals are dead and only Bubbie can see them, although once, in a moment that confused me, her grown daughter Red has contact with them as well.
The score is loaded with the Klezmer music that evolved from eastern Europe, music that expresses the range of emotions from joy to despair, from celebration to revolt. It is infectious, but this score sounds familiar and repetitive, not helped by the very predictable and simple lyrics supplied by Ms. Dart. "Remember Who You Are", "For This", "We Were Here", "Child of my Child" tell us immediately what they are about and the rhyming scheme is only now and then inventive and surprising.
One can see what attracted Ms. Murphy to her dual roles; she gets to be young and old, sober, reflective, gay and frolicsome. What she may not have noticed when considering the offer to play the roles is that Bubbie and her younger self Raisel are somewhat imperious and self-serving. These are traits that helped her survive, as did none of her immediate family. But her "Sophie's Choice" moment, while understandable, does not create empathy for her when she wants to retract it seven years later. The granddaughter to whom she is so devoted, is written and played as a very saucy American pre-tween and I had the impression she'd rather be outside playing than listening to any more tales of the people in the pictures, now all long gone. The script says she wants to know all about them, but I didn't believe it.
Chip Zien and Lewis J. Stadlen are two valuable stalwarts who play two of Grandma's ghosts. Both have proved themselves in the past (both have dozens of credits on and off Broadway. Zien was that delightful baker in Into the Woods, Stadlen a hilarious Groucho in Minnie's Boys) but here they are trying too hard to bring a lighter side to what is basically a dark tale, playing a little too broadly, a little too cutely. They sell their numbers well, they are rewarded with ample applause, but they worked a tad too hard to sell them.
The always-welcome Joyce Van Patten is somewhat wasted as another of Bubbie's dead relatives, and though I'm a believer in non-traditional casting, Ms. Van Patten is the last person in the world who belongs in a shtetl. It's sort of like Mickey Rooney playing "Tevye". It just ain't right.
I think everyone got off on the wrong foot with this one. The costuming is fine, except I have no idea where Raisel got that Marlene Dietrich type white satin evening coat to wear when she's performing with her motley crew. One can hear Ann Hould-Ward (the costume designer) saying: "We have to give her one gorgeous gown. She's our star!"
The final 15 minutes of this musical almost redeemed it. The "surprise" secret that is revealed late in the second act isn't really a secret at all. But it does lend weight to the conclusion of the story, and the final reprises, though remaining facile lyrically, brought closure and some satisfaction. As always, there was the standing ovation, but that's become ritual now, and, sadly, means little. Let's hope the very special Donna Murphy finds a more suitable vehicle next time out.
Roundabout Theatre's production of The People in the Picture is at Studio 54, 254 W. 54th St, NYC thru June 19, 2011.
Buy tickets.
———–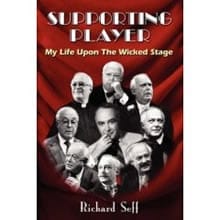 Broadway performer, agent, writer, and now librettist, among his many accomplishments, Richard Seff has written the book for Shine! The Horatio Alger Musical!, which debuted at the 2010 New York Musical Theatre Festival. He is also author of Supporting Player: My Life Upon the Wicked Stagecelebrating his lifetime on stage and behind the scenes, available through online booksellers, including Amazon.com.
Richard Seff chats with Joel Markowitz: