Kuti's Afrobeat was just the background to his workouts until 30 years later when he brought the musician's story to Broadway
Consider Fela Ankulapo Kuti. In his fifty-nine years on the planet, he invented a new form of music – Afrobeat; recorded seventy albums; challenged – socially and politically – the society in which he lived; began his own political party; accused his nation's vice-president of thievery; spoke truth to power. A thousand Nigerian soldiers stormed the complex in which he lived, beat him badly, threw his 78-year-old mother from a window (she eventually died of her injuries), and destroyed his home. Later, the government jailed him for twenty months on trumped-up currency smuggling charges. Later still, he was arrested for murder. He died of Kaposi's sarcoma, secondary to AIDS.
Now consider Bill T. Jones, 59. He is generally thought to be the most persistently original and innovative choreographer of his generation, and the most outspoken. In the 1980s, he would kiss his partner, the late Arnie Zane, at curtain call. In the 1990s, he choreographed a naked male chorus line at a production in the Kennedy Center's Terrace Theater. In 2000, he declined an engagement at the Spoleto Festival USA in South Carolina because that state still flew the Confederate Flag in its Capitol. He spoke truth to power. Over the fervent objections of some critics, he staged a dance – "Still/Here" – which featured filmed interviews with men dying of AIDS. Jones has received a MacArthur genius grant, the Dorothy B. Chandler Performing Arts Award, the Dorothy and Lillian Gish Award, the Tony (for his choreography of Spring Awakening), the Tony again (for his choreography of Fela!), five honorary doctorates, and has been a Kennedy Center honoree.
How is it that two men, both immoderately gifted, both revolutionary in their outlook, end up with such different outcomes? Of course, Jones was born in the United States, in Florida, fourteen years after Fela Kuti was born in Ogun State, Nigeria. But Jones was the tenth of twelve children of migrant farmworkers, and lived his childhood in rural Steuben County, along the southern lip of New York State. It was, he allows, a surprisingly nurturing environment for an incipient artist and dancer.
He is sitting with me in a spacious, gorgeously appointed room on the second floor of Sidney Harman Center for the Arts, just off the orchestra level of the theater. Now, this is a nurturing environment, for an artist or anyone else – plush seats, warm lighting, beautiful woodwork. Jones, exhibiting an athlete's ease, slips into the chair next to mine. He is dressed in black, wears a brief, well-trimmed goatee, and speaks in a clipped, resonant voice. This man is serious. Fela, Jones points out, was a Yoruba priest, and in this setting Jones could be a man of the cloth, with a gospel of art and struggle. Nearby, his partner, the sculptor Bjorn Amelan, dressed in a monkish brown robe, has appropriated a couch.
His childhood, Jones says, was "the era of Camelot and the Kennedys in the White House, when there was money around…every school should have a folk dance program, a new gymnasium, which we did the folk dancing in, a swimming pool…once a month a special group of drama students would go to Geneseo State University and work with a real director, I think he was a New Yorker. So I was grateful to be in that time and in that place. It was, when I look back on it, even though we complained madly, it was a forward-thinking administration, I think. And arts were very important at that school."
Jones had an intrinsic love of theater, which he remembers compressed into a single moment. "I think it was a converted Elks Club, and [he and his brother] sat there and saw West Side Story, and… were so moved by Jerome Robbins' choreography that we were going down the street doing our version of, 'when you're a Jet you're a Jet all the way…'"
But it takes more than love to be an artist, of course. It also takes discipline. And Jones got what he needed from a remarkable teacher named Marian Lee Shappee. "This woman made all the difference for a young showoff like myself. An African-American guy who was trying to get over all the time and hide his insecurities by performing for everyone. And she says, 'Jones, cut the crap. You got to learn something about theater,' and it was because of her, I did."
Fela, on the other hand, came from a well-to-do family. "He was a high-born man," Jones says.  "He came from a family of highly educated people. He had at least one doctor in the family, and his father was a teacher and his mother was an educator as well."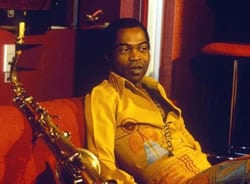 Fela told his parents he wanted to go to England to study medicine, and this story has become part of his lore. "He lied," Jones says. " …  it was actually there that he fell in love with – fell deeper in love with jazz music, and the rest is history."
Jones also entered into higher education with something other than dance in mind. He went to the State University of New York at Binghamton "as an athlete" – a sprinter, and a drama student. "I went to the University, with the idea of studying drama, going to Broadway – which I didn't get to do until many, many years later." Like Fela, he ended up doing something else.
"I fell in love with poetic sweat. I understood the sweat of the fields. I understood the sweat of yard work. I understood the sweat of athletics. I was a runner. There was something when I started taking those classes. It was another kind of sweat. It would be that the one person you were competing with was yourself. Innocent – Later, I came to understand the art world better.
"I got sidetracked," he admits now, "by modern dance."
For some time, Fela was little more than background music for Jones. "I knew Fela from the seventies when I was with the avant-garde collective, the American Dance Asylum, and we used to warm up to his music. We would improvise to it; we would use it in our classes. And I knew something about the story. I mean, I didn't know of any 'rock musicians' of any race or on any continent that had spent so much time fighting the authorities. Now, for sure, this young, pleasure-loving person that I was, we were more attracted to Bob Marley. But we knew Fela's music, and, as I said, we did work to it."
So when, thirty years later, producer Steve Hendel approached Jones about a project based on Fela Kuti's life, Jones was able to recognize the possibilities. "When my lead producer, through a mutual friend who happened to be our lawyer, our shared lawyer, said 'are you interested in this Fee-lah guy?' I listened to it and I said, 'oh, I know it.'"
He did indeed, and he saw the chance to do something fresh. "The idea – it was appealing because he wasn't a brand name in the circles that I was travelling in. There were people who knew it; I knew a lot of my musician friends in the seventies knew it, a lot of African-American people knew it, people knew it who loved world music. And here was an opportunity to introduce this character to a whole new audience. It was not a hipster audience. It was – we didn't know it was going to Broadway at that time. We just wanted to do something that was going to have a popular appeal."
But before a musical based on the life and music of Fela Kuti could have popular appeal, Fela himself would have to be treated in a way which would win him popular approval. There were some barriers, particularly in the U.S. Fela was a socialist. He liked to smoke dope. He was married to twenty-seven women. Simultaneously. Many critics consider his lyrics misogynistic.
Jones was aware of the problem. In an interview with the New York Times, he said, "I probably wouldn't get along with Fela. Fela Kuti is a sacred monster."
He added a caveat. "No progressive, democratic-leaning society should be without one. A provocateur, an enfant terrible."
"Everything that people said about him was probably true," he explains to me. "But it was weighed by a sort of moral force that he represented…yes, there was a great deal of self-involvement and hedonism, but he put himself in the line of fire. So you could believe in this man, and the people of the streets did. Fela taught himself to speak pidgin English so that he could speak to the people" universally throughout Africa.
"If you believe in the bad boy theory, you know, of culture, that the bad boys – well, you wouldn't want to be their friends, but you would never want a world without them. That's what I mean."
Bad boy theory or no, it was a challenge to make American audiences relate to Fela. "Yes, I was concerned," he admits. "I say, even now I say, let's face it, – Africa, in the minds of many Americans, is a problem. It is a guilt trip; it is a bad thing; people dying of AIDS, people sad, and you don't think of Africa as being the hotbed of creativity that it is. To have a sort of personality like Fela, who was a globalist in his thinking, and a political thinker, and an actor, all rolled into one. He was a very complicated person. So I was wondering, who would the audience be? When it occurred to us that we were going to Broadway, we said to each other, you have to realize, the demographics say that young on Broadway is forty-five years old. Most of them are women. Many of them come from New Jersey. Are they interested in a firebrand, womanizing, pot-smoking African? That gave me pause."
But overcoming barriers and winning audiences is what Jones does best. And he had a way in with Fela.
"But there was something about the music…and the mother. Once (he, Hendel and book co-writer Jim Lewis) decided that his mom, Funmilayo Ransome-Kuti also known as Funmilayo Anikulapo Kuti, was an articulate, deeply touching, highly principled woman, the leader of the nation" they realized that she would need to have a major presence in the production.
Indeed, Funmilayo Kuti's life might be worthy of a musical in and of itself. She was a prominent campaigner for women's rights in Nigeria, who helped win the right to vote for Nigerian women. She campaigned against arbitrary taxation and price controls, founded a political party, and helped negotiate Nigeria's independence from Britain. She was also the first woman in Nigeria to drive a car or ride a bike. She stood staunchly behind Fela and her other sons (one of whom became Nigeria's Minister of Health) until Nigerian soldiers killed her.
"Our guide in this piece was: imagine what it would be like to go to a concert with him," Jones says "It's all displayed there – and in the time. His bully pulpit. Here you see a man who is a self-styled revolutionary, a wonderful musician, a showman – he really was a mesmerizing showman, and a Yoruba priest, all rolled into one."
As fascinating as Fela Kuti's life is, Fela! does not pretend to be a comprehensive biography. "It is just a window. 1978, six months after this horrible thing (the assault on Fela's compound) happened. A night that we made up. A night that gives us an opportunity to look at his means and his methods of conveying his truth and putting forth his art. And entertaining the people. An entertainer who, when we meet him, is very compromised. He's in mourning…He doesn't know he's mourning – that's when he hears voices…
"My companion, Bjorn Amelan, said to me one day, you know, don't be afraid to do what you'd call a two-dimensional poster version of him. After all, this is the first piece about the man's life. You're introducing him to people. So introduce him in the way you would see him on a poster – with no shirt on, hands in the air, in limbo or something. We delve into his psychology, and what makes him operate, and more than that, we want to see him in the context of the time, we want to learn something about him as a musician, and why we should care about his life. I trust there will be other pieces made – I hope there will be – about the women in his life. About his mother, a major character. About his father. All of these things, hopefully, they will come. But our job was just to say to people, come in, hear this music, and learn something about this man."
Even in two dimensions, Fela! passed the acid test of authenticity: it played successfully in Nigeria. "Everybody in the cast…said it was life-changing. To give you an example, a very important song is called, 'Troubled Sleep'. That is one of the few ballads that he wrote. You cannot imagine the chills when our singer, who was at that point the great Lillias White, sings the first line of it and thirty-two hundred people all completed the line, complete with the phrasing. And it was astounding. And it had people crying. And saying, you really know our history. I don't know what they thought we were doing. First of all, they think that Broadway is all slick. They poo-poohed it. They said, first of all, you only have one Nigerian on stage. And how can this be authentic? But when they saw the seriousness of what we put on display, the fine performances, the beauty of the stage, the way the dancing was done – they were sold. It was a wonderful thing."
So from Ogun State to Steuben County, two artists born fourteen years apart, with different backgrounds but comparable inclinations, have collaborated on something embraced in Lagos and New York City. In Shakespeare Theatre's Harman Hall, where audiences are accustomed to shrinking the distance between sixteenth-century Europe and contemporary DC, Jones now helps to atomize the space between us and Nigeria, and bring light to a continent we thought dark.
Fela! runs thru Oct 9, 2011 at Sidney Harman Hall, 610 F Street NW, Washington, DC.
Details
Tickets 
Related:
DCTS review of Fela!