Say thanks to whomever you say thanks to, for we have a new playwright among us. His name? Jeff Talbott, and he is the recipient of the first ever Arthur Laurents-Tom Hatcher Award, which honored him with $50,000 plus $100,000 for production costs for his prize winning play The Submission.
Manhattan Class Company (MCC) is the Producer at the Lucille Lortel Theatre in Greenwich Village, and it's been given a first class production with a first class cast, headed by Jonathan Groff of Spring Awakening, Hair and the TV series "Glee". Directed by Walter Bobbie, and featuring three other very fine actors, it's become a hot attraction at the Lortel on Christopher Street.
Mr. Talbott can write. This play is semi-autobiographical in that the central character, played with great charm and variety by Mr. Groff, shares many of his qualifications and characteristics.  As has his character. "Danny Larsen", Talbott has written 4 full length plays and two short plays, all have  had readings, workshops, festival and regional submissions to the point where they've had semi-finalist, finalist considerations, the one-acters have had productions at the Yale Cabaret while he was a student at the Yale School of Drama, and he's come so close to a New York production, he almost quit the race. Now, here he is with The Submission, under the direction of Walter Bobbie whose current revival of Chicago and the incoming Venus in Fur has turned him into an A-list director.
The news is good. We are in the  sure hands of a true playwright. It matches in craft and intensity the early work of  Lillian Hellman, Arthur Miller, William Inge and even Tennessee Williams. I mention "early work" because it's not all there yet, but it shows more than promise.
It engages us from its first moment as it unravels the story of Danny, a white bread "very very white" guy  who has written a stirring new  play about a black mother  and her card-sharp son trying to get out of the projects.  The play has been accepted by the prestigious  Humana Festival in Louisville, perhaps partly because he has placed "Shaleeha G'ntamobi," a black female name as playwright on its title page, assuming that had he submitted the play in his own name, it would never even have been read.
In the 90 minutes that follow, scene after scene comes at us with pungency and dramatic worth, as Danny hires an unemployed black actress to assume the role of playwright, because a body must be provided once the play is accepted for production. What follows is occasionally good playwrighting (surprises, humor, insight, conflict, very playable dialogue) and now and then contrivance (Why does Danny's surrogate, Emily, keep secret a key fact about her opening night speech? She never does tell Danny but his best friend Trevor, now her lover, tells him,  but not until the end of a very long, overly explicit confrontational scene between Danny and Emily.
There are other contrivances not easy to accept.  Emily remains the hired standby through the casting and rehearsal period of the play, which makes no sense, because as a young actress who'd never actually written before, she'd have been found out. At least that's my take on it.  However, Mr. Talbott has chosen a different trajectory for his play, and I won't tell you what it is, for though I take exception  to some of his story choices, I greatly admire his courage in giving us an ending that is totally believable, and it involves secrets and revelations that he withholds from us right up to the final curtain. It will surprise some,  but it gives the play added gravitas, and stirs up after-theatre discussion.
In addition to Jonathan Groff, who continues on his road to stardom with a performance that reveals, slowly, the many complexities inside Danny, the cast includes Will Rogers as Trevor, his straight best friend,  Eddie Kaye Thomas as his lover and stalwart supporter and Rutina Wesley as the lady picked to pretend to be the author of the play within the play.  All of them are first rate, and bring variety, truth, honesty to these very well drawn characters.  It's not perfect, this play, its final scene is preachy and overly extended; but its conclusion is brave and leaves us satisfied that Jeff Talbott has not let his characters, nor his audience, down.
I'm willing to wager that his other plays, never fully mounted before, will be called upon for productions in regional theatres, for Talbott's voice is a welcome addition to those writers who have something to say, and the talent to say it adroitly, about the world in which we live.
The MCC Theater production of The Submssion is currently at The Lucille Lortel Theatre, 121 Christopher St, NYC.
Details
Tickets 
 —————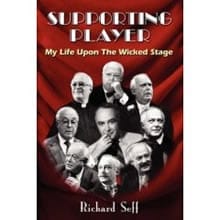 Broadway performer, agent, writer, and now librettist, among his many accomplishments, Richard Seff has written the book for Shine! The Horatio Alger Musical!, which debuted at the 2010 New York Musical Theatre Festival. He is also author of Supporting Player: My Life Upon the Wicked Stagecelebrating his lifetime on stage and behind the scenes, available through online booksellers, including Amazon.com.
Richard Seff chats with Joel Markowitz: