In an era where 'sour' seems to say it all, there's one thing to like about South Pacific at Baltimore's Hippodrome Theatre even before seeing it. This 1949 musical about American Seabees stuck on an island paradise in the middle of World War II is a flashback to an age when Americans had a pretty clear idea of what it was other people liked (and disliked) about them: irrepressible optimism.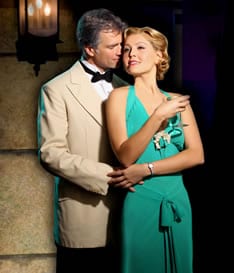 And then Ensign Nellie Forbush (Katie Reid) comes out on stage in the first scene of Act I to belt out "Cockeyed Optimist". The character Nellie, straight out of Little Rock, is a mix of sexy and street-smart, naiveté and know-how. Backed up by a crowd of sexually frustrated (but aimiable) Seabees, grumpy (but good-hearted) officers, and various native and ex-pat elements, she explains her predicament: that she's  stuck like a dope/with a thing called hope/And I can't get it out of my heart.
Highly successful Rodgers and Hammerstein — including Arena Stage's recent Oklahoma! — seem to indicate that, at least in theory, that sentiment isn't entirely defunct. And, after six decades of films, movies, and docudramas about the Greatest Generation and its Great War, one leaves South Pacific realizing that one has had a peek at the War in the Pacific as recent history, stripped of the iconic and operatic layerings.
War, here, is experienced as many in the military did experience it:  boring, frustrating years whiled away in military bases outside the action. In the early 40's, when this musical is set, the U.S. itself is still reeling from the Japanese assaults on its Pacific holdings. Despite it all, though, these American characters are fueled by cockeyed, darkly-humored, but incurable optimism.
Richard Rodgers and Oscar Hammerstein II reveal the characters in this production as people who are at their most interesting when they're hanging around, waiting for something to happen.
Nellie, the Ensign, tries to keep the base moving, while falling in love with a mysterious Frenchman, Emile de Becque (Marcelo Guzzo) and coming to grips with her own racial hangups. Lt. Joe Cable (Shane Donovan) takes a break from the war, and winds up entangling himself with the natives. Seabee Luther Billis (Christian Marriner) tries to sell cheap hula skirts. Tiki native Bloody Mary (Cathy Foy-Mah) hocks shrunken skulls and tries to find her daughter a nice Marine to marry.
This national tour is based on the highly praised 2008 Broadway revival, so it has a lot going for it: fluid choreography, excellent arrangements, and a lighting-intensive set. There's not much not to like about the score itself. And the supporting characters are, in their own separate ways, unforgettable.
But something has been lost in this restrained reworking. There's optimism, but it ain't cockeyed. It's got the sort of prudish, tight-upper-lip restraint that you might expect from a Southern lady's book club.  Where you'd expect Rosie the Riveter, you get women who know their place. "I'm Gonna Wash that Man Right Out of My Hair" is a rousing call to action, but here it turns into more of a sorority-level breakup party. "Some Enchanted Evening," and its multiple reprises, between the nurse Nellie and her mysterious French lover, hits the high notes, but the two seem, from the beginning to be imbued with first date awkwardness.
Let me explain, because, that's a cookie-cutter criticism. There is something missing in this production. This musical occurs in a tiny island in the mid Pacific, overflowing with horny sailors and inaccessible nurses. The one great thing about our country, at least this is what I get from Michener, is that we've always been able to channel sexual frustration in creative ways.  And Michener — whose opening and ending paragraphs of Tales of the South Pacific are projected on the screen — is telling us that the way Americans whiled away their time during these long months was as central to who they were as what they did on Guadalcanal.
That core intensity was missing. These characters were trying to amuse themselves, not create themselves out of the found material.
But it'd be hard for me to say I had a lousy time. There are moments when the musical's magic seeps through. Many of them involve the band of Seabees: Christian Marriner as seaman Luther Billis creates an irrepressible, but innately decent character, who energizes the stage whenever he's on it. As the manipulative (and endearing) Bloody Mary, Cathy Foy-Mahi is a memorable master puppeteer who transitions from pimp to concerned mother in a millisecond. The band of sailors, too large to list by names, does its duty.
In the era of grade inflation, the standing O was expected, but didn't seem any more heartfelt than the production. I left thinking it was an opportunity lost. In this era of political and economic quagmire, the Hopey-Changey thing seems more cockeyed than ever. South Pacific should leave us remembering why, in earlier decades, perhaps, American optimism was such a unique and hot commodity.
South Pacific runs thru Oct 9, 2011 at the Hippodrome Theatre, 12 No. Eutaw Street, Baltimore, MD.
Details and tickets 
South Pacific
Book by Joshua Logan and Oscar Hammerstein II
Music by Richard Rodgers . Lyrics by Oscar Hammerstein II
Directed by Bartlett Sher (Direction Recreated by Sarna Lapine)
Music Direction by Richard Dunn III
National Tour based on the Lincoln Center Theater production, presented at the Hippodrome Theatre, in Baltimore.
Reviewed by John Barry