David Ives' contribution to our Broadway season, courtesy of the Manhattan Theatre Club is, as the King of Siam used to say, "a puzzlement."  Starting as a hilarious backstage comedy involving a playwright/director and an aspiring actress who, though late for her audition, is desperate to be allowed to read, and through all sorts of chicanery, allure and chutzpah, gets her chance.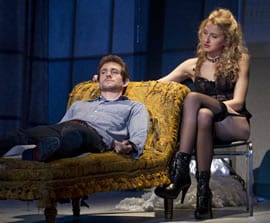 For at least an hour of the 100 minute one-act play, we are privileged to watch the highly original and very gifted Nina Arianda recreate for us her characterization of that actress, "Vanda", the one she created off Broadway last season to great and deserved acclaim.
She is partnered this time out by the sure footed  Hugh Dancy, who is new to this dance of death, and he more than holds his own against the tour de force that is Arianda.
The play turns confusing in its final half hour, leaving high comedy and low comedy behind as it takes on a legendary tone, but I can't tell you how unless I ruin your surprise. Suffice it to say, no one is quite what he seems to be on first acquaintance. There is a moment – you'll know it when you see it – that is pure sex on the half shell. Not a sound from the audience for the long time it took to complete.
This play within a play uses as source material a novella  by the German Leopold von Sacher-Masocher called "Venus in Furs", and makes it clear how the term "masochism" derived from the German writer's own name, for he dealt with the complex and deviant behavior of his characters.
The refreshing Nina Arianda is so resourceful an actress that it's difficult to decide which of the two characters she pulls from her arsenal is our favorite, for they are both rich and full of surprises. Her actresss Vanda, arriving on a clap of thunder in the midst of a violent rainstorm is a nor'easter in her own right. When she later settles into another Vanda, she is equally interesting and convincing as a nineteenth century noblewoman whose marriage to a count is postponed until she has her way with a man she turns into a lackey, a slave. Ultimately the two meld into one. And then — but I go too far, and you should come see this remarkable piece of theatrical chicanery so that you can witness for yourself the performance that last season off Broadway began the brilliant career of La Arianda.
David Ives is one of our few contemporary writers whose wit and wisdom have allowed him to use his scalpel on such diverse material as ten one-acters called All In The Timing which ran for over a year off Broadway, and again on adaptations of Feydeau's A Flea In Her Ear, Mark Twain's Is He Dead? and his brilliant homage to Molière, The School For Lies which he managed to dash off – in verse!
He's also the house librettist at Encores! each year and has salvaged some very old and tired books for the musicals of yesteryear, pruning, editing and infusing many with his irreverence. He's been supplying us with material since 1972 when he had his first work done at Circle Rep Company. We are fortunate that one as talented as he is also prolific.
If we're lucky there will be more Ives arriving in the future, but for now give yourself an interesting evening at Venus In Fur but note also it's not for the faint of heart when it comes to the exploration of sexual deviation. In the expert hands of two brave and resourceful theatrical treasures called Arianda and Dancy, you'll be happy you dropped in.   They sound like a dance team, and when it comes to making words sing, soar, amuse and frighten, they are peerless. That's sort of like dancing,  isn't it?
Venus in Fur is playing now at the Samuel J. Friedman Theatre, 261 W 47th St, NYC.
———————–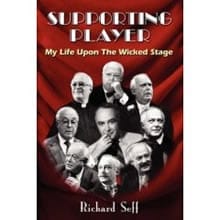 Broadway performer, agent, writer, and now librettist, among his many accomplishments, Richard Seff has written the book for Shine! The Horatio Alger Musical!, which debuted at the 2010 New York Musical Theatre Festival. He is also author of Supporting Player: My Life Upon the Wicked Stagecelebrating his lifetime on stage and behind the scenes, available through online booksellers, including Amazon.com.
Read more at RichardSeff.com
Richard Seff on DCTS – interviews Broadway luminaries:
Richard Seff chats with Joel Markowitz: