The closet is, at last, wide open. No more need for gay characters to parade around pretending to be women, which was the game played up through the mid-twentieth century.  When even a hint of the love that dare not speak its name was offered onstage (The Captive, The Green Bay Tree) whispers were heard among the 'carriage trade'  audiences, and not too many of the general public bothered to show up at all.
Later, when The Boys In The Band rocked the country, "the boys" had to be soul-searching, sad, mordantly funny. The 'best friend gay' showed up here and there in films of the '80s and '90s, and there were many 'coming out' stories even in the mainstream movies that followed.  The 'gay plague' was dealt with in a serious way, most often onstage in eloquently (Philadelphia, Longtime Companion, Angels in America and The Normal Heart, which I understand is coming to DC next June.)
But now that marriage between same-sex couples (legal in several states,) finally hit New York, a generation of playwrights who've been dormant have burst forth upon the scene, and not only in the downtown theatres, but on Broadway itself.  Some of these playwrights have been invited to contribute one act playlets on the subject of gay marriage, and nine of them have done just that in a production called Standing on Ceremony, conceived by Brian Shnipper, directed by Stuart Ross, and presented by Joan Stein and Richard Frankel in association with half a dozen co-producers.
The result is a consistently hilarious melange dealing with mothers, fathers, sisters, brothers, ex-wives,  'boy friends' and partners, written by the likes of Paul Rudnick (who's an old hand at this sort of thing (Jeffrey, The Most Fabulous Story Ever Told), Neil LaBute, Moisés Kaufman, Mo Gaffney, Doug Wright and others of equal calibre.
They deal with air travel, mothers who want their sons married no matter to what species or sex, a partner who remembers his own, recently deceased. The plays are each about ten minutes in length, but they add up to deliver a wallop, a rich plumcake of an evening.
A rotating cast of marvelous actors brings them to life; they include the inimitable Harriet Harris, fresh from her great success playing another insane mother in It Shoulda Been You. She brings the same magical madness this time to a Jewish Mother to top all others. Her mobile face does much of her work for her, but she is also mistress of the art of timing. And her readings of some of Paul Rudd's juiciest zingers defy description; they must be heard.  Polly Draper makes a welcome return to the stage, Craig Bierko and Richard Thomas are always welcome, Beth Leavel proves she's just as lethal in pardon the expression 'straight plays' as she's been in musicals. Mark Consuelos completes the first rate sextet in the company I saw at the Minetta Lane Theatre.
If Standing on Ceremony comes your way, it's worth a visit. Easy to mount, with just the suggestion of a wedding site as a setting. This is technically a 'reading', which means that it can and will attract dozens of film and tv personalities with stage roots who yearn for a chance to return to live theatre with some rich and relevant material.  I'm certain that each replacement will be up to the very high standard set by this original cast.
Highly recommended, no matter your sexual orientation.  You'll laugh yourself silly.
Standing on Ceremony is at the Minetta Lane Theatre, 18 Minetta Lane, NYC for an open run.
Details and tickets.  A portion of all ticket sales will be donated to Freedom to Marry and other organizations promoting marriage equality.
———————–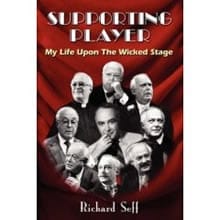 Broadway performer, agent, writer, and now librettist, among his many accomplishments, Richard Seff has written the book for Shine! The Horatio Alger Musical!, which debuted at the 2010 New York Musical Theatre Festival. He is also author of Supporting Player: My Life Upon the Wicked Stagecelebrating his lifetime on stage and behind the scenes, available through online booksellers, including Amazon.com.
Read more at RichardSeff.com
Richard Seff on DCTS – interviews Broadway luminaries:
Richard Seff chats with Joel Markowitz: