The Goodspeed Opera House in East Haddam, Connecticut is to be commended for unearthing City of Angels, a 1989 hit Broadway musical that is rarely done. It's a very different sort of musical, with a jazzy score by Cy Coleman who has said: "I wanted to present real jazz as opposed to pastiche or the kind of choreographed jazz I've written for other shows. By real jazz I mean music whose rhythmic phrases you can't describe but that when you're snapping fingers to it, you say 'this swings.'"
And indeed that's just what he's done, aided and abetted by a multi-layered and hilarious script by Larry Gelbart, whose wicked sense of humor served A Funny Thing Happened on the Way to the Forum and the hit tv series "Mash", which he developed.  Throw in young lyricist David Zippel, a graduate of Harvard Law School who is "delighted not to be practicing law," and you have a collaboration that meshed, mixed and matched to come up with a highly original play within a play within a play which works on four levels, sometimes all four at once.
The tale of Stine, a novelist who is writing the screenplay to one of his successful detective stories, and also the tale of Stone, his detective character and other folks who are in the screenplay, then laying in Stone's confrontations with Stine during which he urges the writer to live by the same principles as his upright detective is confusing enough.   Now that you are there, add  the fact that many of the actors play more than one role, and by intermission you will be in the lobby trying to figure out who is who, and which character is played by which actor.  When you've done that, you will return for the second act ready to relax and enjoy the rest of this bouillabaise of a musical.
What's remarkable about the Goodspeed production is that, under Darko Tresnjak's direction and with a cast of stellar talents who were to me for the most part unknown, it looks and unfolds itself like a ten million dollar Broadway show, with a company of 23, and scenery that never stops moving as it rises, falls and circumnavigates to about 40 locations.
Using a series of Venetian blinds to cover the multiple settings, the stage right section, in which Stine and his people live is in glorious technicolor, while the stage left section, in which Stone and the folks in the movie reside, is in equally glorious black and white, in the tradition of the films noir that this musical parodies. Re-reading this paragraph of mine, it occurs to me that the  best way to enjoy this production is to see it twice, for once will only get you started in marveling at how the three authors managed to end up working on the same page,but you won't be certain just where  that page is until you've gobbled up a second viewing.
The cast helps. As "Stine," DB Bonds is just right, and he's got the vocal chops to deliver half a dozen soliloquies, ballads, musical confrontations. Stage left, in the black and white section, his counterpart "Stone" is played with equal relish by Burke Moses. And the various women in their lives come to life in the capable hands  of Liz Pearce, Laurie Wells, Nancy Anderson and others too numerous to mention. All have powerful voices, and the gifts to give nuance to some very polished and original Zippelian lyrics.
Even Jay Hilton's sound design is on target, as it supplies us with just enough enhancement to land the lyrics, but not enough to distort the ladies' upper registers. Perfecto, and many thanks for that, from this musical theatre afficionado who has of late been bringing ear plugs to the theatre.  The scenic design by David P. Gordon deserves kudos as well, as do Tracy Christensen's costume designs which cleverly and colorfully send us back to the good old days of the Brothers Warner and their films noir.
City of Angels is just the sort of musical from the past that should be done at Encores! in New York, for it's a perfect example of a winner from the '80s that would today be considered "out of fashion," and has, in fact, been almost forgotten.    Should you find yourself heading in the general direction of Connecticut in the very near future, I recommend a detour to East Haddam for a chance to see this charming 19th century opera house delivering entertainment via all that jazz.
City of Angels runs thru Nov 27, 2011 at the Goodspeed Opera House, 6 Main Street, East Haddam, CT.
Details and tickets 
———————–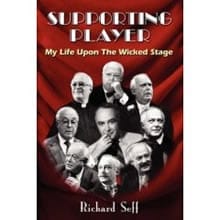 Broadway performer, agent, writer, and now librettist, among his many accomplishments, Richard Seff has written the book for Shine! The Horatio Alger Musical!, which debuted at the 2010 New York Musical Theatre Festival. He is also author of Supporting Player: My Life Upon the Wicked Stagecelebrating his lifetime on stage and behind the scenes, available through online booksellers, including Amazon.com.
Read more at RichardSeff.com
Richard Seff on DCTS – interviews Broadway luminaries:
Richard Seff chats with Joel Markowitz: