At its core, romance is the same at any age: an exciting, gut-wrenching roller coaster of blessed highs and crushing lows. The only thing that changes as the years go by is the volume of emotional baggage standing in the way of new love and contentment. In A Second Chance, Ted Shen's elegant ode to late-blooming love, two New York City residents grapple with personal demons and painful pasts as they try to open their hearts one more time.
Mr. Shen returned to music after a thirty-year business career, building upon his jazz roots and honing his songwriting skills. His assured debut reveals a composer and lyricist possessed of sophisticated musicality, quick wit, and wry insight into the fast-paced yet often lonely New York City life.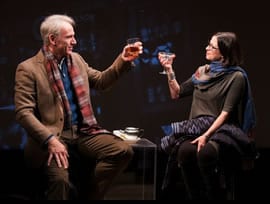 A Second Chance follows the budding relationship of Dan, a widowed banker, and Jenna, a divorced health professional. After developing a spark at a mutual friend's party, the characters navigate a road fraught with obstacles on the way to an uncertain romantic future.
The production stands out from the pack of romantic comedy and drama with its painstaking attention to detail and cool, contemplative tone. Dan and Jenna are unlike the showy ciphers that often dominate popular musical theater, in that they advance the story through intense emotional contemplation rather than broad action.
Robert Brill and Jennifer Schriever's chic scenic and lighting designs contribute to the meditative atmosphere by populating the space with clear lucite, clean lines, and shades of blue and white, like an upscale jazz lounge. The intimate production, marked by the tiny cast, relative lack of movement, and closeness of the audience, has the feel of a Hollywood close up.
Mr. Shen's musical themes fuse the layered wordplay and detailed exposition of Sondheim with nuanced jazz rhythms. Shen imbues simple events like a picnic in the park and a post date drink at the bar with rich lyrical detail. The pivotal theme "The Museum Song" takes us on Dan and Jenna's first date, a meandering visit to the Museum of Modern Art. Jenna instructs Dan on an entire succession of Western art periods, and they share a profound experience viewing a particular Rothko painting, paving the way for a deeper emotional connection. This distillation of the singular experience of walking through MoMA for the first time underscores the very personal nature and transportive power of Shen's work.
Under Jonathan Butterell's veteran direction, real life husband and wife duo Brian and Diane Sutherland bring a refreshing honesty to the personae of Dan, a widowed banker, and Jenna, a divorced health professional. The Sutherlands anchor their musical conversation with charming chemistry and warm vocals. Everything seems to slow down whenever Brian's delicate falsetto melts into Diane's bright soprano.
A Second Chance rolls polished performances, clever design, and inspired storytelling into a resonant emotional journey. The entire show operates with an easy grace, no doubt aided by the prior connection of director and actors through the Lincoln Center production and subsequent tour of The Light in the Piazza. While the eventual goal is most likely a Broadway run, it's hard to imagine Shen's work being done any better than the cozy production currently playing at Signature.
A Second Chance runs until December 11, 2011 at Signature Theater,4200 Campbell Avenue, Arlington, VA.
A Second Chance
By Ted Shen
Directed by Jonathan Butterell
Music Direction by Zak Sandler
Produced by Signature Theater
Reviewed by Ben Demers
Highly Recommended
Running Time: 1 ½ hours (One 15 minute intermission) 
Other reviews