It took 25 producers and/or production companies to offer Frank Wildhorn a seventh crack at Broadway after his six previous attempts didn't quite work out. His first, Jekyll and Hyde, did manage a very good run ten years ago , and Victor,Victoria to which he contributed three songs, also had a decent run with Julie Andrews and Tony Roberts pulling them in, but none of them earned back their cost.  It's clear that Mr. Wildhorn loves musical theatre and is determined to hit a home run, but perhaps it's his great success in the pop world that has enabled him to find the backing for show after show. He must be the envy of a dozen young composers who have been beating at Broadway's door, alas without his ability to attract sponsors and patrons.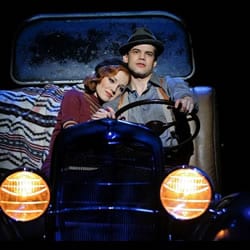 For the sad fact is, that though his love for musical theatre is apparent, his ability to create first class material for it just isn't there. He's learned from his past disappointments, and his work on Bonnie & Clyde is a considerable improvement over his  earlier attempts, so there are three or four musical moments in this work that are effective and stage worthy.
But there are twenty musical numbers attached to a book by Ivan Menchell, whose first Broadway musical this is, and the great majority of them are beautifully staged and  performed, often well lit, but predictable and uninteresting  stage waits.  Its lyrics by Don Black,  who has partnered with Andrew Lloyd Webber several times, tell all in the titles. "You Can Do Better Than Him", "God's Arms Are Always Open", "The World Will Remember Us",  "You Love Who You Love".  They are not offensive, but they just aren't good enough. They don't surprise us, and I found myself drifting during their performance, noticing the set or the lighting or the costume of the singer. It's all done"correctly", but I was virtually never involved.
To be fair and accurate, there were moments that came alive. "You're Goin' Back to Jail" sung by a bunch of local ladies under hair dryers, is fun and beautifully performed by the talented and incredibly named Melissa Van Der Schyff and her beauty shop customers.  The handsome couple who play Bonnie Paerker and Clyde Barrow do excellent work all night long, bringing conviction and talent to all sorts of generic material.
Oddly enough, the musical begins inventively by using two children to show us the beginnings of the two leading characters. In the first number, "Picture Show", we're introduced to a radiant young Bonnie Parker (an engaging Kelsey Fowler) who wants nothing in life but to be another Clara Bow, a movie star. Young Clyde is a wild kid (again, a fine Talon Ackerman), shooting his BB gun at random, a hoodlum who at an early age has already decided he has no desire to conform; he's made up his mind he will rob, cheat, even kill to live in the fast lane, to have it all, no matter what the cost.
Under Jeff Calhoun's strong hand as director and choreographer, Bonnie & Clyde has the look and feel of a fine piece of musical theatre. Mr. Wildhorn always seems to be attracted to characters who are larger than life, menacing, often iconic. Dracula, Dr. Jeckyll and his other half Hyde, the Scarlet Pimpernel, and now these two wild young killers.  Yet he and his collaborators have never mastered the difficult feat of making these people truly move us, frighten us, entertain us. They are all stick figures who tell us who and what they are in the manner of a musical lecture, but they don't engage us.
Jeremy Jordan and Laura Osnes, two attractive and gifted talents, bring conviction and much personal charisma to Clyde and Bonnie, but time and again what they are singing about could be applied to any of the characters in the other Wildhorn musicals, just as "This Is The Moment" and "A New Life" from Jeckyll & Hyde could be sung by them in this one. There is no feeling of period or locale in this score; eventually one hears little melody; it's the beat that hits our ears.
Jordan and Osnes deserve better and have had better, he with the role of Tony in West Side Story and she only recently with the role of Hope Harcourt in the current revival of Anything Goes. Oddly enough, Jordan was excellent only recently in a muddled musical called Newsies at the Paper Mill Playhouse.  There is talk of that one braving Broadway, but one hopes second thoughts will prevail. Hope Harcourt for Ms. Osnes was hardly a dimensional character, but she had some dazzling musical numbers, courtesy of Cole Porter. Here, she's doing Easy Listening stuff and we are much more interested in her as a performer than we are in what she is telling us  through her songs. Claybourne Elder as Clyde's brother Buck, Ms. Van Der Schyff as his wife Blanche, and  the rest of this fine company bring acting chops and strong voices to lift the score and the book above their limited stations.
When will musical theatre writers stop taking stories and characters who've been immortalized in other media, and reducing them to by-the-numbers cyphers in theatre pieces meant to exploit their recognizable images?  If this one is a hit, I'm sure we can expect Mr. Wildhorn to attack the likes of  "King Kong", "The Three Musketeers", and "The Cabinet of Dr. Caligari"  to  join Jane Eyre, A Tale of Two Cities, Gone With The Wind (written by others, but  in his style)  and other overblown blimps on the currently beleaguered musical stage.
Bonnie and Clyde is on stage at the Gerald Schoenfeld Theatre, 236 West 45th Street, NYC.
Details and tickets 
———————–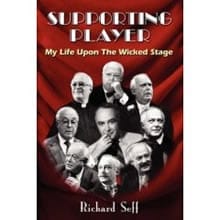 Broadway performer, agent, writer, and now librettist, among his many accomplishments, Richard Seff has written the book for Shine! The Horatio Alger Musical!, which debuted at the 2010 New York Musical Theatre Festival. He is also author of Supporting Player: My Life Upon the Wicked Stagecelebrating his lifetime on stage and behind the scenes, available through online booksellers, including Amazon.com.
Read more at RichardSeff.com
Richard Seff on DCTS – interviews Broadway luminaries:
Richard Seff chats with Joel Markowitz: