With 75 plays under his belt, it would appear that Alan Ayckbourn can find two hours worth of entertainment and enlightenment in  any of his own actual or imagined experiences as he lives out his life in Scarborough, England.  It is in that seaside town that he has a theatrical home in the Stephen Joseph Theatre in which he offers world premiere productions of his prodigious output. Writing to the specific demands of this small theatre, his plays invariably are set in one space, into which he allows usually six, occasionally eight characters, to drop in. Once they arrive, under seemingly ordinary circumstances, all hell is likely to break loose as both comic and tragic forces emerge to force his plots in often unlikely directions.
In the beginning, he seemed to enjoy writing plays using specific game plans. In The Norman Conquests, he concocted a trilogy of full length plays, all taking place in a different room of the same house – at the same time!  In 1971's How The Other Half Loves, he had two sets of characters living out lives in the same setting.  In 1976's Absurd Person Singular the same six characters met on three different Christmas holidays, one in each of three acts. Again and again, he enjoyed these time-bending gimmicks to further delight and intrigue us. But in recent years, and now at 75, his structure is more conventional, and this latest, Neighborhood Watch, is in his own words, "a cautionary play, written in my dark farce mode."
Triggered by a minor incident of alleged trespassing, a neighborhood watch is organized in the Bluebell Hill Development, a middle class complex of houses which are situated just above a housing project.  Tension has been mounting as this modern suburban community has been experiencing an increase in all of the ills of modern suburban existence; petty crime, vandalism, theft are all on the rise, and six homeowners decide to take a stand, to fight back. The play explores how the smallest incident can, through lack of communication and misunderstanding, grow into something at first irritating, later sinister and explosive.
We first meet Hilda and Martin, two seemingly uncomplicated and pleasant siblings, who have lived together for their entire adult lives. When Martin discovers a stranger on their lawn, he confronts him, is kicked in the shins by him, and he makes off with a suitcase that he's convinced is harboring a gun, a bomb, or some other lethal weapon.
Forming a committee to watch the neighborhood, neighbors and friends join in and in the course of several weeks and two and a half hours playing time, much of it hilariously funny, some of it surprising, all of it interesting, we are asked to accept certain demands for suspension of disbelief that go just beyond our limits to concur.
The actors who bring these eight characters to vivid life are uniformly fine, with Alexandra Mathie and Matthew Cottle leading as Hilda and Martin.  All of this excellent company are from the original Scarborough production, and most have appeared in many Ayckbourn plays before.  Under the playwright's direction in this case, they bring to vivid life the humanity in a disparate group of unmistakably British characters, some with hidden demons just panting to be unleashed.  Leave it to the mid-mannered, charming, gifted, prolific Sir Alan Ayckbourn to slowly strip away surface behavior to get down to the core in each case.  Some of the local references may not elicit the same laughter here as they would at home, but on the whole the universality of his people had me chuckling through most of the evening.  As the madness escalates in this comedy of revenge for a crime that was not actually committed, I was somewhat left behind, and though I admire the inventiveness of the story, and the capturing of the idiosyncrasies of its people, I didn't find the whole as satisfying as most of its parts.
From my own point of view, I say "no matter."  I am always curious to see what Ayckbourn is up to as he, like his American colleague A.R. Gurney, continues to dissect the British cousins of Gurney's American WASPs. I think he, like Gurney, is one of the more underrated playwrights of our time, perhaps because, like Gurney, he is so prolific, he often tends to be labeled "minor."  I'm sure that was probably said of another prolific playwright who preceded him by four hundred years, a bloke called Bill Shakespeare.  Our own Neil Simon seems to have been consigned to the dustbin, at least for the moment, another example of how we tend to dismiss writers who reflect the times in which they live with seeming facility.
Neighborhood Watch is minor Ayckbourn, which means it's better than half of what will open this season. Proceed at your own risk, but know that I think there's a lot to enjoy here.
Neighborhood Watch is part of  Brits Off Broadway, at 59E59 Theaters, 59 E. 59th St., NYC running thru Jan 1, 2012.
Tickets 
———————–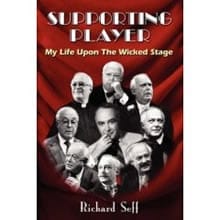 Broadway performer, agent, writer, and now librettist, among his many accomplishments, Richard Seff has written the book for Shine! The Horatio Alger Musical!, which debuted at the 2010 New York Musical Theatre Festival. He is also author of Supporting Player: My Life Upon the Wicked Stagecelebrating his lifetime on stage and behind the scenes, available through online booksellers, including Amazon.com.
Read more at RichardSeff.com
Richard Seff on DCTS – interviews Broadway luminaries:
Richard Seff chats with Joel Markowitz: