David Hyde Pierce clearly likes to keep working, for which we are grateful. Ever since his long run as Frasier's brother Niles on the sitcom "Frasier,"  he has returned to his stage roots by appearing seasonally, showing us the range of his talents. For though the basic Pierce shines through in each of his characterizations, there is just enough bonus material to make a new visit with him fun and very worth while.
He showed up  in Manhattan Theatre Club's revival of Terrence Rattigan's early success French Without Tears, he made major contributions to the musicals Spamalot and Curtains, he held the stage with amazing silences while Mark Rylance babbled brilliantly on for twenty minutes or so in La Bête.  They all proved this gifted actor was earning big bucks  during the years he was delighting us  playing Niles and Niles alone. Recently he stretched even further when he directed a new musical, It Shoulda Been You, at the George Street Playhouse in New Brunswick, New Jersey, which he pulled off beautifully.
One would think that each season he is offered the best of the new material for which he is even possibly suited. All of this preamble leads me to wonder how on earth he chose to spend several weeks of the current season in this unfunny, somewhat irritating comedy called Close Up Space. From its precious title to its preposterous conclusion, its author, Molly Smith Metzler, fails to deliver.
The  early moments indicate promise; a fussy one-man senior editor at a small publishing house establishes that he is meticulous in his editing. With the help of a projector on a screen, he shows how he takes merciless red ink to a page in a letter he's received from the head of a college from which his estranged daughter has been expelled. He is the worst sort of nit-picker, cutting away at every comma, semi-colin, capital letter, and (hence the plays' title), incorrect space between words that leap out at him with a vengeance.  He doesn't seem interested in the writer's reasoning; he is so busy ripping its grammar and syntax apart he is more concerned with its form than with its content.
His opening monologue, spoken to his young intern to show her how he works, is very funny, and Mr. Pierce embellishes his Niles-like readings with very original body and facial movements that don't belong to Niles at all.  So by the end of this brief introductory scene, we have become intrigued by his character, and we are ready to take his journey with him.
That proved to be a mistake. For the journey introduces us to his daughter Harper, to his dogbody  assistant Steve, and to his biggest money making writer Vanessa Finn Adams.
Under Leigh Silverman's direction, nothing beyond the first scene is ever quite right.
Colby Minifie and Rosie Perez are directed to scream their anger at Paul relentlessly. Ms. Perez, who has brightened many a comedy on stage and screen, is here miscast as Ms. Adams, whose name would indicate she's from some WASPy family, and that she'd be much happier in a play by A.R. Gurney.  At the  top of her very potent voice, she spends her share of this 80 minute one act play starting at the top, and rising from there. By the time she throws a mouthful of King Lear at us, she's lost us completely.
And Ms. Minifie, as Paul's estranged daughter, falls into the same trap. We are told that she'd been expelled for appearing nude on campus and that somehow she'd been spending her free time in Russia.  She's never forgiven her father for what she feels was his lack of support for her mother, who had committed suicide four years earlier. Into this mix comes Steve, who has, without permission, moved a pup tent into Barrow's office, for he's upset with his dog at home, and living alone in a tent seems to calm him. He recommends Paul take a shot at the tent, and Paul actually does crawl into it for a few minutes, but it doesn't much diminish his angst.
None of this is believable, not the takeover of the office by Steve, nor the removal of everything in the office by the very angry Harper, nor the resolution in which father and daughter re-unite as snow begins to fall. Oh, I forgot. Snow figures in several scenes, but no one bothers to explain how it was transported in a bag, without melting.
If all this makes your head spin, and you think it might be fun to visit these crazies, by all means do so. We certainly want to keep Mr. Pierce working and solvent, for he is a seasonal tradition now, and I'd like to see him return year after year. Maybe he should be in touch with Kelsey Grammer, who played his older brother and mentor of sorts on "Frasier." Although, come to think of it, Grammer  didn't fare too well with a misguided Macbeth production.  The Crane Boys (their family name on the series), both gifted, might need to change agents.
Our thanks go to Todd Rosenthal, who designed the offices of Tandem Books, where Paul Barrow works, and I for one was so taken with the coziness and great detail of the place, I was tempted to see if the management would sublet it to me at the end of this limited run, for it would be a pity to have it consigned to Cain's Warehouse, to which I'm told scenery is banished when a play closes.
MTC's production of Close Up Space runs thru Jan 29, 2012 at City Center, 131 W 55th St (btwn 6th & 7th), NYC.
Details and tickets 
———————–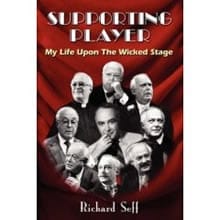 Broadway performer, agent, writer, and now librettist, among his many accomplishments, Richard Seff has written the book for Shine! The Horatio Alger Musical!, which debuted at the 2010 New York Musical Theatre Festival. He is also author of Supporting Player: My Life Upon the Wicked Stagecelebrating his lifetime on stage and behind the scenes, available through online booksellers, including Amazon.com.
Read more at RichardSeff.com
Richard Seff on DCTS – interviews Broadway luminaries:
Richard Seff chats with Joel Markowitz: