Athol Fugard, South African playwright, had been writing plays for 20 years when The Road to Mecca was first mounted in 1988. Clearly a personal diatribe against the platitudes inherent in so much of organized religion, he should have known by the time he wrote this play that a debate between two opponents a play does not make.
That's what he offers in this intelligent, informative but deadly dull long first act (of two) in which Miss Helen (Rosemary Harris) and Elsa Barlow, a young woman whom Helen had been kind to (Carla Gugino) chat, then talk,  then debate  whether or not Miss Helen should agree to the townspeople's request  that she abandon her home and move into a carefully chosen old folks' home where she will be cared for until she dies.
Helen, an eccentric and independent artist, who has found in her art (she creates pottery, furniture, statues, all of which are on her front lawn, facing east toward Mecca) wants nothing more  than to be left alone  For a full hour, her young friend encourages her to remain defiant, to turn down the generous offer the town has made her (to be delivered via a formal agreement through the good hands of a well meaning pastor, Marius Byleveld, splendidly  played by Jim Dale.)  Marius does not arrive until just before the final curtain of act one, and when we meet him he charms us with tales of how nutritious the potato is, how nourishing are other vegetables from his garden, all of which he offers as a gift to Miss Helen.
We spend the second act listening to Marius' long winded and repetitious argument reminding us that Miss Helen once almost burned the house down when she allowed her many candles to attack the drapes, while she sat mesmerized in a chair, only to be saved by the fortunate attention of a neighbor who noticed the smoke billowing from the burning house.
The town looks on Miss Helen as a mini-monster, and the town's children are frightened of her, particularly since the house burning incident.  They also look on the statues on the lawn as harbingers of evil, and they just don't want their creator around any more.  Marius makes a cogent argument, but I found the two supporting players merely mouthpieces for Miss Helen herself, who had undoubtedly been filling her own head with all the facts presented her by both sides.  I won't tell you how she decides, but I can say that her road toMecca is far too long and rutted to hold us for the two hours it takes to travel it.
Small benefits accrue from the joy of watching three actors do their level best to make interesting the arguments Mr. Fugard presents.
Rosemary Harris, too long absent from the New York stage, has said in recent interviews that meaty leading roles for actresses nearing 80 like Miss Helen do not come her way very often.  If she's judging the role by the number of lines she speaks, it's a true winner.  But it takes all her artistry (and she has plenty at her command) to keep us from dozing during the long harangue that is the first of two acts.
Mr. Fugard, who wrote the role of Marius for himself, and he did play it during its New York run in 1988, had something of a success at that time, running 182 performances.  Both sides are well presented in the current production, but a debate is fun only if you have a personal stake in its outcome, and I felt this was more like washing dirty linen in public.  Ms. Harris manages to fill Miss Helen with conviction and even humor.
Ms. Gugino, whose credits are impressive onstage, in film and television, is a worthy stage presence, and Jim Dale, who is welcome back after his award winning performance in the Roundabout's revival of The Threepenny Opera, brings welcome relief in Act Two, which finally brings conflict to the stage when he has a go at the arguments being put forward by Ms. Barlow.
During most of this, Ms. Harris is consigned to her chair, turned away from us, as she joins us listening to points of view being hurled back and forth.  When she's heard enough, she makes her decision. I do wish however, she'd made it about an hour earlier, for I had the feeling I knew where she was headed from the get go, and that's not good.
Roundabout Theatre's production of The Road to Mecca is at the American Airlines Theatre, 227 West 42nd Street, New York, NYC.
Details and tickets 
———————–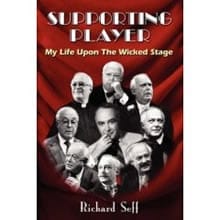 Broadway performer, agent, writer, and now librettist, among his many accomplishments, Richard Seff has written the book for Shine! The Horatio Alger Musical!, which debuted at the 2010 New York Musical Theatre Festival. He is also author of Supporting Player: My Life Upon the Wicked Stagecelebrating his lifetime on stage and behind the scenes, available through online booksellers, including Amazon.com.
Read more at RichardSeff.com
Richard Seff on DCTS – interviews Broadway luminaries:
Richard Seff chats with Joel Markowitz: