SCENA Theatre's current production of Norwegian playwright Henrik Ibsen's Hedda Gabler puts some interesting twists on a classic that's rarely seen on DC stages these days. SCENA's veteran Artistic Director Robert McNamara has chosen to remedy this problem at least in part by employing an updated adaptation of the original by popular contemporary Irish playwright Brian Friel.
McNamara spoke with us recently about this new production at the H Street Theater, which he also directs, and explained his rationale behind his choice Friel's text. "In a way, I regard this version as Friel's homage to Ibsen," says McNamara, who has had considerable hands-on experience with the Irish and Dublin theater environment. He observed that any number of 20th century and contemporary playwrights have continued to regard Ibsen as one of the first true modernists as well as a key figure in the development of a more realistic approach to drama.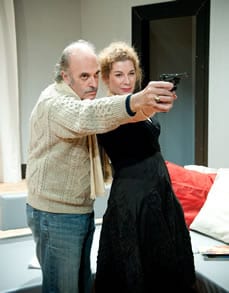 For McNamara, Friel's value-added approach to Ibsen enlivens the original dramatic script—frequently encountered in stiff, literal, linguistically outdated English translations—"with a contemporary feeling and flow." He notes that even in the late 19th century, Ibsen knew better than nearly anyone how to write contemporary dialogue—something Friel was able to freshen up for audiences in our own time without losing the meaning and the spirit of the Norwegian playwright's play.
In the process, Friel "Irish-ized the play, particularly in the flowing of the language," McNamara says. "We used his revised version, the one they used at the [Dublin] Gate in 2008, and we made a few updates to our version."
"We tried to give Hedda a refreshing new look and take the pace more up-tempo," he says. "Yet we're still dealing with a small, tight-knit community here, with Hedda as the outsider whose inner beliefs are relentlessly crushed by society. She starts out from supposedly being happily married but ends up by blowing out her brains."
SCENA's own touches include moving the play's action from roughly the late 1880s to the Norway of 1938, a year perched on the cusp of the Second World War. Part of the idea for the update "was to let fresh air into the room," says McNamara, who feels that classic plays can become musty and dated if always staged as period costume dramas. "I still see performances of Chekhov that insist on using all the period details including the samovars," he says.
Altering dramatic time periods is something that's pretty "normal and successful in Germany," he says, "but here it can still cause a furor." Nonetheless, "the Germans really seem to be succeeding with new productions" of Ibsen's classic plays "when they move the time period just slightly forward." This, he feels, gives the plays more of a contemporary feel while still providing enough historical context.
Great dramatists, in McNamara's opinion, aren't limited to a single time period because their plays deal with serious issues that are ultimately timeless. "It's reality that Ibsen was writing about," he says, not merely an isolated spot in time. Ibsen "creates a miniature world in this play that's heightened by the characters' intimacy," observes McNamara, noting that the H Street Theater's small working space serves in some sense to heighten this sense. "It's the kind of setting that makes you think of the best work on TV or film."
The intimacy of the H Street setting also tends to reinforce Hedda's increasing sense of claustrophobia. "Hedda is being stifled by the smallness of her space," he says. From the beginning, when we first see her, "you immediately see that she wants out of there and is looking for some kind of ticket to escape. She sees herself as being increasingly trapped, and will resort to anything to get out," resulting in a kind of manipulative ruthlessness that callously disregards the lives of others.
In addition to providing a more contemporary theatrical experience, another reason for moving Hedda's setting to 1938 was better grasp the philosophical context for Hedda's—and Judge Brack's—relentless "will to power" as they carefully circle one another in the play. By bringing Hedda forward near an historical period of great tension and foreboding not unlike our own, McNamara hopes to give the play something of a contemporary feel while still retaining its innate emotional power.
Man and superman, bravery and heroism were key concepts embodied in both German philosophy and in Wagner's operas during Ibsen's own time. Tragically, just a few decades later, this same concept inspired Hitler's rise to power and his subsequent instigation of the Second World War in 1939. Changing Hedda's historical context from 1890 to 1938 provides a forceful underpinning for the play's central dilemmas.
SCENA's production of Hedda is also notable for actor Jim Jorgensen's unusually sharp portrayal of the amoral Judge Brack. Jorgensen's Judge is "a foul, malevolent figure in this production," says McNamara, "a quisling in a way. He feeds on the failures of the other male characters."
From his first appearance," McNamara continues, "we get a whiff of the way the Judge is going to go. His is a Mephistophelian evil that's devoted to destroying people almost for the enjoyment of it."
In addition to Jorgensen, McNamara feels he's fortunate in being able to stage Hedda Gabler with a cast of first-rate veteran players. "They all operate like a family unit," he says. "Kerry Waters is doing a dynamite job as Hedda," and the rest of the cast successfully, and sometimes puckishly, rounds out the dysfunctional family portrait.
SCENA's Hedda Gabler continues at the H Street Theater through January 29, 2012. But what's up next for Robert McNamara and company? "Well, in April we're doing an Irish play, Conor McPherson's The Seafarer," he says. "It's basically about some Irish lads playing cards with the devil."
"Then we'll be presenting the East Coast American premiere of George Tabori's Mein Kampf," he says. Inspired by that famously monstrous magnum opus, Tabori's  play explores the lives of two older Jewish men who strike up a relationship with a young, down-on-his-luck would-be painter named—you guessed it—Hitler.\
Hedda Gabler runs thru January 29, 2012 at H Street Playhouse, 1365 H Street NE Washington, DC.
Details
Tickets