Margaret Edson is that rare bird, a playwright whose first play, Wit, earned a Pulitzer Prize for Drama.  That alone makes her unique, but she becomes more so when we realize that she has never had another play produced and is "committed to teaching, now", but unlike the heroine of her play, who as teacher specializes in the Holy Sonnets of John Donne,  she confines her work to exposing  kindergarten children to the joys of  reading and the written word.
In the  play, Dr. Vivien Bearing is influenced enough by her graduate school professor so that in the course of a twenty year flashback, we learn that after exposure to this professor, Dr. E.M.Ashford, she decided nothing would stop her from becoming a top notch scholar, and that she has confined her studies to the poetry of John Donne.  In mid-life she discovered she has Stage IV ovarian cancer, but she agreed to submit to the most potent chemotherapy treatment available, and WIT allows us to accompany her on this  arduous journey to life's end.
What's extraordinary about Wit, and about this Manhattan Theatre Club production of it, is how emancipating it is. Dr. Bearing is a no-nonsense woman who is fully prepared to extract succulence from every ounce of life available to her, and when she finally must succumb, she does so with dignity, and by good fortune, in the arms of Dr. Ashford, who happens to be visiting her when her end is near.  Ashford reads to her, not from her beloved Donne, who is far too deep to reach her morphine-addled mind. No, she reads from the children's story about the funny little bunny and his charming attempt to run away from his mother, only to learn that she would never allow that because she loves him too much.  This is not maudlin, trust me; it's an exquisite ending to a play about death that is filled with life in all its colors.
Kathleen Chalfont had a great success in the role when New York first saw the play in 1998, and the late Helen Stenborg, in the very small role of   Dr. Ashford, contributed mightily as well. In this production, Cynthia Nixon, stripped of all artifice, and, in the end, even of all body hair and clothing, is astonishing.  She actually seems to glow throughout the evening, her expressive eyes reaching out into the audience iridescently.
Nixon has been acting since her childhood when one season she appeared in two Broadway plays at the same time!  Dashing from The Real Thing to Hullabaloo, moving on to a varied career which includes her long run as Miranda Hobbes in the tv series and feature film "Sex and the City." I saw her play Nora in  A Doll's House in Princeton once, and my one disappointment was her voice — she hadn't yet learned to moderate it, and remove from it the shrill tones of its upper register.  That was years ago, and now she could give lessons in how to use a voice to fill a theatre without electronic help, and to plumb deep for nuance when she's given material as rich as that she's been offered in Wit. 
In this production, she is supported by a fine cast, topped by Suzanne Bertish as Dr. Ashford, and by Greg Keller as the young Doctor Jason Posner, whose interest in Dr. Bearing is more clinical than personal, and the clashes between them are a combination of karati and comedy.
Aiding the fading Vivien Bearing is a warm and caring nurse, played beautifully by Carra Patterson. The rest of the company is top notch at showing us how scary life is in an oncology ward .  But nothing diminishes Vivian Bearing's mature and moving view of life and death, as performed for us by the luminous Cynthia Nixon.  A powerful play, this — mounted with taste and integrity; therefore a major contributor to our New York theatre season.
Manhattan Theatre Project's production of Wit is on stage at the Samuel J. Friedman Theatre, 261 West 47th Street, New York, NY.
Details and tickets 
———————–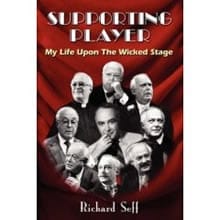 Broadway performer, agent, writer, and now librettist, among his many accomplishments, Richard Seff has written the book for Shine! The Horatio Alger Musical!, which debuted at the 2010 New York Musical Theatre Festival. He is also author of Supporting Player: My Life Upon the Wicked Stagecelebrating his lifetime on stage and behind the scenes, available through online booksellers, including Amazon.com.
Read more at RichardSeff.com
Richard Seff on DCTS – interviews Broadway luminaries:
Richard Seff chats with Joel Markowitz: