There's a reason why The Whipping Man is becoming one of the most produced plays around — its premise of a Passover Seder among newly freed slaves raised as Jews is mind-blowing, and with the right casting and directing, the play spins old concepts in stunningly creative new ways.  The production at Theater J hits all the marks and then some.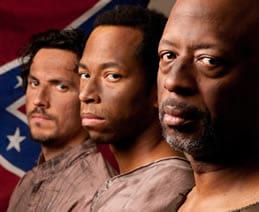 The trio of actors all bring special gifts to bear witness, led by David Emerson Toney as Simon, the old faithful servant of master Leon, who carries the years of slavery on his back without allowing the wretched condition to break his soul.  Simon tends to young master Caleb, played with wonderful nuances by Alexander Strain, a Confederate soldier who has broken with his regiment and returned home to heal from an infectious gunshot wound.
Mark Hairston is the spirited John who also carries wounds from the brutality of slavery with evidence of internal scarring, hinting at how festering unseen wounds can perpetrate through generations.  All three actors give masterful performances under the skillful direction of Jennifer Nelson who channels history like an old soul.
The play develops such ideas of loyal Confederate Jews who accepted slavery and owned slaves, passing on the Jewish faith, legacy and rituals to their slaves, who identified with the Old Testament stories of the Children of Israel in bondage struggling for freedom.
The issues which, on the surface seem dizzyingly bizarre, are played out with natural grace and rigor in the relationships between the three seen characters as well as pivotal characters who are only referenced.  The brilliant script brings all of the characters to bear witness– all are fleshed out, plausible and real.  At one point, Simon asks John "Do you know your story?"  And that's the crucial issue — secrets are revealed and the characters learn about themselves and each other in those several days in mid-April, 1865 that just happened to fall on Passover.
There's more than one festering wound in the production, and alcohol has a plum role as a makeshift antiseptic and anesthetic.  And in case it wasn't clear, the script has Simon remark about things that "muddle the mind," specifically John's reliance on alcohol to numb his mental anguish.
Hairston's portrayal of John, the brash reactionary, hits all the right tones in his almost thuggish disregard for anything that doesn't propel him or his life quest—to read and study and be accepted as a scholar.  As a youth, John was threatened to act right or he'd be punished by the "whipping man," which held him in check to his teenage years.  But like a young bucking bronco, his time under the lash was inevitable, which left scars on his emotional psyche that impacted every decision he's made since.  Hairston portrays aspects of the emotional desecrating legacy from slavery, and the script masterfully interweaves John's festering anger with Simon's unshakeable faith.
When Toney as Simon passionately delivers his Passover prayer and sings the old slave song 'Go Down Moses,' complete with fervent exhortations about Abraham, he is the absolute embodiment of strength and courage.  As secrets are uncovered in the second act, and the full extent of his survival is revealed, well, it's a breathtaking delivery that might take a minute to sink in after the curtain call.  It's that good.
The set by the reliable Daniel Conway relays glimpses of the old majestic architectural design of the south with authentic artwork on the wallpaper and sculpted patches of ceiling.  The somber backdrop of burnt up, plundered Richmond and ripped and ragged furniture indicate that those glory days are long gone.  Sound and light design by Matthew M. Nielson and Nancy Schertler respectively, also set the somber tones and shadows of tumultuous civil war years.  Segments of original music also by Nielson contain a fusion of folk tones steeped in the roots of the Black experience with remarkable results.
There is already evidence that the collaboration with the new artistic producer at Baltimore's Centerstage, Kwamei Kwei  Armah, with its concurrent production has successfully had patrons hustling up and down I-95 to marvel at different artistic choices of this powerful script. Once is not enough to witness untold glimpses of history twisting and turning in capable hands.
In his usual fashion, Theater J's Artistic Director Ari Roth  is committed to encouraging community dialogue to help grapple with the poignant issues presented  with post-performance talkbacks, panels about shared cultural legacies, even what promises to be a fascinating session on the psychoanalytic perspective.
This stellar production of The Whipping Man shows characters dealing with slavery's brutality and foreshadows its long-reaching psychosocial aftermath while portraying the intense faith that continues to sustain a nation still lurching towards freedom for all.
The Whipping Man runs thru May 20, 2012 at the DC at the DC Jewish Community Center, 1529 Sixteenth Street, NW Washington, DC.
Details
Tickets 
The Whipping Man
By Matthew Lopez
Directed by Jennifer Nelson
Produced by Theater J
Reviewed by Debbie Minter Jackson
Highly Recommended
Running Time:  2 hours, 15 minutes with one intermission
Related:
Joe Brack interviews Alexander Strain and Mark Hairstron