The Golden Age of musicals on Broadway has been over for several years now. I think on that we are all agreed (by "all" I mean those of us who were around to revel in it, to appreciate it). Little by little, the standards for what makes a great musical have slipslid to the point where melody is out, the beat is in, where lyrics getting laughs is out, whereas now they can't possibly be heard because the microphones distort them. Wit has left the room, to be replaced by scatalogical humor. Deft is out, crude is in. It's no longer "less is more", now it's "more is better." 
So when I say that Kinky Boots is a fun musical, I mean that yes, now that we are in the middle of the Leaden Age of Musicals, it stands as a leader, a rhinestone among glass, a semi precious stone among junk.  Harvey Fierstein,  its book writer, has been wise enough to stick around from the ashes of the Golden Age (he did write the excellent book to La Cage aux Folles) to accommodate the smaller demands of the current crowd of musical theatre fans.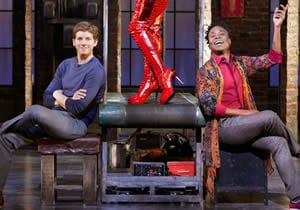 He's taken a small Miramax movie and jazzed it up sufficiently to keep everyone reasonably happy — there is just enough sentimental schmaltz in it to keep the seniors happy, there is just enough irreverence to keep the young and the restless happy, and for those of us in between, there are a couple of appealing characters to keep us satisfied with his tale of all of us learning to live without fear of those who are different.
He's written roles for Stark Sands and Billy Porter, as the square boss's son and the way out there drag queen with the heart of gold, that allows these two very talented young stars the opportunity to strut their stuff.
In this he has been surprisingly aided by the music and lyrics of the lady from another world, one Cyndi Lauper, the Grammy and Emmy Award winner who, after "more than twenty five years and record sales in excess of 50 million has, under Fierstein's  acknowledged guidance, delivered a serviceable score that director/choreographer Jerry Mitchell has been able to stage with vigor and verve.
In other words, it looks like a musical comedy hit, it feels like one, so I think it's going to be one.  It's at the Al Hirschfeld Theatre, and though that's a reasonably new name for it, it still resembles its name for so many years, the  Martin Beck Theatre, and as a veteran theatre goer, I could not help thinking this is where Bye Bye Birdie, also with a group of fresh talents half a century ago, delighted audiences. I would think it would appeal to the audience that enjoyed that youthful romp.
As the quality of musical writing has slipped away, as it became sloppier and louder and more in your face as the years have gone by, as it introduced the electrified instruments of rock and roll to the orchestra pit where they don't belong, it has forced the sound elevation into the throats of the singers, so they are no longer "live".
It is most harmful to the ladies, for one called Annaleigh Ashford as the girl who's stuck on Stark Sands' "Charlie Price", is a real find. She has the original comic style of Celeste Holm or more recently Bernadette Peters, or  any of the old time leading ladies with a comic edge. and in "The History of Wrong Guys" Ms. Lauper has given her material worthy of her.  And she makes the most of it, stopping the show with it. But I kept thinking how much more effective she would be if she weren't being thrown at us  with full force by the hidden instrument that's got her decibel level up to the top.
I know I've lost this battle, and one of these days I will shut up about the awful quality of sound in legit theatres these days. I don't mean all the time — much of Kinky Boots is audible and easy on the ears, but now and then I must protest — leave these talented singers alone with just a tad of implementation if you must, enough to satisfy the younger and hard of hearing generation, as well as the over 50s of us who have perfect hearing, and who have lost the pleasures of live musical theatre. Give us a break, and let's compromise!
For the rest, this show is just swell.  It looks great, from its realistic street scene on which it opens, to its conveyer belt first act finale which justifiably raises the roof . Gregg Daniels' costumes including the unbelievable shoes themselves, are eye poppers.
Stark Sands, standing on the same stage as the young Dick Van Dyke all those years ago in Birdie, reminded me how terrific he would be in Van Dyke's role  — as in this show he charmingly turns from boring boss' son Charlie into a man to be reckoned with, mostly because of his exposure to the equally appealing Billy Porter as "Lola" the drag queen  who is not so unlike Charlie as each of them first thought.
 Kinky Boots looks like all its creators had a good time putting it together. That isn't always a good thing, but much of their joy is contagious and of this season's entries, I think it's up there with Hands on a Hardbody as the most satisfying. Does it match Guys and Dolls, A Funny Thing Happened on the Way to the Forum, Chicago, The Threepenny Opera or any of the great "bawdy" musicals?  No way.  But in a season of drought, a rain shower is welcome, and Kinky will more than do for now.  
Kinky Boots is onstage at The Al Hirschfeld Theatre, 302 West 45th Street, between 8th and 9th Aves, NYC.  Details and tickets.
—————————–
Broadway performer, agent, writer, and now librettist, among his many accomplishments, Richard Seff has written the book for Shine! The Horatio Alger Musical!, which debuted at the 2010 New York Musical Theatre Festival. He is also author of Supporting Player: My Life Upon the Wicked Stagecelebrating his lifetime on stage and behind the scenes, available through online booksellers, including Amazon.com.
Richard Seff chats with Joel Markowitz: