Signature Theatre's production of Jason Robert Brown's musical The Last Five Years starts out almost like a cliché, but then sneaks up on you and gets you deeply involved before you know that it's happening. The show's minimal plot focuses on the rise and fall of the relationship between rising novelist Jamie Wellerstein (James Gardiner) and sprightly Cathy Hyatt (Erin Weaver), a young actress who never quite seems able to grab the brass ring.
Brown's show was inspired by his own failed marriage to his former wife, Theresa O'Neill. Apparently, the songs and subject matter hit close to the bone for her, inducing him to alter the male character, based on himself, to a decidedly Jewish writer.
The story arc follows an interesting trajectory. We first meet Cathy at the end of the relationship, in an apartment strewn with packing boxes, clearly indicating someone's moving out. Shortly thereafter, we encounter Jamie who's just experiencing the first flush of success as a young novelist. Jamie's story tracks forward while Cathy's tracks back. The only time the two characters really meet (at least on stage) is at the time of their marriage. Otherwise, the show's musical numbers are solos, save for the final musical postscript.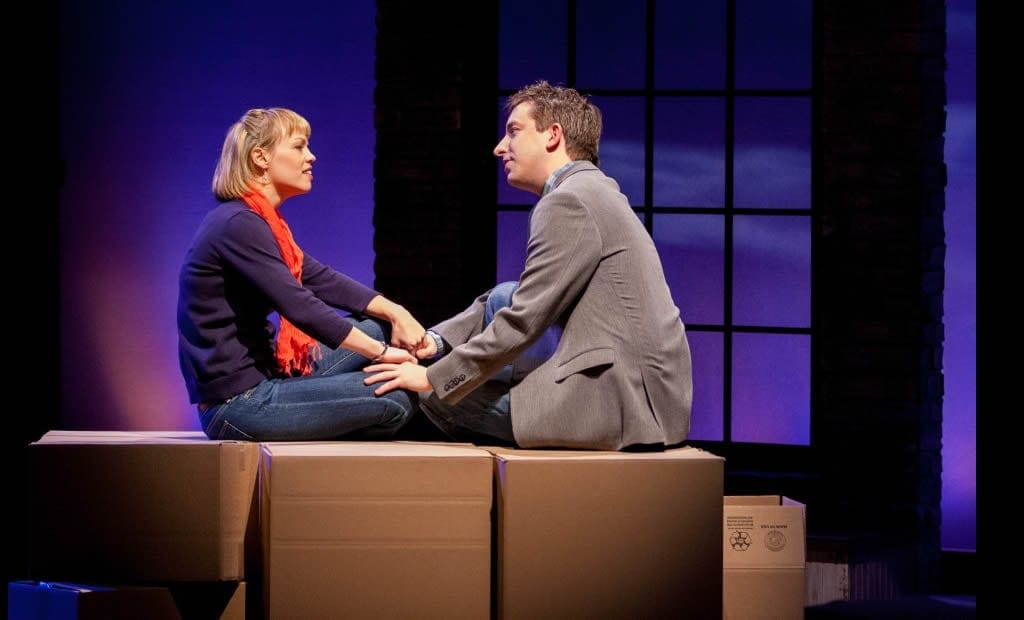 Deceptively simple, the structure of the show provides a great deal of insight into what makes a relationship tick. And what doesn't. It also provides a realistic grounding for both songs and lyrics which explore each character's individual inscapes, providing surprising insights into what can ignite—and what can kill—a modern relationship.
At least for this reviewer, the musical opens on what appears to be a tired premise, as Cathy bemoans the loss of her husband and of something important in her life while seeming to take refuge in the woman-as-victim motif. But the surprise here is that, as the musical evolves and as each character takes his or her own turn, we begin to sympathize with both of them, as the playwright/songsmith adds multiple layers of insight and self-awareness via lyrics that challenge even the witty Stephen Sondheim for their intelligence, cleverness, and sensibility. This is, in the end, a literary show as well as a musical.
Happily, while the intellectual content is surprisingly high and sustained, the music of this show is also energetic, catchy, and engaging. There are no tunes here that you're likely to end up singing in the shower. But each packs a punch in its own special way.
Tops in the tune (and lyric) category are "Shiksa Goddess," Jamie's backbeat-filled ode to his new blonde girlfriend; the witty parable of "The Schmuel Song;" and the sadly winsome final denouement, "Goodbye Until Tomorrow/I Could Never Rescue You," which concludes with Jamie's realization that he could never save his now former wife from her own insecurities, even as Cathy understands she can never support a man in the way that he needs to be supported.
Both James Gardiner and Erin Weaver turn in fabulous performances as their respective characters, with Gardiner having perhaps the more supple voice of the two. Nonetheless, both performers know how to sell a song as well as develop a character we can care about. Their approach is intimate, energetic, and technically nearly perfect. Extra points, too, for fantastic diction—critical to gaining a full grasp of Brown's deeply insightful yet often hilarious lyrics.
Recommended
The Last Five Years
Closes April 28, 2013
Signature Theatre 
4200 Campbell Avenue
Arlington, VA
1 hour, 32 minutes with no intermission
Tickets: $47 – $96
Tuesdays thru Sundays
Details
Tickets
The performers are aided and abetted by Aaron Posner's light but knowing directorial touch as well as a punchy musical performance by the behind-the-stage band under the crisp leadership of Music Director William Yanesh.
The show is also helped by its cleverly designed set which simultaneously serves as a writer's office, a loft bedroom, and a dance floor, all of which seem to be suspended beneath an overhead mobile whose clocks and manuscript pages suffice to symbolize the trajectory of two lives that become like that proverbial set of trains that pass in the night.
Signature's The Last Five Years is a true mini-marvel, packing a lifetime of music and emotion into a compact musical drama that never lets up in its energy or enthusiasm. Sometimes wonderful things do really come in small packages.
———————-
The Last Five Years, music and lyrics by Jason Robert Brown . Director: Aaron Posner . Music Director: William Yanesh . Set: Daniel Conway . Costumes: Kathleen Geldard . Lighting: Andrew F. Griffin . Sound: Matt Rowe . Reviewed by: Terry Ponick