Movies arriving from overseas are the bread and butter of Filmfest DC, the annual tour of cinematic works Washingtonians would otherwise have little chance to see. The French drama "In the House," one of the 80-plus features screening over the next ten days, is a prime example of the way this festival tries to stretch its audience's boundaries while maintaining a program that's accessible to inexperienced moviegoers. 
Adapted from the Spanish play The Boy in the Last Row by Juan Mayorga, "In the House" is, at its heart, a struggle between the supposed tranquility of middle-class domesticity and the warped, grandiose visions of the artists who believe they reside above it all. Director and co-writer Françoise Ozon is fascinated here by the dangers manifested in voyeurism and generational strife – ideas he also explored in his 2003 breakout film, "Swimming Pool." This one is clever in the way it begins as a story about a teacher confronting an obviously disturbed student, but twists the knife until we realize the adult is the one we should fear.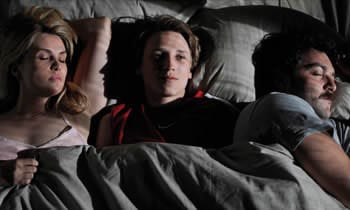 What could there be to fear about a high school literature teacher named, of all names, Germain? Plenty, when he's played by the veritable French film and theatre actor Fabrice Luchini as a man perfectly happy to let his failed dreams of literary success propel him into dangerous territory.
As the film opens, Germain is ready to write off the whole of youth as a lost cause – his students, he decides, are talentless bores with no interest in the classics. But a nakedly emotional essay from the quiet Claude (Ernst Umhauer), describing an aching longing to live in his classmate's house, intrigues Germain, to the point where he pushes Claude to befriend the classmate and infiltrate his seemingly perfect middle-class family. All the better for inspiration, you see.
As Claude's writings progress and Germain's fixation on his story becomes more pronounced, the film takes on a meta-fictional quality, showing us a scene as Claude narrates it before pausing for Germain to impose his own "corrections". What becomes most fascinating is how the script sets Germain psychologically apart from everyone around him: He reassures himself that Claude is only spying on "fictional characters," embellishments of a writer's craft, rather than real people who feel the consequences of real actions.
Recommended
In the House
2 showings:
April 12 at the Avalon, 6:30pm
April 19 at the Embassy of France, 9:00pm
1 hour, 45 minutes
Tickets: $12
Details and tickets
This method of dissociation leads to the film's most disturbing and effective sequences. With almost no prodding from Claude, Germain helps him cheat on a math test so he'll keep tutoring his essay's subject, which is our first clue that this preacher of noble writings may not engage in the noblest of pursuits. Then later, Germain forces their mutual prey (Bastien Ughetto) to read an embarrassing assignment aloud in class, in a sequence that will induce cringes in anyone who's ever been similarly tormented by an educator.
"In the House" lacks, perhaps, the conviction to go as dark as the setup demands. Ozon and Mayorga telegraph their intention to deliver a knockout finale when a character notes that a good ending should be "unexpected," and true to form there is a twist.
But it behaves according to the dearly departed Roger Ebert's Law of Economy of Characters, which states that a film contains no unnecessary characters, so anyone who at first seems to play a largely insignificant role will eventually be revealed to contain multitudes. And as Germain's wife, Kristin Scott Thomas — an immensely talented English-born actor who appears just as comfortable speaking French — is saddled with a subplot about the survival of her art gallery that exists only to demonstrate how uncaring her husband can be to creative pursuits that are not his own.
The true value of "In the House" is in the way it openly mocks the sort of intellectuals who enjoy playing God in everyday life, by depicting them as utterly unequipped to wrestle with easy moral conflicts. Considering the film's intended audience, there's more than one debate to be had here.
In French with English subtitles
———————–
In the House . Directed by Francois Ozon . Written by Ozon and Juan Mayorga, based on Mayorga's play The Boy in the Last Row . Part of Filmfest DC. .  Reviewed by Andrew Lapin.