Taffety Punk likes to say that its ensemble members belong to a "theatre band," searching for new ways to fuse music and text onstage. This fun-loving, fidgety company has repeatedly plumbed the reverberating midpoint between song and the spoken word, bringing their rough-and-tumble spirit to Shakespeare's verse, gritty 21st-century originals, and quite a bit in between.
So their decision to bring back their production of Oxygen, which played at Capitol Hill Arts Workshop last spring and plays there again through April 26, is more a pleasant inevitability than a surprise. The heartfelt, low-fi show — co-directed then and now by Lise Bruneau and Chris Curtis — is exemplary Taffety Punk: moodily political, punchy as a vodka Red Bull, and itching with a raw sensuality.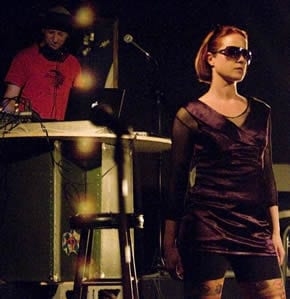 The play, by Ivan Vyrypaev, tracks two modern-day Moscow youth through a fraught and feverish series of cross-cut monologues, set to original underscoring by a handful of DC-area bands, in which the two characters pore relentlessly over the sad facts, and fears of the sinister, changing city in which they reside.
During the first few monologues, the two actors are islands, but their paths quickly converge. The intimacy with which they confide in each other, pouring out their anxieties, has the cool, suspended air of a cell-block friendship: together again, and forever alone.
Their exchanges — sometimes hushed, sometimes loudly polemic — bring many surprises and stark shifts in tone. This range of color Vyrypaev uses in his quick, affecting script — a little over an hour long — is at once chilly and absorbing. The show wraps us up in a tight hug that gives off not warmth and comfort but the slightly sour tinge of need, loneliness, and disappointment.
The darker themes of Oxygen stare the show's small audience quite literally in the face as soon as the play begins. Under a harsh, colorful glow (Brittany Diliberto did the simple but strangely mesmerizing lighting design) we come under the relentless glare of actor Mark Krawczyk, playing a disturbed young man grown intensely upset by… pretty much everything. Krawczyk's bug-eyed performance is thrillingly unstable, fueled by a dangerous sort of brooding mania.
He's well-matched by Esther Williamson, who brings a similarly sharp analytical tongue to the show. In contrast to his overheated philosophizing, however, her rebellion feels more grounded, more practiced and tactile. She's confident in a way that his brashness can't quite lock into. It's an appealing imbalance to observe as the two collide, collaborate, and collide again (the show is narrated rather elliptically in both first and third-person, so don't bother trying to lock all the plot points together), chewing their way through their troubles with government, domestic laws, drug policy, morality, homicide, escape, crime, homelessness, God, war, corruption, death, honor, apocalypse… and that's just what comes brimming to the surface.
The song-like qualities of the writing — Vyrypaev has structured a number of his monologues as a string of spoken verses that loop back around to a repeating chorus — fit nicely in the mouth of Krawczyk and Williamson, who speak creatively but precisely.
Recommended
Oxygen
Closes April 26, 2013
Capitol Hill Arts Workshop 
545 7th Street, SE
Washington, DC
1 hour, 10 minutes with 1 intermission
Tickets: $15($25 includes the recording!)
Wednesdays thru Sundays
Details
Tickets
And the songs themselves, although written by five different bands (Jupiter Rex, The Caribbean, Electric Blanketland, The Gena Rowlands Band, and The Inexhaustible Chalice) mesh well, creating a layered insomniac soundscape that always adds to, and never distracts from, the strong work by the actors. Actor Dan Crane, playing a DJ we see off in the distance throughout, adds to the music-club atmosphere by introducing the show and helping to close it out.
"They are a whole generation. Remember them," Crane says at show's end about these troubled Russian youngsters. And the show is, indeed, unmistakably of its place and time, heavily peppered with Russian words and phrases. But the duo's fundamental search for oxygen — for the time needed to build a name, space, and meaning for themselves — is a nicely universal refrain. And Taffety Punk's brisk tour through these two minds, crackling with effort and wonder, makes for a thrilling little adventure.
Diving into the static with them proves worthwhile. And we relate, sadly at moments, to their search for some silence and solidity, as they elbow their way through a crowded new world to find their share of the air.
————————-
Oxygen . Written by Ivan Vyrypaev . Directed by Lise Bruneau and Chris Curtis . Featuring Dan Crane, Esther Williamson, and Mark Krawczyk . Produced by Taffety Punk . Reviewed by Hunter Styles.