A look at the top on-demand streaming music libraries
"Could it be? Yes it could. / Something's coming, something good." So Mr. Sondheim wrote over half a century ago.Then he was writing about young love. Now it is time to make that same prediction, but this time it is about all things music.
You see, we are on the cusp of yet another fundamental shift in the way people experience that ineffable miracle – music. Not just musical theater or just theater music but music in all its forms, styles, functions and origins.
Get ready. That "something" that is coming is the on-demand streaming music library that the digital revolution has made possible.
Once upon a time, of course, there was no such thing as "recorded sound." The sound of music disappeared instantly following its creation. Musical annotation allowed a composer's instructions to be preserved so a musician could make something approaching the sound again. But the sound itself was gone the moment it was made.
Then came December, 1877. As Jack Raymond put it in his classic work "Show Music on Record," that date will "go down in history as a knife edge, before which voices spoke, sang, and vanished, and after which some voices and songs remained."
Yes, sound recording is only a hundred and thirty five years old, but it has gone through an amazing number of revolutions: wax cylinders to phonograph records; 78s to 33s (with something of a flirtation with 45s) then magnetic formats (not just reel to reel and cassettes – remember 8 tracks?). These gave way to digital storage on the Compact Disc – the by now ubiquitous CD.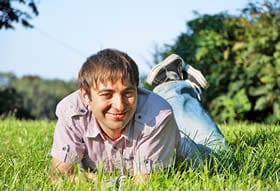 There are more than twenty commercially available services on today's internet that allow a user to listen to a song, a score or a performance from digital libraries that contain as many as millions of individual recordings! They vary in their level of quality, the details of their collections, the method of access and their business methods – but they exist and their capabilities and capacities can only get better with time.
Some, like the very popular Pandora make their mark by choosing the music you listen to on the basis of your likes and dislikes. Others, like the fast growing Spotify allow one listener to "follow" others to discover what they like or what they are doing.
These, and similar content selection services, are probably best for casual listening spiked by serendipitous discoveries. But serious exploration of a specialty or a genre requires the listener to make the selections and that is beginning to become possible using incredibly large libraries.
After decades of being addicted to owning my own library with physical possession of thousands of titles being an intoxicating goal, I'm faced with the fact that we are about to be able to have access to so much music that ownership becomes secondary. The listening becomes more important than the owning, and that is a liberating thing.
For one thing, it liberates space in my home office.
Once, I owned a thousand LPs. They took up yards of shelf space and weighed a ton. Moving from one apartment to another involved some very heavy lifting.
Later I owned thousands of CDs, each in its own "jewel box" – those shelf space consuming packages in which most CDs still come. I shifted to storage in sleeves because my wife wanted her dining room back. I could only get 30 CDs in their cases in a linear foot of shelf space, where the same foot can hold 90 CDs in sleeves with their booklets. Not all albums can be "sleeved" – box sets and special packaging complicate it. But a quick calculation shows that I cram nearly 3,000 cd's onto ten yards of shelving … none of which is in the dining room.
But now I've begun to use Spotify's online streaming music service … a virtual library of such scope that it makes any personal collection seem a drop in the bucket. How big is Spotify's library? My ten yards of shelves contain something approaching 30,000 individual tracks. Spotify's library currently contains 20,000,000 tracks! If an average album on a CD has, say, 15 tracks, Spotify's library would be 1,333,333 CDs which would take over eight miles of shelves.
Not all the music in Spotify's library is theater music, of course. I have done a number of different searches to see if I could come up with an estimate of their stock of theater music, but since the current state of Spotify's art does not support a search by "genre" I've been unsuccessful. Still, the experience has shown me that a great number of the albums I have are in the Spotify library, and an even greater number of albums I don't have have shown up in the searches.
Using Spotify not only liberates space in my home office, it frees my mind to explore so much more "content" than I possible could amass. When I'm reading a book or an article and see a reference to a song or a score I don't know, I search for it on Spotify. Often, I'm instantly listening to it. This makes the reading all that much more rewarding.
Ever liked a song or a score by a composer and wish you could hear what else he or she has written? Again, a Spotify search often gives me that opportunity.
All of this is accomplished without a violation of anyone's copyright. Spotify has two levels of service: subscription for listening without commercials or free with advertisements. Spotify pays the rights holders for the content. They do so out of the payments of people like me who pay a monthly subscription fee because we want access without commercials and from the payments of advertisers who pay to have their commercials displayed to those using the free service.
For me, the $9.99 a month fee is a bargain. I don't know how many hours of listening to Spotify I have in a given month, but at less than the price of a single CD, the fee is well worth it to me.
Sound like the future is here? Well, not exactly. We are just at the beginning of the age of unlimited access, and the technology isn't as useful as I'm sure it will become. For one thing, Spotify only shows you the front of the album you are playing. No liner notes, no booklet of pictures, spotty information on the specific track and no consistent listing of such things as the name of the artists, composers, lyricists. Unless it shows on the cover they display, you won't even know what record company issued the recording or its catalog number so you can look it up separately.
The audio quality of most tracks is quite acceptable. Or, more precisely, as good as the original recording allows within the limits of Spotify's web application. Some tracks, however, have been sloppily uploaded into their library. Whether this is the fault of the record companies who uploaded their material without enough attention, or the fault of Spotify's technicians in receiving and storing the tracks, it is certainly an indication of the need for greater quality control.
As I indicated above, the search capability is currently limited, and that frustrates the effort to dig into a genre or explore the work of an individual. Search for "Oscar Hammerstein II" and you only get ten albums, which is fewer than you get if you search for just one of his shows. Search for "Richard Rodgers" and you get over thirty albums, still woefully inadequate. (I'm glad to know that there is an album "Hits of Richard Rodgers in Karaoke" but I didn't bother to listen.)
Search for "Broadway Cast" however and you are presented with nearly 500 albums. Some are duplicates (apparently different releases of the same album at different times) and some are clearly not "Broadway" (some off-Broadway cast albums) but still, a treasure trove. Go further. Search for "London Cast," and you see 195 albums, some of which look marvelously intriguing.
A search for a specific musical by its title, however, usually turns up what you need. Search for Show Boat and you get a dozen recordings of the score! Search for The King and I and you get even more. The more obscure titles show up as well. Want Jule Styne's Hazel Flagg? Its here. Want Jerome Kern's Very Good Eddie? Its here too. So are On Your Toes, Where's Charlie, Bonnie & Clyde, Parade, Jayne Eyre, Glory Days, The Pirate Queen and Zombie Prom – to name just a quick sampling.
Current shows are well represented as well. The library includes at least one recording of the scores of every one of the musicals now playing on Broadway that have had a recording issued.
None of this is going to get me to throw my collection away. But the addition of these hundreds, indeed thousands, of recordings to the material that is at my fingertips whenever I want makes me impatient for the day when the services are perfected.