Something shocking happens at the end of Suzan-Lori Parks' Pulitzer Prize-winning play Topdog/Underdog, now making its Baltimore premiere at Everyman Theatre, that is so shocking, it colors one's memory of the entire play. What, at first, starts off as a rousing comic drama makes a conversion to searing social commentary, all in the span of its last few moments.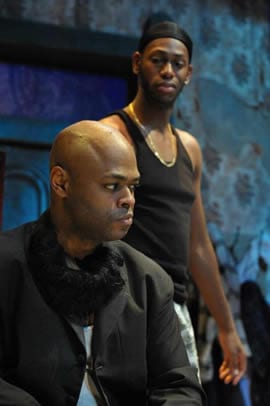 Topdog/Underdog is the story of two brothers whose father has the sense of humor (or sick sense of foreshadowing, let's be honest) to name them Lincoln and Booth.  Both the victims of a careless upbringing, their rough childhoods paved the way for even rougher adulthoods. Lincoln (KenYatta Rogers), who used to be a masterful cardgame hustler, quit the illicit trade for an even less enviable job.
He's forced to dress up as his namesake—in a stovepipe hat and beard—and works at a street carnival game that involves customers shooting at him with a toy gun. Booth (Eric Berryman), who only wishes he had his older brother's knack for three-card monte, instead devotes his hours to shoplifting.
The play starts off with a chronically unfaithful Lincoln who has separated from his wife and for the time being is crashing in Booth's dingy studio apartment. Booth sleeps in a shabby poster bed, Lincoln is crashing on the sofa chair. Like any two adult men stuck in such confining circumstances, they pass the time talking. Like any two brothers stuck in such confining circumstances, the talking turns to arguing.
This is Everyman Theatre's first season in its new location on West Fayette Street. The large, open stage may not have lent itself well to a setting confined to a disheveled tenement room, but the play is staged well enough to suggest a degree of intimacy. Lincoln and Booth are Topdog/Underdog's only two characters, and their pain and their arguments and their girl problems are the main source of its drama. The play would have fallen flat without Rogers and Berryman keeping a steady rhythm as they banter back and forth. Jennifer L. Nelson, the former producing artistic director of the African Continuum Theatre, contributes her well-known skills as a director to this production.
Topdog/Underdog was a smart choice for Everyman's christening, and a meaningful one. It's a gripping tale for a wide variety of audiences, but, as some in the production have said, an important play for Baltimore audiences in particular to see.
Highly Recommended
Topdog/Underdog
Closes May 19, 2019
Everyman Theatre 
315 W. Fayette St
Baltimore, MD
2 hours, 30 minutes with 1 intermission
Tickets: $32-$60
Tuesdays thru Sundays
Details
Tickets
When the play won the Pulitzer Prize for Drama in 2002, it was commended for depicting the inner-lives of young black men in a frank, unapologetic way. Parks remains  the only black female recipient of the Pulitzer Prize for Drama, and the tale she has gifted us should be seen less as absent of women and more as what happens when two men are left to their own devices.
Nothing in the play would have happened without Lincoln separating from his wife, and you get the feeling, as you see Booth vying to win back the love of a woman who has left him, that his life doesn't amount to much without her. The two men have lived their lives as underdogs, and only in their ongoing sibling rivalry does one occasionally emerge as a top dog. This is a bad habit that explodes into something far worse when they live together.
"The red card's the winner. Pick the red card, you're winner," says Booth, as he's mimicking his brother's hustle in the first scene. "Pick the black card, you're a loser." This is a story about the people who always end up drawing the black card.
——————————–
 Topdog/Underdog by Suzan-Lori Parks . Directed by Jennifer L. Nelson . Starring Eric Berryman and KenYatta Rogers . Creative team: Scenic Design ; James Fouchard, Lighting Design: Colin K. Bills .  Costume Design: LeVonne Lindsay, Sound Design: Chas Marsh . Fight Choreography: Lewis Shaw . Props Master: Jillian Matthews . Dramaturg: Naomi Greenberg-Slovin . Stage Manager: Amanda M. Hall.