Striding in through the doorway of the Kennedy Center's African Gallery, Julie Halston enters,  greeting her guest like an old friend.
"Hello, Jeff Walker."
And hello, to Julie Halston, comedienne, actress, and dynamo.
We shake hands and her smile and warmth light up the room. Dressed head to toe in black, save for a colorful scarf draped around her shoulders, Halston takes a seat across from me and immediately whips out a toasted peanut butter and jelly sandwich. She's on break from final rehearsal for The Guardsman in the Eisenhower Theatre.
Making her Kennedy Center debut, Halston stars with Finn Wittrock, Sarah Wayne Callies, and Shuler Hensley in this Kennedy Center production of Ferenc Molnár's play, featuring a new translation by Richard Nelson, under the direction of Gregory Mosher. Set in Budapest in the early 1900s, The Guardsman concerns an actor and actress who are married to each other. The actor suspects his marriage is coming to an end and hatches a plan to disguise himself as a handsome courtier to woo her. Halston plays the actress' confidante.
Well known in New York theatre circles, Halston's recent Broadway appearances include revivals of Anything Goes and Gypsy. She is also a cabaret artist and has brought her own show to DC stages in the past. Julie is perhaps most renowned for her long association with playwright and gender illusionist Charles Busch, stretching all the way back to the inception of the upstart troupe Theatre-in-Limbo in the 1980s. Busch and Halston co-starred in such titles as Vampires Lesbians of Sodom, Red Scare on Sunset and The Lady in Question. Together they evoked the grande dames of the stage and screen – often with Busch as the femme fatale and Halston as the comic foil; his Norma Shearer to her Eve Arden.
So how could we not begin there?
Jeff Walker: The journey from the scrappy world of the Limbo Lounge to Broadway and the Kennedy Center must have been quite a ride.
Julie Halston: It has been a strange journey. But a really fantastic one.
You know, when Charles and I got together to do theatre – theatre being Vampire Lesbians of Sodom – we were a very ragtag, merry band of players. But it was the 1980s and it was a very strange time, fraught with a lot of crisis. The AIDS crises: New York City was a disaster, and we were playing places that were like bombed out, Berlin buildings. The Limbo Lounge was kind of like a crack den, to be honest.
But I couldn't be more thrilled, and the thing that I am so delighted about is that from these humble beginnings Charles, myself and others really did build a very solid theatre company. Even though we were a ragtag group, we did have a certain degree of respectability – after a while.
And now you have complete respectability here at the Kennedy Center.  
Oh, yes, being at the Kennedy Center is very grand, from my humble beginnings. It's wonderful to be here. The Kennedy Center is not only very beautiful but so vaulted – I guess that's the word.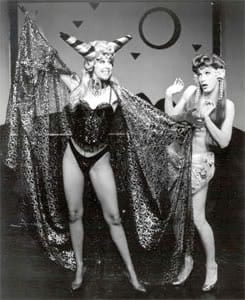 When you and Charles and your troupe got together, was it because of the kind of theatre you wanted to do?
I think we were all kind of smitten with the work that Charles was doing – I know I was. We certainly didn't do it for the money. I think we were losing money. I think our first production was $36 because we were using all our own clothes. I mean, I really do think the set was a piece of fabric. But we were so smitten with his parodies, and he made a beautiful girl. Those red wigs of his were quite spectacular.
Being a theatre artist is a lot of work and if it's not fun, well, go to law school. But we were having so much fun that we continued it. We were in these crazy places but we were very lucky that we developed an audience very quickly. And that is a tribute to Charles' skill as a playwright, and the love that developed between our audience and us. And good wigs.
You've played in Washington before.

I've actually done my own show here in Washington. I've done things with Charles Busch here. But I've always wanted to play the Kennedy Center. You know, it's like a Broadway house, let's face it. It's so beautiful. Broadway is like a brand, it's the A-list, and Kennedy Center is the A-list. I feel very, very fortunate. Everyone here is top notch, it's fantastic.
You are being directed by Gregory Mosher, who has been associated with Lincoln Center and Broadway productions for many years. Is this your first time with him?
Yes, I've wanted to work with Gregory Mosher, and of course, I remember Gregory from the 70s, 80s and into the 90s, and I've always admired his work, so I'm thrilled to be working with him. Gregory's breadth of knowledge about art, literature, theatre, writing, performance is pretty staggering. And he's just also a lot of fun.
Is he the kind of director who can say just a few choice words that makes the light bulb go off, or does he lay a lot out there to let you pick and choose?
He lays a lot out there and you pick and choose, but he lets you experiment for a while. He seems to always be asking 'What do you think?' He lets you find it. He's very respectful of actors.
I had so much fun with Gregory at the audition that I just knew I needed to do this. Something happened that has only happened two other times – one with Sam Mendes (Gypsy revival, 2002) and the other with the director Michael Wilson. After the audition, literally, I walked out of the audition and I immediately called my agent and I said, 'I don't care what you have to do to get me this job. I have got to work with this guy. I want this part that badly.'
Now tell us about The Guardsman.
It's a beautiful play. It's a look at a marriage, but it's a marriage between two theatre artists, so it has a certain amount of epic grandeur to it. It's funny, it's sad; as I said to my sister, 'You'll laugh, you'll cry, you'll come to terms.' That's The Guardsman.
In the 1920s, Lunt and Fontanne did their own version of the play, which varied from Molnár's original. I understand that Richard Nelson has gone back to the original and put back in some of passion that was lost.
Passion, yes, and also the darker qualities. It really is – dare we say? – part Strindberg, part Chekhov, part Feydeau.
A little farce, a little tragedy …
And wistful bitterness. It's really a credit to the original and to Richard Nelson, who is not just a good playwright, he's a great playwright.
I think people who are real theater goers are going to love this piece. It's poignant, funny, it's what life is really all about: the compromises we make, the joys we feel, the disappointment. I mean, that's what great playwrights write about. They capture that life in a bottle, that life we all identify with. Universal themes are part of all the great ones – Strindberg knew it, Chekhov knew it, Neil Simon knew it. Richard Nelson has captured that in this play. And it's great working with someone like Gregory Mosher who understands.
As Mother, you are the confidante of the Actress, played by Sarah Wayne Callies.
Yes, Mother is a very interesting role because, as we find out through the course of the play, she is not really the biological mother but she really has taken on the role of her mother. For me, Mother is a very realistic and sympathetic character, and she is trying to get what's best for her "daughter" – in quotes. And Sarah Wayne Callies is such a beautiful, wonderful girl in real life and also such a wonderful actress it's not hard for me to feel this simpatico with this wonderful lady. Mother has a LOT of opinions about the people who populate this house. (Not dissimilar to me.)
And your other costars?
It's also fun to throw daggers at Shuler Hensley, as the Critic, because we have a difference of opinion – which of course you will have to come to the play to find out about.
And Finn Wittrock, who plays the handsome actor, I've seen his work onstage in New York. We also have Annie Funke who plays the maid. She and I did Hairspray together.
All of them are such a joy to be with in this show, and joyful to watch. They're inventive and so skilled. There's a lot of drama on the stage, but it's a drama-free cast, which is good.
In a way, I feel like I'm back in that merry band of players.
The Guardsman
May 25 – June 23, 2013
The Kennedy Center
2700 F Street, NW
Washington, DC 20566
Tickets: $54 – $95
Tuesdays thru Sundays
Details
Tickets
Just not in a crack house this time.
Not in a crack house! I mean, I have a toilet, a real dressing room. Back then, there really was no bathroom. Let me just say, it was a little scary what was going in the courtyard – I didn't want to know! Now, this is stunning. We're put up in beautiful digs and DC has every luxury we could think of.
And the plays, Vampire Lesbians of Sodom and The Guardsman, may be very different … and maybe not. There's an inherent theatricality, but heightened reality is what the theatre is all about.
Part of the illusion mixed with the spectacle.
It's lush, it's beautiful. Yes. And the thing is in The Guardsman, we're in these gorgeous, 1910 costumes by Jane Greenwood, who is one of the premiere costume designers of the 20th and 21st centuries, with these gorgeous wigs by Tom Watson. So, in a sense, I feel like I'm coming home. And I get to wear an auburn wig in this play, so I'm very excited about that. I get to wear a corset and a red wig – duh! – I'm there!
And we're glad you are here. Any last words about the play or your experience here?
It's kind of turned out to be the perfect place, the perfect theatre, the perfect fun company, with the perfect play, Richard Nelson's adaptation of The Guardsman. And this is a world premiere, since the play has never been seen in this version. That is very exciting in itself. And that we're doing it at the Kennedy Center, in DC. I get verklempt about it. I can't wait.
More?