From a warmly remembered film of the same name, Scott Frankel and Michael Korie, together with director Michel Greif, have fashioned a warm and loving musical play.
Richard Greenberg tackled the job, with great success, of adapting the screenplay of the movie that starred Julianne Moore and Dennis Quaid, creating a musical book that captured the major story points, but adjusted the emphases so that all the important dramatic highlights are handled by the score. Whereas once much of the emotion came from the subtle and nuanced work of Ms. Moore, aided by closeups which reflected all of the subtext which came through via her beautiful blue eyes, the music does all that for us in this very resourceful adaptation.
Frankel and Korie showed us in their inventive score for Grey Gardens that they are able to further story via music and lyrics, on almost any subject that pops up. In that show, which dealt with the relationshjp between mother and daughter  Big and Little Edie Beale,  the titles alone give you a feeling for their range: "5:15", "The Cake I Had", "Jerry Likes My Corn", "The Revolutionary Costume for Today" .   Each extended the scene that preceded it, and entertainingly told us a lot more than more simple musical theatre fare usually does.

Far From Heaven, the musical, introduces us to the suburban world of Cathy Whitaker, a Hartford, Connecticut white bread  matron who is convinced she's living in heaven — or "Autumn in Connecticut".  She's got a handsome husband called Frank, two lovely kids, a dream house, everything she's ever wanted — "heaven" indeed.
Until she discovers her husband's dark secret — that he has been burying his urgent need for the love of a man until circumstances allow him to find release.  When Cathy discovers him with a male partner by sheer chance, her world explodes and she insists he expose himself to the psychiatry available to him in the New England world in which they live in 1957.  While her marriage is 'on hold', she begins a social engagement with her own gardener, a  black man possessed of a poetic soul who has taken over his recently deceased father's flower shop and gardening business.
As time goes on, and husband Frank tries but fails to repress his urges, Cathy takes a journey to hell and back before finding herself able to accept her fate, and we are left sharing her hope that she can indeed find happiness far from the heaven in which she had thought she'd been living.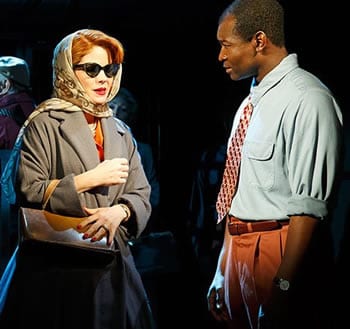 This material is full of booby traps. It would have been so easy to turn it into melodrama, or opera for that matter. But with a keen eye, and the help of a tryout in Williamstown, Mass. in 2012, the authors and the director have managed to hone the material beautifully, so that it tells its tale with imagination and flair, illuminated by a radiant performance at its core by the enchanting Kelli O'Hara.
But Ms. O'Hara transcends "enchanting." Julie Andrews is enchanting, but O'Hara is also the subtlest of actresses, so even in the book she is constantly making us aware of her character's intelligence, her sensitivity, her vulnerability and her shock at finding that nothing in her pretend life is as it seems.  Her friends are suspect, her husband is delusional, her potential paramour is beyond reach in the time and place of their encounter.
The very rich and varied score offers her opportunity again and again to touch us with her lovely clean clear soprano voice. There must be over 30 musical numbers, but they are not "songs" per se.  They are musical dialogues and monologues set to the most infectious tunes, so they function as all excellent scores do — they further the story and character development — and they do it in a very original Frankel-Korie way.  A beautiful scenic design by Allen Moyer helps a lot, as it takes us all over Connecticut, up and down staircases, into and out of a railroad station, into the fields and streets. It's fluid, and beautifully lit by Kenneth Posner.  Under Michel Greif's firm hand, it flows effortlessly all through the evening.
There are a few lumpy spots in the second act. It seemed to me that the good folks of Hartford were a bit one-dimensional prejudiced to merely the sight of a white woman and a black man having a conversation on the street.  But, for the most part, the authors have gotten it all right — the uptight world of Gentleman's Agreement, the stupidity based on ignorance and tradition  in dealing with racism and homosexuality in the late 1950s — it's all there, written with integrity and insight.
Steven Pasquale as Cathy's husband has a thrilling voice, is attractive, and it's easy to see why she fell for him. The second act doesn't help Mr. Pasquale,  who is asked to have a breakdown in front of his children, and he's not quite up to managing that. But he does manage to convey the frustration that leads to rage, so he remains empathetic.  Isaiah Johnson plays the gardener with great charm, again a fine voice, and intelligence. The gradual attraction he and Cathy feel for each other is clear and clean, and the story's realistic handling of how that all ends is admirable.
If you want a very moving musical, one in the same general area as The Light in the Piazza or Grey Gardens, come see Kelli O'Hara illuminate a lovely piece of work called Far From Heaven.
——————————
Far from Heaven is onstage thru July 7, 2013 on the main stage at Playwrights Horizon, 416 West 42nd Street, New York, NY 10036.
Details and tickets.
Broadway performer, agent, writer, and now librettist, among his many accomplishments, Richard Seff has written the book for Shine! The Horatio Alger Musical!, which debuted at the 2010 New York Musical Theatre Festival. He is also author of Supporting Player: My Life Upon the Wicked Stagecelebrating his lifetime on stage and behind the scenes, available through online booksellers, including Amazon.com.
Richard Seff chats with Joel Markowitz: