June 11, 2013 — As is the custom, two days after the Tony Awards, Actors' Equity Association gathers together its Council for a meeting in which policy is discussed.  The "opening acts" of the session, held each June in the Council Room at Equity's New York offices, are the presentations of The Clarence Derwent Awards to "the most promising new performers, man and woman, of the season just ended", and The Richard Seff Awards for "the best performances by a featured actor and actress (with at least 25 years onstage) in a supporting role".
The Clarence Derwent Award is endowed by the late Clarence Derwent, who was a distinguished supporting player himself, and was for a time President of Equity.  The latter is endowed by me — because one day, in the middle of the run of a play in Columbus, Ohio, and again with another play in Indianapolis, Indiana — in both of which I was having a fine time playing juicy roles, I thought: "Wouldn't it be nice if someone other than the good folks in Ohio or Indiana got wind of what we're up to?"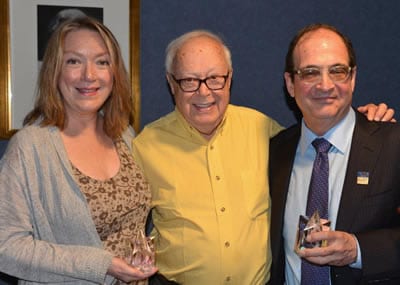 There are the Tony Awards of course, but my Award has been given to many who have, season after season, given sterling support to a star, or managed to sparkle in an ensemble, usually having to make do with a line or two from a critic, and we all know what happens to reviews the day after they are printed. I think someone once said, "Yes, we wrap the fish in them."
All I meant was that there are so many fine actors who devote their entire careers to playing the great roles "out there" in the regional theatres, who sometimes find a part Off or on Broadway, and though they may get a nod or two in the local press, they don't often get fussed over enough for my taste.  So I created this award, which consists of some cash with which to have some fun, and a lovely crystal star made by the swanky Tiffany shop (which took over when Steuben closed its equally swanky shop).
And as David Rasche, who won the "Seffie" a couple of seasons back, said in his acceptance speech, "We do this work because we love it, and we even make a decent living doing it, but every once in a while I look up and think: 'Is anybody NOTICING?'  And he, like so many of his fellow winners in the ten years since we began, seem genuinely pleased to have a chance to take center stage.
Each winner is introduced by someone close to his or her career.
The Richard Seff Award recipients
This past week, the delicious Kristine Nielsen, who certainly does sparkle in the Christopher Durang comedy Vanya and Sonya and Masha and Spike, was introduced by her agent and friend, who's been guiding her career for the past twenty years. He grew misty and reminiscent in describing some of the highs and lows of their very happy collaborations these past 20 years. Ms. Nielsen followed with a rich full reflection of the dues she's paid to get where she's got.
Lewis J. Stadlen, who's been bringing his great comic skills to Broadway for decades, starting with his debut in 1967 in Fiddler on the Roof and continuing until now with a great performance  in support of Nathan Lane in the current The Nance, was introduced by the legendary Fyvush Finkel, who at 90, wowed us with his advice to Stadlen, his old friend and colleague.  Among other things, he told him, and here I paraphrase, for I didn't take notes: "Whenever you get depressed because you're out of work, or the play you're in is a flop, forget about all that because –you are a STAR!"
When Fyvush Finkel reads a line like that, with the comic timing of a genius, and a face that defies description, believe me — it's funny!  A further piece of advice he claimed came directly from Zero Mostel, and that was: "Whenever you get a laugh, DON'T MOVE!"  And then, when we laughed, he stood deadly still, and sure enough — the laugh built into a roar.
The Clarence Derwent Award recipients
It was also a thrill to hear Jerry Mitchell tell us how he first found Annaleigh Ashford years ago at an audition for Legally Blonde, when she walked into the room with bows on her shoes, and he knew he had to work with her. Now he has her in a one-number show stopping performance in Kinky Boots, and he's determined to find her a starring role in the future. As he just won the Tony for the best choreography of the season, he himself is now in the pantheon of the major muscles in musical theatre, and she seemed over the moon when accepting the Derwent Award for her "most promising work" in the new hit musical.
Michael Urie, who had great success in the series "Ugly Betty", has been doing spectacular work in theatre even during the run of that show, bringing his very original ways to How to Succeed, The Temperamentals and The Cherry Orchard, sometimes as a replacement, and therefore not on the radar.
Now he has his own vehicle called Buyer and Cellar, and his success in it has earned it a transfer from the tiny Rattlestick Playhouse to the larger Barrow Street Theatre, where it begins performances June 19th.  "Most promising"?   I think not — the promise is already fulfilled.  This is one lad who, with any luck will have a Danny Kaye, Dick Van Dyke, Fred Astaire superstar career, and I for one loved being in the room as this award helped begin all that magic for him. Urie's playwright Jonathan Tolins introduced him, and one could surely understand the bond that brought these two together again, for they'd worked together before, and this collaboration hit pay dirt for both of them. There was glee in the air, and a good time was had by all.
My award was supposed to follow me after I shake off this mortal coil, but I'm so glad I  didn't wait, for I'm still stage struck enough to get a big kick out of meeting and helping to support  these 20 (so far) recipients of my "Seffies".  I still so vividly remember performances by Loring Smith, Audrey Christie, Doro Merande, Mary Wickes, David Burns, Pert Kelton, Patricia Collinge, Mr. Clarence Derwent himself, and dozens of others, all of whom I'd like to send a crystal star because of the joy they gave me as a kid in the 1940s and 1950s up there in the last row of the balcony.
——————————–
We are very proud that Richard Seff, now in his fourth career in and around New York theatre, writes theatre criticism for DC Theatre Scene. Read more of his work here.