– by guest writer Brynn Tucker –
I first got the idea for A Guide to Dancing Naked while dancing naked by myself in my apartment. I said to myself: I do this all the time, and no one knows I do this! Not even my boyfriend who lives with me!
I've become a professional ninja when it comes to dancing naked. I've been doing it for years. And this dancing, by the way, is some full scale, choreographed, production-worthy dancing.
The show focuses on allowing yourself to accept what you see in the mirror on any given day. Dancing in the nude is an active and revelatory way of achieving that.
As I've been writing this show, I've been learning more about why I dance naked. I only started to take dance classes in college, but I have been creating choreography since I was thirteen. So, in the show I talk about my personal struggles, and I'll be sharing some things that people generally don't know about me.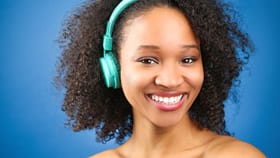 But don't get it twisted — this show is no gloomy sob story. It's mostly an upbeat confessional.
And another thing that's really special about A Guide to Dancing Naked: the mini-dance-party with me at the end of every performance. Everyone is invited to join in! If you don't, then I'll be dancing by myself, which is nowhere near as fun… and a little awkward.
Will I be getting naked in the show? I get this question a lot. But as you'll see, the first rule of dancing naked is to never get caught! No, my show is about encouraging people to take their clothes off in the privacy of their own living spaces, on their own terms. And I give the audience really fun rules and tips on how to get the most out of it.
Think of standing in front of the mirror naked. Now, think of doing it while dancing to your favorite song. Two completely different sensations. It's important to me that I get people moving — that we break from our virtually static lifestyle. All you need to dance naked is a mirror, some music, and your naked self. Anyone can do it.
A Guide to Dancing Naked
by Brynn Tucker
60 minutes
at Gearbox
1021 7th Street NW 3rd Floor
Washington, DC, 20001
Details and tickets
I don't want to make people do anything they don't feel comfortable doing. But I do want to challenge and encourage people to be able to face, accept, and celebrate what they see everyday. Whether that's in their birthday suit or business suit, I'll be happy.
And I'd appreciate some company at the mini-dance party after the show!
Meet Team Dance Naked:   Brynn Tucker – Performer/Playwright/Choreographer . Trent D. Williams – Assistant Choreographer .  Hunter Styles – Director .  Brittany Diliberto – Lighting Design.
Presented as part of the 2013 Capital Fringe Festival, a program of the Washington, D.C. non-profit Capital Fringe.
– Guest writer Brynn Tucker is a Washington DC actress and dancer –
Part of Fringe Peeks, our "in their own words" series