Rebooting a five hundred year old play for a modern audience is hard.  Keeping a play fresh when it's as well-known as Romeo and Juliet might be even harder.
And let's be honest: we've probably all seen some bad Romeo and Juliet interpretations.  Maybe you saw a version set in samurai-era Japan that turned into a kabuki nightmare.  Maybe you cringed through an insensitive Romeo and Juliet set in World War II.  Romeo and Juliet as robots can't be far behind, if it hasn't been done already. Heck, even Baz Luhrmann's 1996 big-screen rendition sent some moviegoers running for the exits (one San Francisco Chronicle reviewer called it a 'monumental disaster' at the time, but I still loved).
So what's left for the 'star-crossed lovers' that hasn't already been done? Director Aaron Posner and his cast and crew at the Folger Theatre think they have an idea.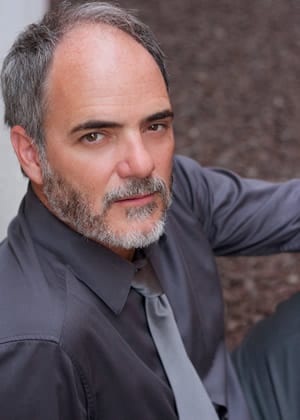 "It's like a parallel universe right next to ours," says Eric Hissom, who plays Friar Lawrence in Folger Theatre's Romeo and Juliet.  "Instead of a set and costume aesthetic that's specific to a time period, it's in this world you can't place."
Hissom ascribes some of the generic, "anytown" feel of their version to the universal issues the play deals with: namely teenage love and the violent world in which it's challenged. "If you're too ultra-specific with the setting you become a slave to period specificity," Hissom says.  "The heart of the play is the human condition, so maximize that."
If there's any concern Posner and the team at Folger will take a light-hearted approach to the classic tragedy, however, Hissom puts it to rest. "It's a play about murder and suicide where love doesn't conquer all," says Hissom.  "We don't shy away from that."
While himself a Florida native, Hissom has crossed many a Washington, D.C. stage, earning himself a Helen Hayes award for Folger's 2009 production of Arcadia in the process.  According to Hissom, it was Romeo and Juliet director Aaron Posner who first lured him to Washington, D.C.'s theater scene.  That was nearly 20 years ago.
Hissom, who has performed a number of Shakespeare plays including Macbeth and Taffety Punk's recent "Bootleg" rendition of Love's Labours Lost, admits that the style took some getting used to. In fact, he notes, it took 4 or more performances to get the hang of it, but that doesn't mean he isn't a fan.
"(Shakespeare) is really great for actors because it's such a muscular thing," says Hissom, describing Shakespeare performances as an "athletic endeavor." "In Shakespeare you say what you're doing and feeling.  It's in your body and in your voice."
It doesn't hurt, either, that Shakespeare Festivals and "Shakespeare in the Park" events are rampant.  "You can get a lot of work if you do it well," Hissom notes.
Now a Folger Theatre veteran, Hissom has plenty of good things to say about retaking the stage under Posner's direction.
"Aaron does a good job of recruiting a team with a shared aesthetic," Hissom says of Posner.  "He's doing something really cool that's acceptable to a modern audience and that's truthful and immediate."
For his part, Hissom focuses on what he repeatedly refers to as the "grittiness" of the production.
"It doesn't seem like that much of a departure (from the original) when you're in it, but it's darker," Hissom says.  "We play the humor up, the quirk of the teens in love, the charm and bawdiness…until the wheels come off."
Romeo and Juliet
Closes December 1, 2013
Folger Theatre
201 East Capitol Street, SE
Washington, DC
2 hours, 45 minutes with 1 intermission
Tickets: $47 – $72
Tuesdays thru Sundays
Details
Tickets
It's worth noting that the Folger theater, if you haven't been, is a space made for Shakespeare-done-right.  Hissom describes the theater as "inherently theatrical, but very intimate."  He isn't wrong.  The performing space gives the audience a sense of closeness to the actors with enough period ambience to set the mood.  Taking your seat is half the fun.
For all his focus on the more grisly moments of Romeo and Juliet, Hissom notes that he sees the biggest response to Folger's production from a younger audience.
"They bring a great energy and get the hipness of it," Hissom says of the young, particularly student crowds he's performed for.  "It's a play about teens so there's immediate access (for the younger crowd)."
There's still time for theater-goers of all ages to catch the famous tragedy at Folger Theater, now through December 1st.  Whether you bite your thumb at Shakespeare reboots or consider them a rose by any other name, Folger Theatre promises a Romeo and Juliet that's both imaginative and reverential.  See for yourself if they're right.