International stage star Mark Rylance has offered us a holiday season treat by bringing us his remarkable Shakespearean double header of Richard III and Twelfth Night. He's packed his London production cast and an assortment of chairs, tables, draperies and bric a brac along with  several trunks full of gorgeous late 16th century doublets, pantaloons, under garments, boots and shoes, skirts and outlandish head gear.
The materials used in the creation of these artifacts are as close as possible to those available in London during the 1590s and 1600s; i.e. linens, silks, woods and leathers. Every performer is wearing a linen garment next to his skin – shirts for those playing men, and smocks for those playing women. Great details about costuming and set design are listed in a column in the Playbill called "Striving for Authenticity".  There is another called "Musicians and Music in Shakespeare's Theatre".  I found them both  useful and revealing while watching the plays unfold. Mr. Rylance and company have chosen to present them both  in the manner in which they were performed when first they leapt from Will's pen to his theatre's stage.
Before his company had its own indoor theatre space at the Blackfriars, Shakespeare and his fellow players performed not only at the outdoor Theatre and the Globe , but also indoors in the great halls of the aristocracy. The setting currently up on the stage of the Belasco Theatre on Broadway is based on such a hall.
So we are not going to get one of those "concept" productions that directors love to toss our way every now and then.  Yes, an all-male cast is playing men and women, as they did in Shakespeare's time, but there are no time capsule leaps forward  to Nazi Germany, or backward to Celtic England. The only reference to modern staging is the inclusion of a fine black actor in the role of Richard's mother!
Director Tim Carroll has always had Shakespeare at the center of his work, turned out at the English Shakespeare Company, Shakespeare's Globe and in a dozen theatres around the world.  Jenny Tiramani, who has brilliantly designed the clothes and the set, joins him in making an enormous contribution to the clarity and ambience of Richard III and Twelfth Night. For this is a straightforward reading of the text, fully staged, costumed and lit as though we were witnessing it first hand as members of one of those early audiences in 1600.
Richard III
From the moment he bursts through the hall door at the very top of Richard, we know that Mr. Rylance has come up with a totally original take on the hump backed and otherwise disabled Richard, Duke of Gloucester, later King Richard III.
This brilliant actor chameleon  has decided that his Richard is perfectly comfortable with his infirmities, that he will have long ago accepted the fact that he's been handed almost insurmountable obstacles for a man who has ambition imbedded in his genetic makeup. So — if the world is going to laugh and sneer at him, he's going to laugh at himself first to let everyone know they cannot hurt him by insult. From his first words, "Now is the winter of our discontent," his reading informs us that for everyone else, discontent may be the mode of the day – but not for him. He knows he has a rough road ahead, but he's prepared to clear every hurdle in his obsession to land  on the throne himself.  We all know he landed, but the play goes well beyond  that, and it was fun to be reminded of what happened next, and how he coped with all of it.
Mark Rylance must come from some other source than the rest of us, for he is clearly the most resourceful stage actor I've ever seen. Each time out (unfortunately I've only been able to see him work on this side of the pond), whether it be as the hilariously silly Robert in Boeing, Boeing, the loquacious Valere in La Bëte or the eccentric "Rooster" in the  annoying  Jerusalem, I've felt I was being introduced to another brand new actor. His approach to Richard is, as always, unique. He includes us in his inside jokes, he pleads for our support and when he doesn't get it, he couldn't care less as he dismisses us with a wave of his hand.  He is able to dispatch a good friend and supporter with a death warrant at the first sign of betrayal, and beneath his public image of a self-deprecator with a low self image, he can turn in an instant into a raving maniac of a solipsistic insatiable monster. He really gives us a rollicking good show, and manages to almost make his madman someone to root for.
Along the way, this all male company supports him fully, both male as male and male as female. The four actors who play women avoid all danger of camp, starting with Joseph Timms as Lady Anne whom Richard woos even as the body of her dead father-in-law is about to be interred. Richard's scene with Queen Elizabeth, late in the play, in which he tries to get her to plight his troth to her daughter, hoping to make the girl his bride, is a tightly written argument beautifully played by Samuel Barnett as the elder Elizabeth, in which she counters all Richard's arguments and puts him off by bringing the debate to a standstill if not a victory.  Barnett is regal and totally convincing; one truly forgets his is a male actor hiding in a long gown. A very large cast of supporting players follows the text and gives a clear reading of it.
By not overwhelming us with tricks of the trade, special effects, intrusive music (the score by Claire Van Kampen is appropriately sprinkled throughout), the complicated story and the language of the period are made clear.  I look forward to Twelfth Night, and will add my thoughts on it below so I can convey to you the total effect of this brilliant Bundle from Britain called "Mark Rylance and Company."
Twelfth Night
This light hearted romp was written in the middle of Shakespeare's most productive period, and had its first performance on February 2, 1602 at one of the Inns of the Court. The Epiphany, January 6th, is the 12th night after Christmas . It's likely he wrote the play to celebrate this occasion, thus gave it this specific title. It didn't, and doesn't have much on its mind and I've never felt any urgent need to see it again unless some luminous star was having a go at it.
In my time I've seen Helen Hayes on Broadway  have a merry time playing Viola, with her co-star Maurice Evans enjoying himself as Malvolio, Helen Hunt and Philip Bosco in the same roles at Lincoln Center, and a big stretch for the more realistic company at Circle Rep in which artistic director Marshall Mason made a memorable stab at Malvolio., and Lindsay Crouse was a luscious Viola. It's never been a favorite play of mine, but I did eagerly approach this new production at the Belasco, for it came to us from a triumphant run in England from the company at Shakespeare's Globe in London. In it, the incomparable Mark Rylance is tackling a smaller role, the Countess Olivia, a character who has  never made much of an impression on me.
And of course once again, Rylance finds passion, nuance, great humor in the usually rather uninteresting (to me, anyway) lady, whom  the lovelorn Duke Orsino plots to win the heart of. Olivia has sworn to mourn for seven years for she's learned of the death by drowning of her beloved brother. So she's not a likely candidate for the Duke's courtship.
We next meet Viola, recently shipwrecked and cast upon the shore of Illyria. She is greatly relieved to learn that her brother Sebastian had lashed himself to a mast and been last seen alive as he seemed to be weathering the storm. In order to make herself more employable, Viola disguises herself as a man she calls Cesario and gets herself hired as page to the Duke, to whom she soon feels attraction, which is awkward as he thinks she's a man, and he's not inclined that way.  So he makes another stab at Olivia, still mourning, by having Cesario deliver a message of love to the disdainful lady. But she herself falls for the beautiful young Cesario, thinking him a man. There is now a love triangle — Viola loves Duke Orsino, Orsino loves Olivia, Olivia loves Cesario — and everyone is miserable.
Have you been following me?  In between all of the above, we have met the rest of the Duke's staff.  We have a whole mess of relatives, servants and hangers on, beginning with the lofty steward Malvolio, Olivia's slap happy Uncle Sir Toby Belch (he drinks a lot), his best pal Sir Andrew Aguecheek, Olivia's lady in waiting, Maria.  All of them are hostile to Malvolio whom they consider a snob and an annoyance, so Maria comes up with a letter she forges in Olivia's name because she wants Malvolio to think his boss is hot for him, and she tells him how to woo her by smiling a lot and wearing yellow stockings and double crossed garters, which he promptly does, and of course only succeeds in being razzed. It works out beautifully for all, which we expected it would. I I'm not going to tell you how, because you'll never get through the almost three hours it takes to spin this yarn if you know how it ends before it begins.
Mr. Rylance has ways about him that are indescribable, but they are winning ways indeed. I can't think what there was about Olivia that turned him on — I mean in Shakespeare there are roles — Hamlet comes to mind, and Othello and Iago and Lady Macbeth and Cleopatra and Much Ado's Beatrice and to a lesser extent even Viola and Desdemona. But Olivia is right up there with Hamlet's Ophelia and  Iago's wife Emilia and other lesser lights in the Shakespeare canon. A great number of people are in love with Olivia but as she spends much of the play in black, hiding beneath a long veil, I'd never thought much about her — until I had a chance last night to see Mark Rylance transform this slight comedy into a story about a grieving girl surrounded by dunces and dimwits, and when she gets her guy in the end, we are pleased for her.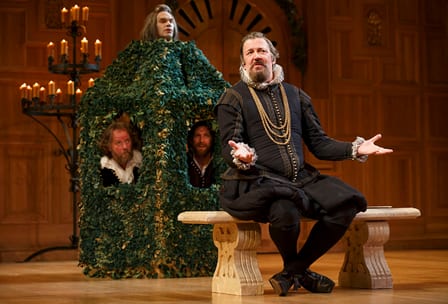 For the rest, I found Stephen Fry appealing as Malvolio, though I've seen others who made more of a fool of him, thus justifying the cruel treatment he receives from his fellow workers.  His performance is in keeping with the direct approach that's been taken in most instances to this play and to Richard as well, both under Tim Carroll's direction.
I admit the production suffered for me a bit because it is played in the same hall as was Richard, with the same pre-opening custom of allowing the audience to watch the actors prepare by dressing and powdering and tuning their instruments. It was great fun the first time, but slightly less so the second. And the concept of having actors merely leave the stage through two swinging doors only to have others enter from another set of them, while keeping things moving smoothly, does tend to lack surprise by the end of the sixth hour that the two plays consume.
We must be grateful that Sonia Friedman Productions, along with its many co-producers brought this troupe to us, for Mark Rylance is a treasure, and brings new meaning to the term "star quality".  The whole thing is "anti-Broadway" and "pro-Globe Theatre", which is refreshing and new to us. In the moments before curtain, watching Mr. Rylance ardently wiggle his hands to fight tension while a dresser fussed with the placement of a ruff about his neck, watching him chat amiably with a fellow actor when he'd been dressed,  was not the sort of thing we expect from a star.  He behaves like  a member of the ensemble, but it's he and he alone who brings the roar of approval from the house at the end of the day.  And no one deserves it more.
Richard III and Twelfth Night run in repertory (see both plays in one day on Wednesdays and Saturdays) at The Belasco Theatre,
111 West 44th Street, between 6th & 7th Aves., NYC. Details and tickets
———————————
Richard Seff, Broadway performer, agent, playwright, librettist, columnist adds novelist to his string of accomplishments, with the publication of his first novel, TAKE A GIANT STEP. His first book, Supporting Player: My Life Upon the Wicked Stage, celebrates his lifetime on stage and behind the scenes. Both books are available through online booksellers, including Amazon.com.
He has also written the book to SHINE! The Horatio Alger Musical which was a triple prize winner at the New York Musical Theatre Festival (NYMF). Each year, Actors Equity recognizes the year's most outstanding supporting player with, appropriately enough, the Richard Seff Award.
Richard Seff is a member of the Outer Critics Circle.