Whenever theatregoers see Jackie Hoffman on stage, they know laughs are coming. Whether it's in her three scene-stealing roles on Broadway—Prudy Pingleton in Hairspray, Calliope, Aphrodite in Xanadu or Grandma in The Addams Family—or in any number of her cabaret comedy acts, the kvetching comedienne brings the funny like no other.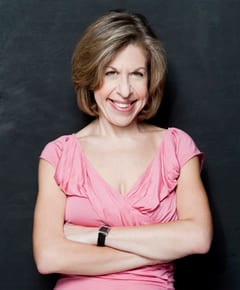 The woman is a priceless storyteller, shtickmeister, and yenta, and for the past few holiday seasons, she has been performing in A Chanukah Charol, an original play she wrote with director Michael Schiralli based on the Dickens' classic. She'll be performing the show at the Jewish Center of Northern Virginia at 8 p.m. Saturday, Dec. 7 and 2 p.m. Sunday, Dec. 8.
Hoffman calls the show a dramatic departure from her usual format, as it offers audiences a chance to see a different theatrical side to her.
"What people are used to from me is the snarky, comic, cabaret of monologues and original songs, but this isn't like a musical thing, it's a different animal completely," she says. "It's a play and I get to be a million people, get to have these tender, meaningful moments and go on this trip for an hour. It's a dream storytelling back and forth thing and people have to listen. They can't be plowing themselves with drinks, yelling things out. They have to be there with me."
The genesis of Hoffman's biting take on A Christmas Carol comes from a conversation she had with Schiralli about wanting to do a one-woman thing that was new and exciting. It was originally written as a musical about a Jewish performer who wanted to ascend to stardom, but got caught in a Jewish loop of performing in synagogue basements and senior centers, and gets visited by three gay ghosts.
"We loved it but realized it was like Christmas Carol, and thought of telling this story in a different way, with Chanukah Past, Present and Future being the perfect way to talk about someone's life," Hoffman says. "We took out the music and it just worked beautifully."
Hoffman and Schiralli than considered which Christmas Carol production to parody and happened upon the Patrick Stewart one-man show, so Hoffman readied her best Captain Picard impression and made him the narrator of her show.
"It turned out to be whacky and bizarre, but it really worked and people just love it," she says. "Once they get used to it, it's really cool. It's a wild ride."
Hoffman plays every character in the production, including the Ghosts of Chanukah Past (a gay chorus boy), Present (Shelley Winters) and Future. Then there's an entire family, elderly patrons at a synagogue and plenty of other memorable characters.
Chanukah Charol
Two shows only:
Saturday, Dec. 7 at 8pm
Sunday, Dec. 8 at 2pm
Jewish Community Center of Northern Virginia
8900 Little River Turnpike
Fairfax, VA 22031
Tickets: $29
Details and Tickets 
Taking shots at the holidays is nothing new for the comedian, who has performed one-woman shows such as Jackie Hoffman's Hanukkah, Jackie's Kosher Khristmas and Jackie's Valentine's Day Massacre through the years. She also will be performing Heeb for the Holidays at Joe's Pub in New York later this month.
"The formats for those are completely different. I did one of classic Hebrew songs that only yeshivas would know and I did it as a lounge act," she says. "I've done a lot of holiday themed stuff, but this is by far the most holiday-oriented. My cabaret shows change all the time, but this is more of a classic play format, and you don't mess with a classic."
Dan Kirsch?, cultural arts director? for the JCCNV, was excited to have the chance to bring the show to Virginia.
"We're in the second year of our performing arts series, and we're building audience, partially by name recognition of artists. Jackie has a great theatre presence in New York City, and many of our members talk about their trips to Broadway," he says. "Having Jackie do this show felt like a fun way to connect to local theatre audiences.??"
Kirch happily warns that audiences should be ready to let their guard down and embrace the wackiness that Hoffman brings to her performances, as she gives Ebenezer Scrooge a run for his money.
A Chanukah Charol will be presented at the Jewish Community Center of Northern Virginia in Fairfax. For more information, call 703-537-3000 or visit www.jccnvarts.org.