Just the Two of Each of Us is the story of King Mark the Only (Mark Chavez) and his wizard, Leopold (Shenoah Allen) who quest after immortality so that they can be really prepared when a monster comes back from his 700-year-sleep cycle to eat his quota of a thousand souls. Joking!
Just the Two of Each of Us is really the story of the mean girls Natalie, who has only one arm (Allen), and Diane (Chavez), who torments her. Natalie gets even by squirting blood from her stump at Diane. Joking!
Just the Two of Each of Us is really the story of Joan (Chavez), who eats a spider on a dare, and Franz (Allen), whose curse is that everything in his life is too easy. Joking! Just the Two of Each of Us is really the story of two hard-bitten cops (Allen and Chavez) trying to get out of a giant sinkhole. Joking!
Just the Two of Each of Us is about all of that, and more bizarre stuff. It is a story one of the Brothers Grimm might have written if they had gotten into some really good mushroom.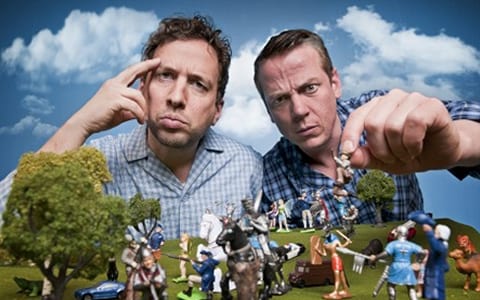 "You might feel like a bad goalie," Chavez predicts at the top of the show. He is as grave as an Archbishop, or an Archbishop in pjs, at least. "You'll say, 'I missed that one.' Or 'that one went over my head.'" And to a certain extent he is right, although not because of your lack of goaltending skills.
Chavez and Allen – who are the Pajama Men – are like artists who paint a picture square inch by disconnected square inch. You don't know what the heck is going on until – surprise – the picture is revealed to you, in full. This, in turn, leads to another signature Pajama Men phenomenon: the ex post facto guffaw, where the audience, having finally gotten the joke, laughs at a line which was delivered ten minutes ago.
It seems like sketch comedy, or improv, but from the very first moment – when they appear as the drivers of a car with two steering wheels – Allen and Chavez are definitely up to something, and it is a great treat to watch it reveal itself during the seventy-minute course of their show. Suffice it to say that whatever there is to the story, they provide: there are no projections, no fancy lighting, no sound cues. The deadpan Kevin Hume provides musical underscoring on his piano and his guitar, but – except for one backhand reference – the pajama men take no notice of it during the show. They provide their own sound effects including, spectacularly, Allen as Leopold providing the sound of dripping blood and brain matter as he retrieves a severed head for King Mark. 
Highly Recommended
The Pajama Men
Closes January 5, 2014
Woolly Mammoth Theatre
641 D St NW
Washington, DC
1 hour, 10 minutes, no intermission
Tickets: $55 – $77
Tuesdays thru Sundays
Details
Tickets 
I know I am dating myself (and I did that, occasionally, before I was married) but the Pajama Men recall the great Firesign Theatre, the radio improv group whose loopy, episodic presentations always seemed to return to a scene, and whose routines were best appreciated the second or third times they were heard. Of course, Firesign Theatre was primarily a radio show, and the Pajama Men are sublimely visual, and never more expressive than when they move across the stage in one contorted pose or another. If they never said a word they would be funny; but they do speak, in profoundly unpredictable ways. Thus, the comedy will catch you unawares – often when you are trying to recover from the last funny bit.
The Pajama Men create many memorable characters – I counted 41, but your results may vary – and do it all in pajamas Dick Van Dyke would have been proud to wear on his show. The most memorable of these, in my view, is Allen's Leopold, who is so full of ticks and quirks he could with fairness be called the Hamlet of Stupidity.
Maybe when you were kids you played all morning in your pajamas with your brothers and sisters, and made exploding noises with your fingers and made up characters who walked funny or looked strange or squirted blood out of their severed arms. And afterward you grew up and became accountants or lawyers or lobbyists or doctors. Too bad for you. You could have become The Pajama Men.
—————-
Just the Two of Each of Us . Created and performed by Shenoah Allen and Mark Chavez with music by Kevin Hume . Lighting design: Mary Keegan, assisted by Aaron Waxman. Trevor Riley was the stage manager. Presented by Woolly Mammoth Theatre Company . Reviewed by Tim Treanor.
Note:  Create more pajama kids. Woolly Mammoth is collecting new pajamas and books for children in need to donate to Pajama Program. You can drop your donation off at the theatre (and receive a free drink ticket) or order some online and have them shipped directly. Woolly Mammoth Theatre, 641 D Street NW, Washington, D.C. 20004.