Peter and the Starcatcher is a lot of fun.  It's creatively staged, wonderfully acted, impressively designed, genuinely funny, and anytime it felt as if a little something different was needed, that something was provided.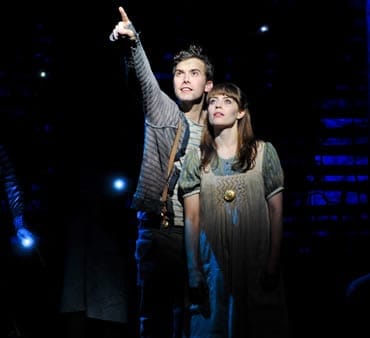 The play is based on the novel Peter and the Starcatchers by Dave Barry (the well-known humorist whose column runs in the Washington Post magazine) and Ridley Pearson, and is one of a number of Peter Pan-based novels that Barry has written.
It's the story of how an unnamed orphan referred to only as Boy becomes James Barrie's iconic "boy who wouldn't grow up."  It's a Wicked-like prequel that ultimately sets the stage for a story almost everybody knows, so the evening depends on familiarity with the original and is pretty much immune to spoilers — the audience is waiting for the pieces, once introduced, to fall into their appointed places.
Barrie's Peter Pan has been a perennial figure in popular culture, most successfully as a Disney movie and as a Broadway musical famously starring Mary Martin, originally, and Cathy Rigby, endlessly.
I saw it down the hall from Starcatcher's current venue at the Eisenhower Theatre when it played the Kennedy Center Opera House more than thirty years ago.  That production had Sandy Duncan as Peter and the marvelous George Rose as Captain Hook.  Captain Hooks tend to steal the show, don't they?
And that brings me to John Sanders who plays Black Stache.  (Spoiler alert:  that's the character who turns into…um, duh.)  About halfway through the show, I thought to myself, "There's nothing he can't do."  I didn't see the Broadway production, but I had seen a snippet from it at the Tony Awards on TV and got a taste of the original Black Stache, Christian Borle, who was squeezing the play in between filming seasons of the TV show Smash with a Tony-winning turn in the part.  (Supporting actor?  Really?  I'd call this part a lead.)  
As Sanders began the evening, I was doing that horrible, if occasionally unavoidable, exercise during which one's awareness of another actor in a part has one imagining the lines in that other actor's voice, the moves in that other actor's body.  A couple of early bits felt as if they didn't quite fit perfectly, as if Sanders was dutifully executing what hadn't been imbued by him with the original spark of creation. That feeling didn't last long.  By the end of Act One, I felt as if the part was so fully and seamlessly his that any ghosts of the role's creator had vanished.
By the time he led the giddy, delightful opening number at the top of Act Two, he was our Black Stache, completely and without reservation.  Those who see him in the role won't want to see anyone else in the part, he has made it so thoroughly and so entertainingly his own. And his Act Two showcase sequence:  OMG!
When I say he can do anything, it's because he is called upon to do so much.  It's an extremely physical performance, maybe a few inches south of being as demanding as a classical dance performance.  He does it so effortlessly, and with such panache and personality.  Sanders understudied the role and performed it (as well as a few other roles) during the Broadway run, until he left for the original U.S. cast of the hit musical Matilda.  He's someone to watch.  If he gets a chance to create a lead role in something, he's going to kill it.
Sanders is the highlight of the cast, but there doesn't seem to be a weak link among the dozen actors in the show.  (The program lists more than twice as many producers as actors; I guess the ratio of better than 2 to 1, producer to actor, really paid off.)  The press release says that the actors together play more than 100 characters, though each has a signature role as well as narration duties during the Story Theatre-style scene-setting.
Joey deBettencourt is Boy (later PP, oh, sorry, I really don't mean to keep dropping spoilers).  As an example of the balance the play's co-directors achieve — keeping the tone satisfying and avoiding pitfalls — when the brisk, visually and aurally dynamic story-telling seems on the verge of feeling pushed, they pull back and give deBettencourt a little air during a scene with Molly, the aristocratic daughter and Wendy-like foil to Boy.  And deBettencourt, describing the darkness that his Dickensian perspective on life has left him feeling, navigates the tone-shift perfectly, giving the show just the right amount of reality to balance the prevailing whimsy.
But all the cast have their moments and add lovely texture to the proceedings.  Characters are frequently presented as types, but each actor has enough specificity to give the world of the play its full three dimensions, even when some of the plotting and style of, say, the fight scenes keeps one foot firmly in safe, family-friendly ground.  (The press release says that the piece is suitable for young audiences, but suggests that those ten years and older will appreciate it most.)
Benjamin Schrader as Molly's Nanny Mrs. Bumbrake and Harter Clingman as Alf, the crusty seaman Mrs. B ends up getting romantically involved with, mine the humor in the parts, but also make you care enough about the characters that the relationship is charming rather than grating.  Carl Howell and Edward Tournier are the other two orphans in Peter's posse, and they too find that sweet spot between humorously stock types and real people, and all these guys, when called upon to sing and dance, do so winningly. Nathan Hosner gives Molly's father a sweet dignity in a role that, again, could teeter into caricature in less sure hands.  I wish Jimonn Cole as the pirate Slank were a little less consistently loud, because, when he pulls back a bit, his work is really nice.
Megan Stern is the sole woman actor.  She has a lot of exposition, particularly at the top of the show, and she is strong-voiced, crystal clear, and, towards the end, gets a chance to show Molly's softer side — her "Norse Code" bit is one of the several hilarious sequences.  (The original Molly on Broadway was Celia Keenan-Bolger, currently playing Laura in The Glass Menagerie, and, having seen her Laura, I can't imagine a greater stretch!)
The show began at New York Theatre Workshop (the incubator of hits such as Rent and Once and, incidentally, a location for several sequences in Smash).  The play is by Rick Elice, who was one of the book-writers of the monster hit musical Jersey Boys.  I can't think of a more hackneyed, corny, fundamentally dishonest book to a musical than that book.  Given this prejudice on my part, I hope I can be forgiven for (perhaps unfairly) attributing the strengths of the evening more to the directing team than to the script itself.
Roger Rees, best known as an actor (The Life and Adventures of Nicholas Nickleby and Indiscretions on stage, Star 80 on screen, Cheers and The West Wing on TV), has co-directed the play along with one of the hottest young directors in New York, Alex Timbers.  Timbers directed Here Lies Love, the David Byrne musical that was a sold-out hit this season at the Public Theatre, as well as the Public's Bloody Bloody Andrew Jackson, which I saw on Broadway, and which shares some story-telling techniques with Starcatcher.
But Nicholas Nickleby, in which Rees led the cast, was a ground-breaking template for the sort of sprawling epic story told through creative stage techniques that we see here.  (The recognizable Rees was in the audience Thursday night.  I got in his way as he was trying to navigate an aisle after the show.  Perhaps this hands-on attention to the national tour of something that opened on Broadway almost two years ago explains the high quality of the acting.)
Highly Recommended
PETER AND THE STARCATCHER
Closes February 16, 2014
The Kennedy Center
2700 F Street, NW
Washington, DC 20566
2 hours, 20 minutes with 1 intermission
Tickets: $55 – $130
Tuesdays thru Sundays
Details
Tickets
A sequence in which the backs of the ensemble become a series of doors through which Molly observes the below-deck goings-on, another sequence during which the ship is distressed while at sea, a simply done but magical levitation effect, a boy-overboard sequence.  The directors have created a number of impressive set pieces.  They have led their cast to consistently satisfying performances.  Most importantly, they have navigated the tone shifts impressively.  Just when I thought that the wind-up was falling into place without the emotional payoff I was hoping for, it paid off. They kept the modern point of view of the script (which employs cell phone coverage jokes and anachronisms aplenty, such as "Snap!") from undercutting the potency of the story.
The show cleaned up at the Tonys design-wise:  It won for set design (Donyale Werle, whose design includes musicians raised in cages who hover over a handsome false proscenium), light design (Jeff Croiter's design runs the gamut from Dickensian gloom to production-number bright), costume design (Paloma Young's mermaid bustier for Black Stache gets its own laugh), and sound design (Darron L. West's design includes lovely texture added by live musicians).  Steven Hoggett, who choreographed Once and whose work on Black Watch dazzled DC audiences when it played at Shakespeare Theatre Company, keeps the actors on and off their toes with movement that gracefully enhances the story-telling.
My biggest quibble is with the heavy mic-ing.  I know the Eisenhower is a big space, but the cast is very strong-voiced.  From my seat, I'm sure I would have heard them throughout.  However, the mic-ing created that weird effect where you can't always easily find where a voice is originating, because the amplification confuses the spatial relationships.  Also, the first few musical numbers (though not a musical, the show has a few songs, by Wayne Barker, which are always welcome additions) felt pre-recorded, so disembodied was the sound of the cast from where I was sitting.
The final moments could easily have involved more sophisticated stage techniques.  Instead, they are achieved mostly by the actors, they find a lovely tie-in back to the Peter Pan we know, and they send the audience out, as far as I could tell, extremely happy to have made the journey to (spoiler alert) the eventual Neverland.
If this subject and this kind of story-telling sounds appealing to you, you will undoubtedly be glad you saw Peter and the Starcatcher.  If you love terrific acting generally, and the kind of bravura turn from a wonderful stage actor getting a chance to display his amazing skills, don't miss the Peter cast and, in particular, John Sanders as Black Stache.  And the charming musical sequences notwithstanding, it's great to see a non-musical doing a national tour without a Pulitzer Prize attached.
——————————
Peter and the Starcatcher . written by Rick Elice . directed by Roger Rees and Alex Timbers .  Featuring Joey deBettencourt (Boy), Megan Stern (Molly), John Sanders (Black Stache) Harter Clingman (Alf), Jimonn Cole (Slank), Nathan Hosner (Lord Aster), Carl Howell (Prentiss), Ian Michael Stuart (Captain Scott), Benjamin Schrader (Mrs. Bumbrake) Luke Smith (Smee), Edward Tournier (Ted), Lee Zarrett (Fighting Prawn), Ben Beckley, Robert Franklin Neill, Rachel Prather, and Nick Vidal . Set design: Donyale Werle . Costume design: Paloma Young . Lighting design: Jeff Croiter . Sound design: Darron L. West . Movement: Steven Hoggett . Music:  Wayne Barker . Fight direction:  Jacob Grigolia-Rosenbaum . The national tour is presented by the Kennedy Center . Reviewed by Christopher Henley.
More?
John Sanders talks about playing Black Stache