Around WSC Avant Bard, where she was Managing Director for several years and directed a number of productions, Lee Mikeska Gardner is known simply as LMG.  Among her legacies is what has come to be called, even by new actors at the company who have never met her, the "LMG Exercise."
The LMG exercise is a run-through of the show that is, basically, an exercise in picking up cues and focusing character intention.  Inevitably, it yields insights that result in sharpened staging and performances.  Just this week, my husband Jay Hardee came home from a rehearsal of Orlando at WSC and told me that the LMG exercise had informed the ending sequence.
I can't pretend to be objective on the subject of LMG.  We were close colleagues, since she was Managing Director of WSC while I was Artistic Director, and since she directed me in a number of plays.  She dropped by the house recently to talk about her new job as Artistic Director of The Nora Theatre Company in Cambridge, Mass., and her role in Souvenir at 1st Stage in Tysons Corner.
It was also an opportunity for LMG to meet our children.  Fittingly, since the meeting we had in 2000 which resulted in her joining WSC was at a table on the patio at Dupont Italian Kitchen, and she brought along her newborn son Max.
We began by talking about Souvenir.  "Mark was looking for a show for me after Side Man," LMG told me, referring to Mark Krikstan, Artistic Director of 1st Stage, and their well-received collaboration a couple of seasons ago.  "He always likes to do a love story of sorts around Valentine's Day," she continued.  When Krikstan mentioned the play about the life of, as the website puts it, the "delightfully demented diva and real-life eccentric heiress, Florence Foster Jenkins," a woman whose wealth enabled a singing career that wasn't justified by her modest talents, LMG responded, "'Great show, I'd love to do it.'  Next thing I know, I'm doing Souvenir."  And playing it to rave reviews:  Celia Wren wrote in The Washington Post that "Gardner teases out the humor without removing Jenkins from the sphere of empathy."  On DCTheatreScene.com, Susan Galbraith said that LMG "has returned to the area to take on the Florence Foster Jenkins role, and she does so fearlessly."
It was this prior obligation that brought LMG back to the DC area after she had relocated to the Boston area to take the job at Nora.  It won't be her last visit to the place where she has lived and worked for decades.  (I remember first seeing her on stage in the late 1980s at Source Theatre Company in the dystopian play Beirut, whose cast also featured two actors who were founding Ensemble Members and previous Artistic Directors of WSC, Jason Adams and Brian Desmond.)  "I plan in my head to come back every five or six weeks for a long weekend, to see shows and people, to keep in touch.  I don't think of it yet as moving.  I see it as a long commute.  I have too many ties here to move wholesale."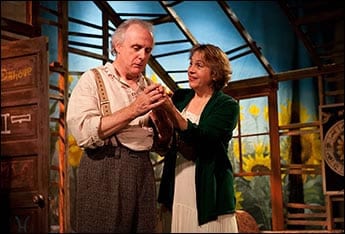 LMG is a recent graduate of the MFA program in acting at Catholic University of America.  "I knew I wanted an advanced degree for a long time.  I looked at it sixteen years ago; then I got pregnant," she said, describing how life interfered with her earlier plans to return to school.  After following her WSC time with a stint as Managing Director of Rep Stage in Columbia, "I knew I didn't want to be a Managing Director.  There are many out there who are better at that than me.  I wanted training, which I got" at CUA, which waived a bunch of credits because of LMG's vast professional experience.  She looked upon her return to school as "a turning point, an ability to re-boot, to go back to my core artistic passions."  With the degree in hand, she knew that she wanted either a teaching gig or a job as Artistic Director of a theatre.
Finding more postings for teaching jobs than AD gigs, she was pursuing those, and "that track was going well," LMG continued.  "Applications are tiring.  I did two for teaching jobs and thought, 'Why don't I do  one for an Artistic Director job.'  I needed a break from teaching applications."  She had seen the posting for the Nora job, and it looked like a good fit.  She was looking for "a particular kind of theater of a particular size.  I knew I'd never be considered for a larger theater because all of my experience was with smaller theaters."  That said, she felt she also "had the skills to run a mid-size theater.  I was not just blindly applying to anything."
At Nora, "the founding Artistic Director was leaving.  She was leaving voluntarily.  There was no drama.  The theater is on the verge of change anyway."  Nora was looking for a leader with "a broad-based set of skills.  That's the kind of theater I was looking for.  Nora seemed like a great fit, and I decided to apply."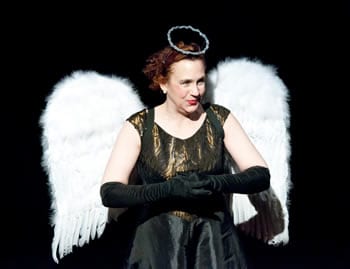 Nora's mission also appealed to LMG.  She described the mission as presenting contemporary and classical plays that give precedence to a feminist voice, and the company as a place that will "give a platform for women in theatre, a place for them to train and do their work, from actors to directors to designers to craftspeople.
LMG described the "really unique model" of Central Square Theater, the venue which  Nora shares with another company, Underground Railway Theater.  Though the two groups are "keeping their missions separate," they share not only a building, but also key administrative staff.  There is a Managing Director who works for both, and the P.R. and marketing teams work for both.  Calling it a "great space," she told me that Nora has only been in the building for five years.  In essence, each company programs half of the available time, "three or four plays a year."  She described the arrangement as a "next-step evolution, not only locally but nationally" in addressing the perennial challenge faced by theatre companies, finding and sustaining a viable performance space.
I asked if the name Nora was an allusion to Ibsen's iconic heroine.  LMG told me that one of the mentors of the out-going Artistic Director was named Nora.  By honoring her mentor and piggybacking on A Doll's House, the name of the theater was chosen.  "It's a goal of mine to do A Doll's House at some point, maybe in a version that doesn't yet exist."
Admitting that she has "a lot of questions and not a lot of answers right now" as she settles in, LMG said that next season (2014-15) will be the first that she will program as AD, a process that has already begun and which, it is clear from her description, is very collaborative.  "They have a whole matrix they look at" when settling on projects, including "what kind of audience they want to cultivate.  That's been interesting.  None of us expects everybody to like everything, but I expect an intelligent conversation and I'm getting that.  They know their audience."  Also, they were expecting to fill the position in August, she came on board much later, so the process has been "really quick."  That said, she's "really close" and wants to announce the season quite soon.
I asked, since LMG is an actor as well as a director and a manager, whether she expects to take part in all of those capacities at Nora.  "That's a question.  I hope to direct one and to act in one production" each season.
We talked a little about how LMG is getting to know the Boston scene, and she told me that she's already been able to see a lot of theatre and "gotten a taste of who's there, who's working."  Boston's version of the League of Washington Theatre's (currently dormant) "cattle call" city-wide audition is in April and will provide an opportunity for her to familiarize herself with the talent pool.  She added that it will be tougher to familiarize herself with local designers and that she will need advice staffing design teams.  Summing up her immersion effort, she called herself an introvert who has trained herself to enjoy the networking required in getting to know the city:  "I've gotten very good at six degrees."
We then talked about the Boston area.  LMG agreed with my impression that Boston feels like the DC scene did about twenty years ago, full of activity and energy and on the verge of a significant breakout.  She also mentioned the segregated aspect of Boston and said that this has been a bit of "culture shock."  However, the Central Square section where the space is located is one of the few diverse neighborhoods in the Boston area.  "I thought, 'It's like DC.  What's the big deal?'" when it was so described to her.  She also told me that community leaders are proud of the fact that many organizations in the neighborhood actually own their buildings, thus protecting small non-profits from being "chased away" should gentrification occur.  In Central Square, "they are proud of what they are and who they are."
Last Fall, after LMG was hired and as she was beginning to ease into the position, but before going North full-time, she acted at Spooky Action Theater in Tennessee Williams' two-hander The Two-Character Play.  The production had a strong response and benefited from the unique and intense history shared by its two actors as LMG was paired with David Bryan Jackson, with whom she lived for nearly ten years.  David is father of her afore-mentioned son Max Jackson.  Max is following in their footsteps.  And "I will say, as a proud Mom, that Max is nominated" for a Helen Hayes award as part of the ensemble of The Full Monty, which played last Spring at The Keegan Theatre.
SOUVENIR: A Fantasia on the Life of Florence Foster Jenkins
Closes March 2, 2014
1st Stage
1524 Spring Hill Road
McLean, VA
2 hours, 10 minutes with 1 intermission
Tickets: $27
Fridays thru Sundays
Details
Tickets
Part of the thinking behind casting the former couple as the brother and sister protagonists in Williams' play was that "with the long history together, there would be a natural sense of intimacy that there wouldn't be with other actors.  And it was true."  Although the two hadn't worked together in over a decade, "It was great."  In fact, "I might want to bring that to Boston.  I definitely want to bring
Caesar and Dada
," LMG continued, mentioning the world premiere of the play by Allyson Currin that LMG directed at WSC Avant Bard last Spring.
LMG brought up the subject of the potential inter-city exchanges that her move could facilitate.  "I want to bring artists up in all sorts of capacities.  I would like to do co-productions with companies in DC.  The more artists can travel outside of their comfort zones, the better for the artist, for the work."
We ended on a bit of a bittersweet note as it became clear that at least some of LMG's feelings of leaving us are mixed.  "There's a lot of cool things starting to happen in DC.  And then, I realized, 'Oh!  I'm leaving!'  But I'm not sure what my place in DC is anymore.  I don't know how I fit except as a freelance artist.  I didn't want to start a company.  So, to look out of town seemed the only logical choice."
DC theatre-goers who find themselves in Boston, and the many admirers of LMG's work as an actor and as a director, will certainly want to check out The Nora Theatre Company.  Meanwhile, Souvenir closes March 2.  Who knows when next we will get the chance to see her on stage around these parts?