Before you decide whether or not you want to see Disney's big new musical Aladdin I'm going to let you in on what it is, and what it isn't.
For starters, it's playing in the magnificent New Amsterdam Theatre on 42nd Street which Disney brought back to life in  1997, having restored from decay and oblivion the great Florenz Ziegfeld's favorite home for his Follies. I have no doubt he'd approve of its current tenant, for Disney has transformed one of its cartoon film successes into a lavish and opulent musical comedy, which looks very comfortable in its palatial theatre home.
Even before the curtain rises, we are treated to a million yards of what looks like Oriental carpeting doing double duty as a show curtain, slowly undulating as the breezes blow from backstage. When the curtain rises on  the square of the fictional town of Agrabah, we are greeted by Genie who will serve as narrator;  now and then he will step into the story and have a major role in that too. Ken Travis, the designer, has given us a sumptuous show. It's blunt, it's technicolor, it's fluid with buildings rising and sliding down again with great ease. It's the sort of town in which  a young Tony Curtis flew carpets in pictures at Universal with a very young Piper Laurie. Yvonne de Carlo had her share of Arabian princesses on her resumé. Turhan Bay could not act without a turban.  That's the world of this Aladdin.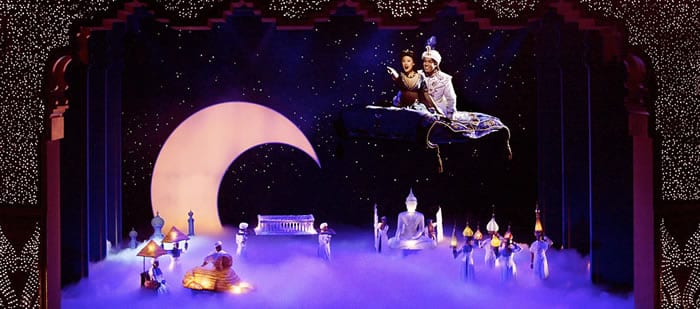 Into the mix Chad Beguelin, the book writer ( The Wedding Singer) has put a spin on super villain Jafar and his sidekick rolly-polly Iago, and turned them into low comic figures. Grade B film second features used to do this sort of thing, which is why you might find the Ritz Brothers or The 3 Stooges fooling around anywhere on earth —  they could easily be in Agrabah, which is where our hero Aladdin lives. He's a likable kid, an orphan, and though he has a good heart he lives strictly by his wits, so he and his 3 pals Babkak, Omar and Kassim are petty thieves and tricksters who've been managing to get by, constantly on the run from Jafar's henchmen and the cops that belong to the Sultan, the big cheese of this Arabian town.  Jafar kidnaps Aladdin and plans to use the bright and industrious boy for his own evil purpose, which he plans to lead to his ultimate takeover of the Sultan's place in the hierarchy.
It was the creative decision to go for this grade B Technicolor movie approach to the musical. So Aladdin and his lady love, the Princess Jasmine, are played by the most attractive Adam Jacobs and Courtney Reed, both of whom would have been hurled out to Hollywood in the early 1940s much as Mr. Curtis and Ms. Laurie were. These roles require innocence, beauty, and a modicum of talent in the song and dance department.
Acting is not required, in fact it might get in the way, as the demands of the characters are, to put it kindly, simple. The two young players onstage totally fill the bill, but theirs are not the sort of major first impressions once made by the likes of Mary Martin, Barbara Cook, Richard Kiley, Alfred Drake,  and others who were clearly headed for major careers on Broadway. It's not that the two young stars of Aladdin don't satisfy — they do – but it's mostly because they have good looks, teeth that in a smile register right up to the second balcony, beautiful hair (with help from Josh Marquette the Hair Designer,) and perhaps with the kind of material they've been handed, they are perfectly cast.
Which takes me to the writing of the piece — it's hokey, its plot is contrived and very thin, wit is missing, though one liners are plentiful. The music is bouncy and fun but totally undistinguished. It's better than, but from the same school as, the theatre music of Frank Wildhorn before he wrote Bonnie and Clyde.  It's all very pleasant, and in several cases, the score is helpful in allowing director-choreographer Casey Nicholaw to put on his dancing shoes and come up with lively ensemble pieces, and a number of trios and quartets that are great fun.
Aladdin's three pals have several opportunities; "High Adventure", "Somebody's Got Your Back" and the song that includes all their names, allow them  to make great sport with eccentric dance.  Jonathan Freeman (who created the voice in the film for the arch villain Jafar) and Don Darryl Rivera are over the top but in the spirit of the piece whenever they take center stage to let us in on their dirty doin's.  They are more hilarious than hissable, but that's consistent with the overall style. Little kids will not be scared. They may nap now and then, for it's a long show, so I'd leave them home (supervised of course) until they're at least ten.
James Monroe Iglehart is worth the price of admission all by himself. As Genie, this very large man with the grace of Zero Mostel and the voice of Brian Stokes Mitchell and an armful  of mime and movement talent all his own, is a knockout. One only hopes he doesn't literally knock himself out, for his "Friend Like Me" in Act One is one of those numbers you will never forget. It's Danny Kaye doing "Tschaikovsky" in Lady In The Dark, Ray Bolger doing "Once In Love With Amy" in Where's Charley?, Robin Williams vocally doing Jafar's song  in the movie and Bill Irwin miming in anything, all rolled into one staggering 10 minute showstopper. This number starts as a solo and builds into a quite thrilling number featuring almost the entire company.  Mr. Iglehart seems to be enjoying it as much as we do, and that's a lot.
So what have we got here?  A winner, I think.  Not a masterpiece, but a vibrant and crowd pleasing entertainment, giving employment to dozens of people and pleasure to even more. It's not the kind of show one discusses on the way home, I don't see it as the sort of classic that will be  revived every ten years. But if you are willing to leave all your intellect in the vast New Amsterdam lobby, if you want to see a carpet with two pretty people on it fly without visible wires, if you'll accept Howard Ashman and the late Alan Menken's engaging but very young score (with some posthumous help from lyricist Tim Rice), then get thee to the New Amsterdam and have a vacation from the real world for 2 1/2 hours of eye candy and harmless fun.
Disney Aladdin is onstage at the New Amsterdam Theatre, 214 West 42nd Street,  New York,  NY  10036.
Details and tickets
——————————–
Richard Seff, Broadway performer, agent, playwright, librettist, columnist adds novelist to his string of accomplishments, with the publication of his first novel, TAKE A GIANT STEP. His first book, Supporting Player: My Life Upon the Wicked Stage, celebrates his lifetime on stage and behind the scenes. Both books are available through online booksellers, including Amazon.com.
He has also written the book to SHINE! The Horatio Alger Musical which was a triple prize winner at the New York Musical Theatre Festival (NYMF).
Each year, Actors Equity recognizes the year's most outstanding supporting player with, appropriately enough, the Richard Seff Award