Broadway is moving closer to returning to the days of 25 actors filling a stage, of Street Scene and The Green Pastures and You Can't Take It With You, and this one plays out in suggested settings in Washington, Atlantic City, Atlanta, Mississippi and in corners and corridors of the White House.  With the help of photo visuals flooding the rear cyclorama, furniture and other decor wheel in, on and off the large stage of the Richard Rodgers Theatre, cleanly lit by Jane Cox before the crisp settings of Christopher Acebo.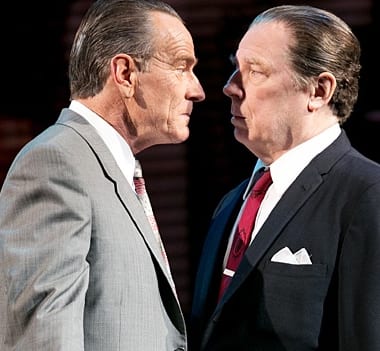 Of course all this would be pointless if the play Robert Schenkkan had written, All The Way, were not endlessly interesting and ultimately good theatre. It succeeds on both levels, scoring as a history lesson of the turbulent year 1963 and a suspenseful play allowing us to participate in Lyndon Johnson's uphill battle to gain the people's confidence after taking over the presidency from the slain John F. Kennedy.
At first he felt unwanted, but his great need to do the right thing, as he saw it, forced him to do battle with all the political and personal forces that deterred him at every turn. His battles with Senator Richard  Russell of  Georgia who felt he had betrayed his fellow southerners, with FBI director J.Edgar Hoover who fought him bitterly to keep the government out of his unit, with Governor George Wallace who held sway over the south, all of these and more offer material for conflict and even humor as Mr. Johnson moves slowly but irrevocably to his legitimate election in 1964 for a second term and the play ends with bands playing, people shouting, and Mr. Johnson himself announcing "I am President!"
This production is helped enormously by the adroit direction of Bill Rauch and the excellent ensemble cast he has assembled – those 25 actors playing at least 40 characters over three hours of playing time.
But it is Bryan Cranston, who, at 58, makes his Broadway debut in stunning fashion, emerging full blown on stage as a latter day stage worthy star in the tradition of the late Jason Robards. Cranston led an active life as a supporting player until he landed the star role for  five seasons on  "Breaking Bad", an excellent series which brought him into the homes of millions of people around the globe. He is the driving force in this meaty play in which he shows us the fierce commitment Mr. Johnson had to fight for what he believed was the fulfillment of the Kennedy presidency in terms of the expansion of civil rights to those long oppressed. But there is humor in this large Texan Senator Lyndon B. Johnson, and there is tenderness too, particularly in his relationship with his life-long bride, Lady Bird.  It's implied more than shown that he was a loving father to his two daughters as well.
To tell his tale, some excellent actors are called on to play familiar characters — John McMartin as Richard Russell,  Rob Campbell as George Wallace, Betsy Aidem as Mrs. Johnson, Brandon J. Dirden as Martin Luther King, Michael McKean as J.Edgar Hoover, Robert Petkoff as Hubert Humphrey and more. How could we not be interested in a story embracing an all star cast of characters like that?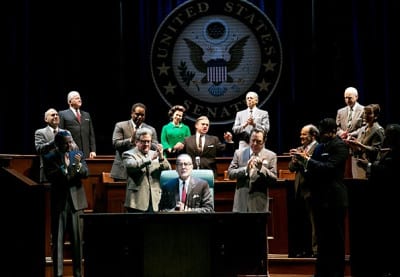 And as lesser known people of the time, I note Susannah Schulman in several roles, prominently as Lurleen Wallace, Roslyn Ruff as Coretta Scott King and others, and Ethan Phillips, who showed up every fifteen minutes or so as someone else. This excellent character actor first appeared as an ancient tailor trying desperately to fit a twitchy Mr. Johnson for a suit, followed by 3 or 4 men in varying hair styles attached to equally vivid characterizations, each of which was  complete in its brief moments on the stage. I finally had to determine when in fact he was on, by checking the program, for Stanley Levison, John McCormack, Seymour Trammell, Edwin King and the ancient tailor give him the opportunity to create the entire cast of another play all by himself.
The second act could be trimmed a bit, but though I am not usually enthralled by the inside story on the political process, I was connected to the very end. I hear there is another play in the works, a sequel to be called The Great Society, which will deal with Johnson's second term. If Bryan Cranston is willing to have another go at the man, I'll certainly sign up, and I recommend you do too.
———————
All the Way is currently playing at the Neil Simon Theatre, 250 West 52nd Street, New York, NY 10019
Details and Tickets

——————————–
Richard Seff, Broadway performer, agent, playwright, librettist, columnist adds novelist to his string of accomplishments, with the publication of his first novel, TAKE A GIANT STEP. His first book, Supporting Player: My Life Upon the Wicked Stage, celebrates his lifetime on stage and behind the scenes. Both books are available through online booksellers, including Amazon.com.
He has also written the book to SHINE! The Horatio Alger Musical which was a triple prize winner at the New York Musical Theatre Festival (NYMF).
Each year, Actors Equity recognizes the year's most outstanding supporting player with, appropriately enough, the Richard Seff Award