"Shamelessly co-dependent is what we like to say."
So Patti Kalil, co-artistic director, describes Pointless Theatre.  She is sitting beside a brightly painted backdrop before rehearsal for the company's next show, Sleeping Beauty: A Puppet Ballet – which has since opened and runs until May 3rd at the Mead Theatre Lab at Flashpoint.  She is there along with  co-artistic director Matt Reckeweg and Scott Whalen, co-director of communications.  (You'll notice the proliferation of cooperative roles.)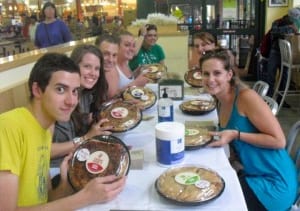 "We all live with each other and work with each other," Kalil says.
"Nothing like coming down for breakfast and finding out there's a development meeting in my living room, and trying not to get sucked into it," says Reckeweg.
"We have very little private space, but maybe that's why it works," says Kalil.  "We haven't tested any other way, but maybe we're too scared to."
"It'd be lonely," says Reckeweg.
Pointless is a model for an organically grown theatre company.  The group did not set out to establish their distinctive style that smashes "the traditional boundaries between puppetry, theatre, dance, music, and the visual arts," as their mission statement describes it but rather came upon it in the blend of personalities and visions among the familial company members.
Pointless's success with this model will be officially recognized when they are presented the John Aniello Outstanding Emerging Theatre Company award  at the Helen Hayes Awards on April 21st.  The award is presented to a young company who has "shown great promise in their early years" and "proven a lasting commitment with a body of work that is both groundbreaking and compelling."
The award "took us by surprise," says Reckeweg.  "It's a wonderful honor, and we feel really welcomed into the DC community."
"Nothing like being validated by our peers," says Kalil.
It has definitely made Pointless want to keep DC as their home, says Reckeweg.
"As Terps, you know, Maryland-DC is the core community that we can, what's the saying, dip our toes in?"
"Sink your claws in?" says Reckeweg.
"I think the Aniello award is a nice reminder that we're reaching a level of professionalism that is well-earned but still takes some getting used to," says Kalil.
The company began, as Kalil hinted, at the University of Maryland, College Park, where Kalil and Reckeweg – and a majority of the company members – studied theatre.  The two co-artistic directors met during a puppetry workshop and decided they'd like to tackle a student production together.  They set out, in the summer of 2009, to create an adaptation of Harry Nilsson's The Point!, originally an album and animated film.
"Through some events, copyrights, the show ended up getting canceled," says Reckeweg.  "That's where the namesake came from, we lost the point so we became Pointless."
Reckeweg and Kalil didn't give up, however.  "Through our heartbreak and disappointment in not being able to finish the project," Reckeweg continues, "we decided to do another project which ended up being Sleeping Beauty: the Ballet, in its original incarnation."
Asked if the name has come to mean more than just a reference to the company's origin, Whalen replies, "Absolutely… the name came from a very specific event, but since then it has sort of informed the way we approach theatre and we approach art.  Here at Pointless we take everything seriously while still taking it not seriously at all."
"There's certainly an irreverence in the name that speaks not just to our attitude toward our own work but also our attitude towards the work that we're adapting," says Reckeweg.  "We take that, we use that, and we have that sort of irreverent attitude of 'let's use that as our base but let's not treat that as sacred'… the name Pointless still speaks to us even five years later because it [suggests] more of a mentality and an attitude and a foolishness, that puppetry is often associated with."
"With a hint of sarcasm," Kalil adds.
"It's a little tongue in cheek," says Reckeweg.
After Sleeping Beauty was presented at Capital Fringe in 2010, they decided to collaborate again, returning to Fringe in 2011 with Hugo Ball, which won an audience choice award for Best Experimental production.  It became natural to continue working together after that.
"There was something… that wouldn't necessarily be fulfilled anywhere else," says Kalil.  "Some other big companies in DC started like that… At one point it always stemmed from a group of people, [whose] vision for their style of theatre was interesting enough that they [wanted to] develop it full on."  The three of them mention Woolly Mammoth and Signature, among other such companies.
SLEEPING BEAUTY: A PUPPET BALLET

Closes May 3, 2014

A Pointless Theatre production at

Mead Theatre Lab

916 G Street NW

Washington, DC

1 hour, 5 minutes, no intermission

Tickets: $20 – $25

Wednesdays thru Saturdays

Details and Tickets

"We should always be a part of the community," says Kalil, "but at the end of the day… this is our safe space to experiment."
The artists who joined the founding pair on Sleeping Beauty became the founding members, and the rest of the company was brought in on the next couple shows over two years or so.  While no one had any puppetry experience when they started, they all learned together through practice.
"It's been a big part of not just the philosophy of the ensemble," says Reckeweg of this tendency to keep things within the family.  "More than anything, that informs the progression of each work.  We can depend on the fact that certain performers discovered a style in one show and that carries over to the next show.  None of us had any experience in puppetry when we started."
"We've observed other people," says Kalil.
Now, almost every role, both administratively and within each show's cast, is taken by a company member.  Moreover, to date, not a single person who has joined the company has left, some even sticking with it while living as far away as Boston.
"All the company members have put in so much time and effort, it's almost a way of acknowledging their commitment," says Kalil.  "If we have a group of people who are dedicated to the artistic parts of the company or the administrative… it's a way of investing in ourselves."
The artists think of each show as a progression from the show before it, much as if all the company's work is one continuous project.
"One idea leads to the next idea," says Reckeweg.  "I think about the difference between this Sleeping Beauty and the last Sleeping Beauty."
"Everything's more sophisticated in every way, in the build and everything," says Kalil.
"And I think that's right word for it, everything's more sophisticated.  We did it," says Reckeweg.
"We did it," says Kalil, and the two of them high five.
Unsurprisingly, the company has developed certain shorthands for artistic communication, given all the time they've spent collaborating.
"A lot of our work is embedded in the fact that we don't hide our puppeteers," says Reckeweg.  "The puppeteers have some sort of relationship to the puppet that's independent of the puppet itself.  So we've developed a vocabulary for the different ways we approach that."
Now, the intracompany connection has deepened to the point where a total of thirteen company members live together, in four different houses within walking distance of each other in the Georgia Avenue area.  Previously, five different cast members even worked at the same restaurant for their day job.
"It sounds kind of crazy when you talk about it," says Reckeweg.
"Whenever we need to talk about things," says Kalil, "it's so convenient, you know?  Half of the battle of creating a company is…"
"…centralizing-" says Reckeweg.
"-and figuring out what it means administratively to have a company," says Kalil.  "Because at the end of the day we were theatre majors who studied art," and not business.
"And not having a centralized office space or theater of our own," says Whalen, "living close to each other does make it easy to be in constant communication."
Recently, Pointless has looked to expand their family in a different way.  They instituted their first membership campaign, soliciting donations in return for 'team membership' and perks.  It would appear lots of people wanted to be a part, as the company more than doubled their expectations of financial returns.
"I don't even know how to describe that support," says Reckeweg.  "It's just so incredibly wonderful that there are people out there who want to continue to see our work, and we feel so blessed and honored and lucky.  And, really, it charges us with even more passion to create more quality and dedicated work, because now it's not just us screwing around in our living room; it's a bunch of people who have said 'we want to invest in you.'"
"And while it does add some pressure," he continues, "it's done the opposite of what you would think pressure would do.  It's really invigorated our spirits and made us want to make even better quality work."
Kalil enthuses over getting donations from people that none of them knew personally.  "People would leave [their production of Minnie the Moocher], for example, and would have the impulse to donate just based on their experience in the show.  That's a strange and awesome feeling.  They loved it enough that they would donate."
"It's awesome enough to look out into the audience to see strangers," says Reckeweg, "It's even more awesome to get donations."
When asked what Pointless would do if they had access to all the money they could dream of, the imaginations of these artists who once put on a show titled Imagination Meltdown Adventure open up.
"There'd be a full orchestra, and like twenty dancers," says Reckeweg.
"And live sound design, other than the orchestra – live sounds," says Kalil.
"There'd be big puppets and small puppets," says Reckeweg.  "Everyone could wear makeup."
"And we could shove as many people as we want into that space because everyone who wants to come should be able to come," says Kalil.  "Maybe an arena.  Is that too big?  Maybe half an arena?"
"Maybe outside instead?  Maybe in a swimming pool?" says Reckeweg.  "We'd drain the swimming pool and there'd be dancing."
"We'd have the Olive Garden sponsor us, because when you're here you're family," says Kalil.
Reckeweg and the others remark on their disappointment that Olive Garden ceased to use and own that slogan.
"It would be like a dinner theater, too," Kalil continues.  "Like a really classy dinner theatre.  We like the idea of supper dinner theatre – really good food but also a really good show."
"Legitimately, the idea of having a bar in the theatre, more of a casual thing, something that isn't so stuffy and 'sit-in-your-seats,' although certainly some of the shows that we do require that," says Reckeweg.  "If we were ever able to have a theatre space, ideally it'd sort of be like a cabaret style, instead of a more traditional theater."
"I feel like that would appeal to people of our generation," Reckeweg adds, "and maybe be a more inviting type of theater environment, if it was more associated with a nightlife… somewhat like jazz clubs, back in the 30s."
"And theater is so hard to market to the mainstream audience nowadays," says Kalil.  "If you're going to go the theater and sit and watch something you might as well have a drink and sit and have a whole experience like you can have at a movie theater – but even better than a movie theater.  I would go to more theatre like that."
"I think that because we are such a young company I think we have a certain duty," says Kalil, "I think we have a duty to the younger generations of DC theater."
"I'd say responsibility," says Reckeweg.
"We're young artists in the making still, and we have to be able to speak to our own generation," says Kalil, "and force them to come to theater more."
"Invite them," amends Reckeweg.
"Make them!" says Kalil.  "Make them come."
"If you build it, they will come," says Reckeweg.
"Because I think sometimes the young people are hardest to get to come," says Kalil.
"We're here to experiment and to have fun and to offer something unique and fresh to the DC theatre community," says Reckeweg.  "We welcome all members of the community to come out to one of our shows and to stay and have a drink with us afterwards."
Asked more seriously about their future plans for the company, Whalen says, "Ultimately we'd love to have our own theatre at some point and have our own space."
"Make sure each show is successful enough that it can lead to the next show," says Kalil.
"To be able to support the administrative staff with compensation," says Whalen.
"Livable compensation," says Reckeweg.
Whalen says, "So we can truly be a self-sustaining company, and… to be a good business model as well."
To which Reckeweg says, "That's the dream."
To which Kalil says, "To maybe grow old together."
———————-
Pointless Theatre's Sleeping Beauty, Best Experimental Show at 2010 Capital Fringe

The Sleeping Beauty: A Puppet Ballet – The Battle from Pointless Theatre Co. on Vimeo.