Monday night, May 26th, after the cast party celebrating the opening of The Last Days of Judas Iscariot, Frank Britton was mugged and severely beaten on his way home. The injuries are serious but not life-threatening (thank God). He spent the night in the emergency room at Holy Cross Hospital in Silver Spring, where he is awaiting surgery tonight to repair a broken cheekbone and other injuries. (Fortunately, his eyesight was not impaired.)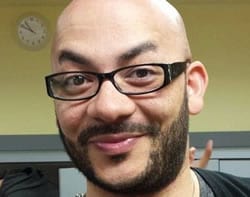 Frank is in considerable pain despite heavy medication; he seemed reasonably coherent if still understandably in a state of shock. Typically, his main concerns were with his family and friends—his cell phone and iPad were stolen, and he has been making phone calls to make sure the information they contained is not abused—and also with getting back onstage as soon as possible (of course!).
Michael Dove from Forum Theatre called after speaking with Frank this morning. "He is surrounded with love and is in good spirits …"  Forum is making arrangements to continue The Last Days of Judas Iscariot. "Frank would kick my butt if we didn't go on," Dove said with certainty.
Friends can find contact information along with messages from those who have seen and spoken with Frank on his Facebook page.
Frank is one of the hardest working actors in this town, and depends on his stage work for his livelihood. Medical bills will undoubtedly pile up after this attack, so let's chip in and make his full recovery easier, to which end a GoFundMe appeal has been posted:
www.gofundme.com/9kdxjo
Friends of Frank Britton on Facebook – the latest on Frank's recovery