The Atlantic Theatre Company, nestled in its own theatre in a church on East 20th Street, has come up with a winner in Between Riverside and Crazy, a taut and tingling family drama replete with the laughs that often come with bitter feuds and foul play that enliven days and nights of ordinary folks just livin' their lives as best they can.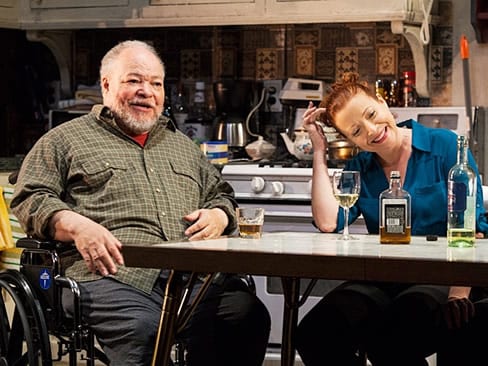 Here we have an aging and fading "Pops", wheelchair bound in his Riverside Drive rent controlled apartment in which he's lived with his wife (now deceased) and raised his family (his son Junior). Pops has his ways, and when we first meet he is playing host to Oswaldo, one of Junior's chronically unemployed friends. There is contention in the air, as Pops has all the old fashioned ways that are fading from society as each day passes, and Oswaldo is perfectly content to live by the seat of his pants, taking everything, undiluted, as it comes.
Daughter Lulu is leaving adolescence behind and moving into young womanhood with different values from Pops as well. Her shorts are too short for him, her blouses are far too revealing, and he's deeply concerned that she will come to no good.
Pops was once a cop, shot six times by a thug, hence the wheelchair. He is still in the midst of a trial, the outcome of which he is convinced will bring him closure, but great pressure on the part of the police department has been trying to turn him, the victim, into the one responsible for his own misfortune. The disposition of this trial will form the shape of this finely wrought piece of work by Stephen Adly Guirgis, long associated with the LABrynth Theatre Company via previous plays that have been performed on five continents and throughout the United States. His recent play, The Motherf**ker With the Hat, had six Tony nominations when it played on Broadway. But to my mind, this new effort at the Atlantic is the best of the lot. It is fully realized, on all levels.
From the moment it begins, in the apartment kitchen where Pops is munching breakfast cereal while Oswaldo lectures him on the advantages of gluten free bread, holistic nuts and berries, the language is beautiful — richly textured, filled with nuance and local color, totally naturalistic, but character revealing — and funny.
Each character who enters that kitchen brings another world with him or her — Pops' daughter Lulu, his ex cop partner, now Detective O'Conner (a lady), who is seeing Lieutenant Caro, a seemingly warm and caring friend of Pops who comes up with a proposal to end the eight year stalemate that has cast Pop out of the law enforcement community. There is also a Church Lady who comes to offer her assistance by claiming to be a psychic who knows all about Pops' past life, and whose advice is to settle the suit and get on with his life by compromising so that no one wins and no one loses.
The two act play offers brilliant character actor Stephen McKinley Henderson a career altering role, for Pops is complex, and capable of being far more interesting than the lovable old curmudgeon he would first appear to be. When the inventive plotting forces him to leave his chair and tower over everyone in his domain, Mr. Henderson is more than ready to take the stage, and drive the play home. One suddenly yearns to see him tackle Willie Loman, Lear and the less obvious Lady Bracknell to give Brian Bedford a run for his money. Always effective in plays by August Wilson, and most recently in the revivals of Fences and A Raisin in the Sun, Pops is the role that could easily propel Henderson's melodious name right up there to over the title on his next outing.
His supporting cast is perfection, with each actor contributing to the satisfactions of a glorious evening of contemporary theatre. Elizabeth Canavan, Victor Almanzar, Robal Colón, Liza Colón-Zayas, Michael Rispoli and Ray Anthony Thomas all bring credit to Austin Pendleton for helping to shape their work, and to Telsey+Company as casting directors, who found them.
Come to think of it, special mention to Mr. Pendleton who orchestrated the whole event as director. Tiny touches, like the cracking of a nut in the middle of a silent scene abundantly fill the living room, bedroom, kitchen and bath of this very atmospheric example of the 1930s and 1940s on New York's upper west side, when it would appear that is when Pops and family moved in. He's encouraged his excellent cast to play for real at all times, but to let 'er rip when the climax takes them all to higher heights. It's a shorter, less tangled family drama than Tracy Letts' recent August; Osage County and I wish it the number of prizes and the length of the run of that other winner from a previous season. It most certainly deserves them.
Atlantic  Theater Company's production of Between Riverside and Crazy is on stage through August 23, 2014 at the Linda Gross Theater, 336 West 20th Street, Atlantic Stage 2, 330 West 16th Street, NYC.  Details and tickets
—————
Richard Seff, Broadway performer, agent, playwright, librettist, columnist adds novelist to his string of accomplishments, with the publication of his first novel, TAKE A GIANT STEP. His first book, Supporting Player: My Life Upon the Wicked Stage, celebrates his lifetime on stage and behind the scenes. Both books are available through online booksellers, including Amazon.com.
He has also written the book to SHINE! The Horatio Alger Musical which was a triple prize winner at the New York Musical Theatre Festival (NYMF).
Each year, Actors Equity recognizes the year's most outstanding supporting player with, appropriately enough, the Richard Seff Award.