DC theater lovers are no strangers to the work of Donna Migliaccio. With a dozen Helen Hayes nominations to her credit, including two wins, and her leadership in helping Signature Theatre become one of the region's top theatres, she has shined both on the stage and off.
Migliaccio is currently playing the Old Lady/Blair track in Signature's Sunday in the Park With George, a musical she has a long history with, but a part that's brand spanking new to her.
"This is my fourth production of the show in this area," she says. "The previous three times I played the Nurse/Mrs., track and all three times was with Eric Schaeffer directing. This is my first time in a different role and not being directed by Eric."
Her first run as the Nurse was with the Arlington Players in 1989 when she and Schaeffer were, as she describes, "just fetuses" and getting established in the DC theater community. Back then Migliaccio didn't know much about the James Lapine/Stephen Sondheim musical.
"I had seen a video recording of the Broadway production that aired periodically on A&E, but I wasn't too wild about it," she admits. "I loved the music, but was not crazy about the book. I wasn't sure it hung together. But I knew it was hard to form an opinion on a videoed production because performance acting is a totally different beast."
Once she was at rehearsal and began hearing the pieces and the music and seeing how it all fit together, she started to understand it a bit more and changed her perception.
"So much of it is about the creation of art and a lot of the first act is about the isolation of creating art; there are things you might rather do, but you feel driven to make the art, and that's why George is so cut off from everyone," she says. "It was the second act, I was having trouble with. The second act is a contemporary time frame and the George of that era is more concerned with making money and his presence felt than making art and he feels that emptiness in his life. The drive is directed more towards the technical aspect of creating a frame for the art. That's when I got interested in it."
Migliaccio served as managing director for Signature during its first five years, and saw first-hand the challenge of striking the balance between wanting to do the things you want to do yet still having to exist and survive. She sees a parallel between the musical and that experience.
Her second time through the role was in 1997 with the Signature Theatre and Arena Stage co-production, and her third was as part of the Kennedy Center's Sondheim Celebration production in 2002.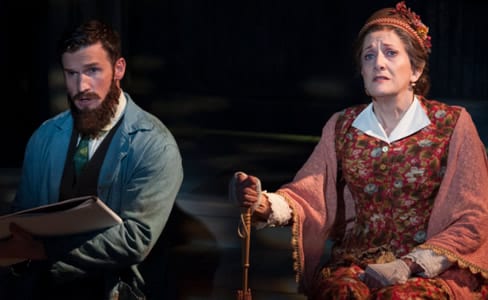 A quarter century after first appearing in Sunday in the Park With George, Migliaccio has "aged up" to the part of the Old Lady.
"I've had the privilege of working with three very good Old Ladies and everything I learned from them is sort of informing what I am doing now in the role," she says. "I was never that interested in the role when I was younger. Now that I am over 50, it's a much more interesting part to me because so much of it is wanting things the way they were—to freeze time—and you do feel that more intently as you get older. It never bothered me when I was younger but now I don't like to see things change so much, so I do have a little bit more of the Old Lady's skin."
It was her second time with the show when the Old Lady was played by Dana Krueger, who sadly passed away during the first week of rehearsals for the current show.
"She did some wonderful things and was a dear friend, and I feel her presence really strong," Migliaccio says. "This is my homage to her, to do this part she did so beautifully and I just hope I can do it justice."
One thing she enjoys about the role is that it's a bit out of her wheelhouse and once in a while she likes playing something so different.
"Traditionally, I play ball-buster women. I just came out of Mrs. Peachum in The Threepenny Opera, a ferocious character, completely without sentiment or fellow feeling," she says. "The Old Lady is anti-Mrs. Peachum. She's about sentiment and wanting to keep things the way they are. She is isolated as well but just because she is so involved in the past."
Maria Egler plays the Nurse/Mrs., track for this production, and while Migliaccio says she is there for her if she wants, she isn't forcing any ideas onto her.
"I try to leave her alone and step back. You don't want to say, 'When I did the part…' it's annoying," Migliaccio says. "She has had a couple of questions like technical things, such as 'how did you carry this big pillow?' but she has been wonderful."
__________________
SUNDAY IN THE PARK WITH GEORGE
Aug 5 – Sept 21, 2014
Signature Theatre
4200 Campbell Ave
(Shirlington Village)
Arlington, VA.
Tickets: $29 – $109
Tuesday thru Sunday
Details
Tickets
__________________
Migliaccio admits that during the first week of rehearsals she did want to jump in during the Nurse scenes, even having a kneejerk reaction at one point in a scene, but has settled down into her new role.
"Maria is very conscientious and on the ball and keeps me squared away with my blocking," she says. "She is the one driving what the Old Lady does. She has to sit me down, so you have to trust that person. I am grateful I have someone as steady as she is to lean on."
Also new for Migliaccio is her director, Matthew Gardiner, and the setting itself. "Every time I have done the show before, it has been on an enormous stage. The first time was the Thomas Jefferson Center in Arlington, the second was the Kreeger at Arena and the third was the Eisenhower at Kennedy," she says. "The stage at Signature is a postage stamp by comparison. We're also working in thrust, so we have an audience on the right and left and that's problematic when creating a two-dimensional piece of art. I've been much aware of the sides when before I never had to think about that."
Having been part of Signature since the beginning, Migliaccio admits that never in her wildest dreams did she envision it growing into what it has become.
"I don't dream big, but Eric does, and it's all been him," she says. "I enjoyed the old space, it felt like home to me. I love the new space, but it doesn't have the same 'Little Engine that Could' feel that Signature had back in the day."
After Sunday in the Park With George concludes, Migliaccio will head to Olney Theatre Center where she will take on the part of Ursula the Sea Witch in The Little Mermaid, a role more in line with what she's used to.
"It's fun to occasionally do something that is not your normal thing, it's relaxing but it takes a lot of concentration to stay in the character—it's like a little vacation," she says.