It is 2004. As the lights dim in the auditorium, a tall, powerfully-built man of late middle years slips unobtrusively into a seat in a back row. He is a critic. The week previous, he had reviewed shows at Signature, Arena Stage, and the Shakespeare Theatre Company. Now he is watching a community theater perform Inherit the Wind in a government building forty miles southeast of the Capital, in a theater which doubles as a bankruptcy court.
He takes out his notebook.
"Port Tobacco has a fine Brady/Bryan in the person of Tim Treanor who builds his character as the script requires," he writes later. "It is the meatier of the two roles because the character undergoes a transformation during the show, going from supremely confident and even egotistically overbearing through the emergence of doubt and finally to a breakdown which Treanor performs with painful effectiveness."
Brad Hathaway: world class theater expert.
I joked about it with him later. Brad didn't joke back.
"I recall that performance clearly and not just in hindsight nurtured by our subsequent friendship," he replied. "There was an honesty and intensity to that performance that remains with me to this day…isn't that a good reason to do what we do? And I'm not just talking about your performance, as solid as it was. The effort of the entire company was notable in that they concentrated their efforts on effectively staging a competent piece of drama and, through collaborative effort, accomplished it. I love it when people – professional or amateur – are working at their peak. "
And that in a nutshell is Brad Hathaway, who saw – and made us see – theater as more than a commercial enterprise. To Hathaway, theater was an opportunity for people on either side of the stage to enter art. It was an act of love, and an act of grace.
And like all such acts, it eventually comes to an end. With the July 10th edition of "Theatre Shelf," Brad Hathaway retired as a theater journalist.
* * *
It was Brad Hathaway's third Act, after a career in politics and in government service, and yet it was one for which the seeds had been planted early. His father had been assistant house manager at the Harlem Apollo and stage manager at Fox Brooklyn. His mother had been a ballerina and, after the Depression closed her house, a chorus girl. They moved out to Los Angeles, where Brad was born. Dad worked for MGM, Disney, Republic Studios, NBC. Mom became an extra, dancing in some of the Hope-Crosby "On the Road" movies and appearing briefly in "Gone with the Wind."
Brad became a politician.
Oh, he gave theater a shot. He stage-managed professional productions of Tevye and his Daughters (the play upon which Fiddler was based) and Death of a Salesman with Herschel Bernardi. But he discovered what many people in the profession discover: that there is a huge gap between what you earn and what you get paid.
He joined the army.
After he got out he enrolled at Las Angeles Valley College, where he was elected student body President. Then he transferred to Chico State, took a shot at the Presidency of that student body, but lost. He was discovering a gift for politics.
And by politics I mean in the Howard Baker-George Mitchell sense: people of differing viewpoints but good faith moving the ball forward, not the present-day bastardized version with folks sticking pencils in their noses to get attention and then calling their opponents the Great Satan and hoping to get on reality television.
Political success requires that a person be trustworthy, reliable, consistent, and honorable. And calm. Hathaway has these attributes in spades.
"He is completely unflappable," Barbara Bannon says. She has for many years been the Secretary of the American Theatre Critics Association, where Brad was Treasurer and, last year, Vice-President. They have had occasion to go to war together. "Situations may be tense and stressful, but you would never know it from Brad's low-key demeanor," she says.
* * *
Here's something you might not know about Brad Hathaway: notwithstanding his cool demeanor, he is full of passion. And in particular, passion for theater. It germinated in Washington when he saw a certain production of Sweeney Todd in a middle-school reception room
"At first all we did was subscribe to Signature – all?" Brad now writes. "That means we saw every Signature show from their first musical to the final show before our relocation. What a pleasure and what a privilege! I remember once interviewing Eric Schaeffer…and telling him that I'd purchased the seats by phone the morning the Washington Post's positive review of the show came out. He told me he must have been the one to answer the phone, as it was on his kitchen table and he'd had to tell his star, co-producer and fellow ticket seller, Donna Migliaccio, to save her voice for the evening performance."
He translated that enthusiasm into the Washington area's first theater website. "I'd been the Washington Correspondent for the website 'Theatre.Com' when it succumbed to the dot-com bubble burst of 2001/02. Teddie and I had talked about starting our own theater website but hadn't actually put together any plans. When Theatre.Com went down we had two weeks to get our own site up and Teddie did it all!" They finished just in time. "The last news item on the Theatre.Com website was 'Brad Hathaway's Coverage of Washington Theatre Continues on PotomacStages.Com' – and that link stayed live for months." It turns out that in those days, unless you paid the webhosting firm to take the site down, the site would remain on the net indefinitely. Theatre.Com, with its advertisement for Brad's site, was around for a long time.
Once Potomac Stages got underway, it went at it full bore. It covered all Washington-area professional theater, and a lot of community theater as well. Potomac Stages had one critic: Brad Hathaway. He saw every show, and wrote every review.
"We did see more than one [play] on some nights," Brad admits. "What I can't believe in hindsight wasn't the time it took to see the shows but that I could find time to write the reviews. It doesn't take a long time to see a show, but it does take time to figure out just what needs to be said about it and then to write it. A rave is easy to turn out quickly, but a balanced criticism takes care — and a pan is incredibly painful as you know everyone involved in the production was trying to do their best and deserves non-insulting descriptions, while the people reading the review to determine if they want to spend their money and time to attend deserve honest advice."
He had a secret weapon. "Fortunately, I had Teddie who edited every one of my pieces. She'd tell me when I was falling down on the job. It wasn't always easy for her to say it, and it wasn't always easy for me to hear it, but she had a way of couching it as 'you can do better than this' that didn't get my hackles up – bless her! I may have been the eyes, ears and voice of Potomac Stages, but Teddie was the heart and conscience of it!"
Teddie? I'm getting ahead of myself.
* * *
After graduation, Hathaway joined the staff of Clair Burgener, a State Senator from Southern California and, coincidentally, a one-time actor. When Burgener won a Congressional seat, he took Brad with him to Washington. (Hathaway must have done something right in DC. In 1980, Burgener won reelection with 86% of the vote against a major-party opponent – and set a record for votes received in a House race.)
Brad liked politics. He liked Burgener, and he liked working in Government. And then he discovered something he liked even more.
"Teddie was also working on Capitol Hill when I was in the legislative assistant/press aide in Congressman Burgener's office. She was personal secretary to another California Congressman and we met at a party hosted by one of the most gentlemanly and honorable lobbyists working the California delegation."
Hathaway had at that point pretty much forgotten the arts. But then he made a major score: tickets to a concert featuring Ella Fitzgerald, Count Basie and Oscar Peterson. He knew who he would ask to go with him.
"Do you like jazz?" confident Brad asked Teddie.
"No," she replied, nonplussed. But she went anyway.
"She brought (and still brings) the most astonishing commitment to get the most out of life for herself and those who are important to her by putting the most into everything," Hathaway now says. Months after the concert, they were married.
* * *
He joined the General Accounting Office and developed a specialty in reviewing budget requests. "In my twenty years with GAO…we tabulated the savings enacted by Congress due to the work of my teams at over $9 Billion." He joined the Senior Executive Service, and assumed responsibility for reviews of programs in the Department of Defense (principally the Air Force and Navy) and NASA's space programs. The final tabulation showed some 300 GAO reports over his signature or under his direction.
"This, unfortunately," he later wrote, "interrupted my experiencing the wonders of theater for two decades."
* * *
Testimonials
Here's something else you might not know about Brad Hathaway: among theater professionals, he is profoundly respected. And reasonably powerful. Nationwide.
He has been a longtime promoter – since that first Sweeney Todd – of Arlington's Signature Theatre. The American Theatre Critics Association, of which Brad is a longtime member, a six-year Executive Committee member, a Vice-President, and a Treasurer, recommends winners of the Regional Tony Award to the Tony Committee. Did Brad, who arranged for ATCA to have its annual convention in Washington in 2008 and to see The Visit with Chita Rivera at Signature have anything to do with Signature winning the 2008 Regional Tony?
Maybe. Maybe not.
Signature Theatre's Artistic Director Eric Schaeffer is more interested in Brad Hathaway the observer – the penetrating critic who understood a production for what it was. "Brad has always been a great champion of the theatre in Washington.  What I always found special about Brad was how he saw every single aspect of a production – from the actors to the design to the players in the orchestra.  He was always fair in his observations and supported the risks that we all took," Schaeffer said. "It was nice to have someone who not only recognized those risks but encouraged you to take more.  His criticism was always constructive and fair and reading one of his articles or reviews, you always learned something about the work or the experience.  That takes a special quality in not only writing but observing.  Brad's eyes and words will be missed."
* * *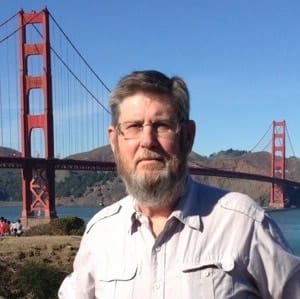 Hathaway's colleagues at the American Theatre Critics Association found him invaluable. Here's Jay Handelman of the Sarasota Herald-Tribune, a longtime ATCA President and now Chair of the ATCA Foundation:
"Brad Hathaway is the kind of reliable and hard-working person every organization needs. He does what he promises to do, usually on time or early. He somehow has made financial reports understandable to people, like me, whose eyes glaze over just at the thought of them.  He is a calming influence in tense situation, but with a good stubborn streak. He is good at coming up with language to get spontaneous proposals written and helping to forge compromises. I would always be happy to work with him again whenever the opportunity arises.
"But that's all business," Handelman explains. "On a personal note, Brad is just a helluva of a nice guy, interesting and interested and a pleasure to be around."
Here's what Chris Rawson, senior critic for the Pittsburgh Post-Gazette and Handleman's immediate predecessor, has to say about Brad:
"Brad Hathaway is a self-starter…What I most admire in Brad is not so much his initiative and energy, which are remarkable enough, as the freshness of thought he brings to subjects that more veteran critics might think settled. This means he could be a spur to others… Every significant exchange I've had with Brad has helped me see something in a new light. I expect no less of his future reports from this land called 'retirement.'"
Bill Hirschman, the editor and publisher of FloridaTheaterOnStage.com (which, along with DCTS, published Brad's "Theater Shelf" column) and the Chair of ATCA's new play Committee, which recommends the Steinberg-ATCA Award and the Osborne New Play Award said this about Hathaway:
"Brad Hathaway has had a significant effect on both the theater community and his critical colleagues. He was among the visionary pioneers who saw the cyberworld as a feasible and profitable venue for arts news and reviews when the rest of the profession was having trouble envisioning anything outside the box. He and Teddie generously shared their experiences with others, myself included, to replicate their efforts and to save us all a good bit of learning curve. On top of that, he was unfailingly encouraging.
"His service to ATCA isn't well-known outside the organization, but his Herculean efforts to straighten out its finances not only kept the organization functioning, but set it on more stable course. So whatever the group achieves going forward is built to some degree on his work. …
"This profession and the arts it covers are poorer for his kicking back for a well-deserved breather."
Lou Harry of Indianapolis Business Journal – who, like me, enrolled in ATCA in 2008 just in time to join Brad as he conducted us through the wonders of Washington theater, remembered him as a friend who made a new member comfortable.
"I first met Brad not as a critic but as a host. At the D.C. ATCA conference, his grace and kindness went a long way toward making this stranger in a strange organization feel like I belonged in the club. I've since gotten to know him more as a critic and a friend and have discovered that Brad is that rare thing: A wise mensch. It's an honor to be considered his colleague."
* * *
Despite its success, Brad brought Potomac Stages to an end in 2010. Typically, Brad took his move not because he was unhappy with where he was but because he was excited about where he could be:
"Teddie and I could have continued doing what we were doing and enjoyed it immensely for another decade or two, but it would have meant not doing something else. When that 'something else' turned out to be living on a houseboat in Sausalito, California (near their children and grandchildren). So we cut the cord. I wanted to pursue fiction and Teddie wanted to establish herself as a glass artist [among her creations: DCTS' Gary Maker Award] following her own retirement from the Federal government…and we needed the time to do that. Potomac Stages – as wonderful an experience as it had been – stood between us and our next adventure."
Hathaway's nine years in DC had a significant impact on how theater got covered here. Longtime local theater maven Gerald Gleason observed, "At a time when other sources could hardly keep up with all that was happening in the local theatre community, their – " meaning both Hathaways – "website, Potomac Stages, was an invaluable resource – not only for Brad's crisp and insightful reviews of local productions, but also for news and information on all things theatrical in the area.  It was a significant and wonderful contribution to the scene."
Local freelance theater critic David Siegel, who got his start with Brad on Potomac Stages' final years, learned what made a good critic from Brad. "Brad's guidance to me when I began to write for Potomac Stages: give readers a review that was backed up with understandable reasons 'why' … Inform with reasons; don't just opine.
"Brad's knowledge of theater production; especially his beloved musicals was encyclopedic." Siegel points out. "When he reviewed a show, Brad wanted to give readers a full sense of what they might see on stage.  He did not write to make himself the center of attention or get in the way of understanding what the performances and the production were aiming to do."
* * *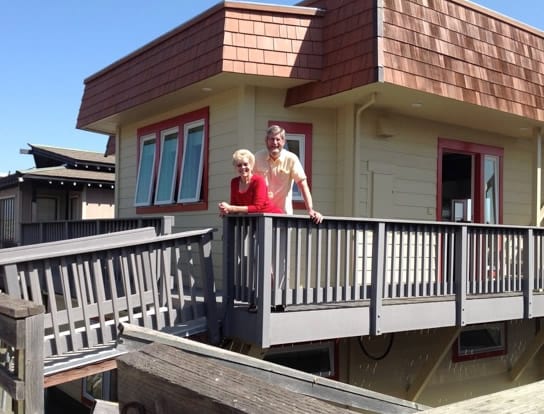 The deal about Brad Hathaway is that he sees theater as an opportunity to learn. And he can learn as easily from a low-budget production – even a community theater – as he does from Arena Stage or the Kennedy Center.
"In the Potomac theater community," he says, "the distinction between professional and community theater was blurred. I won't name names, but there were quite a few actors who performed in professional houses when they could get the chance, but would take gigs in community theaters to keep working between jobs. Some were simply extraordinary. Some were better in community houses than in professional ones because that would be where they could get their teeth into meatier roles.
"Of course," he admits, "the track record in community theater isn't as high as in professional theater, but there were times when groups like the Kensington Arts Theatre, the Eldon Street Players and the Port City Playhouse would just blow our minds. I treasure those memories."
In his later years, Hathaway began to explore theater in other countries. One of his last official acts for ATCA was to attend the international theater festival in Kerala, India. He talked about it later:
"Theater draws from and feeds the culture of its audience. Therefore, theater at the International Theatre Festival of Kerala I attended in India this year is very different from theater on Broadway. But, in the same way, theater on Broadway is very different from theater in Olney or Bethesda or 14th Street. Each theater effort shares values, assumptions and standards with the culture from which it springs so it doesn't take a ticket to exotic lands to expand your exposure to a wide range of theater. That is one of the wonderful things about the area your website covers as did mine – the Potomac Region has one of the most diverse and active theater communities in the nation if not the world and you can sample such a variety just be taking advantage of the local opportunities. "
Brad Hathaway understood theater as a way of enhancing human understanding. In his worldview, the theater critic sublimated himself to the art; reported theater as an indigenous part of culture; and stood equally with the humble and the great. He introduced dozens of people, myself included, into the wider world of theater criticism; he established the idea of web-based theater criticism in Washington; he opened the world of Washington theater criticism to dozens of critics (again, including myself) who would not have otherwise had voice. He stabilized a national critics organization. He helped bring Washington theater to national attention. He was an international theater critic. He was the theater critic for your local community theater.
Brad Hathaway: world class theater expert.
More:
While he has retired from the demands of writing a weekly column, Brad Hathaway has not shut down his laptop. He is pursuing other writing interests, which may find publication and may do occasional articles here on DCTheatreScene. You can follow him at his website: BradHathaway.com.
Brad Hathaway on DCTheatreScene.com
Other articles by Brad Hathaway
Brad Hathaway on copyright issues affecting theatre (delivered to the International Symposium of Theatre Critics, 2014)