There was for a time, in what we call the golden age of Broadway, a genre known as "the drawing room comedy". A select few of the major playwrights of the day wrote them, dressed them up in sets often designed by Donald Oenslager or Jo Mielziner. These rooms were so opulent they could only be inhabited by the likes of Lynn Fontanne, Katherine Cornell, Tallulah Bankhead, Ina Claire, Gertrude Lawrence, Katherine Hepburn and a varied assortment of leading men who usually played second fiddle to their glamourous co-stars.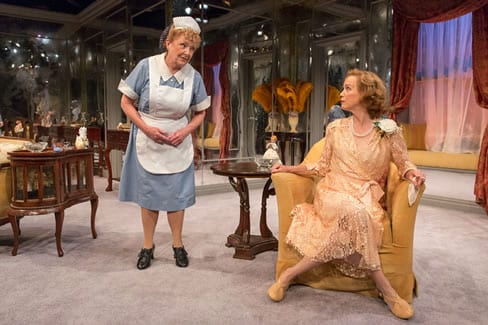 The writers were Philip Barry, Robert E. Sherwood, S.N.Behrman, John Van Druten and Noel Coward among others. And once in a while a more gritty playwright with a social conscience, someone like Sidney Kingsley or Elmer Rice (acclaimed for Dead End and Street Scene) would, just for the fun of it, give the genre a shot. Kingsley failed with Lunatics and Lovers, Rice hit the jackpot with Dream Girl. Each season offered some of these soufflés with romantic titles like Idiot's Delight, Private Lives, No Time for Comedy, Without Love, Foolish Notion, Reflected Glory, Keep It Gay and The Voice of the Turtle.
One of these major contributors was an ex-actor from Schuylkill Falls, Pennsylvania named George Edward Kelly, who had a keen ear for the foibles of his fellow Americans, so that by the mid-1940s he was highly regarded as a playwright for his "gift for quick, true and varied characterizations unsurpassed by any of his contemporaries" because his plays The Show Off, Craig's Wife and The Torchbearers, had all been Broadway hits. There were other plays too, a number of them, of varying success; they too ran the gamut, ranging from farce to character comedy to sober probing into drama.
In 1946 he brought the sublime Ina Claire back from retirement to star in his last attempt to light up the sky with a sparkling comedy about an overly romantic woman in her middle years who discovers her husband is having an affair. The play is The Fatal Weakness and the Theatre Guild brought it to Broadway where it enjoyed some tremendous acclaim, and suffered some dissent as well. Brooks Atkinson in the New York Times felt Mr. Kelly could not reconcile the play's sober themes with its shrewd sense of humor. He accused Kelly of "playing both sides of the street". Other critics, seemingly ahead of their time, found the play "fresh in its observations, three dimensional in its characters and human in its humor" and called it the first important new comedy of the season. But the postwar climate was introducing Broadway to the Actors' Studio and its complement of playwrights who were probing the darker side of human experience, so The Fatal Weakness limped along only for several months; Ms. Claire's popular appeal managed to keep it running for 119 performances, but except for a TV version in 1976 with Eva Marie Saint, it has long since faded from the scene.
Now along comes Jonathan Bank and his Mint Theatre company to unearth it, and to give it a sumptuous and elegant revival, fulfilling his promise to exhume forgotten shows deserving of a second chance. Right down to the tips of the designer shoes on both men and women, up to the accurate gowns worn by his predominantly female cast, all worn in the mirrored drawing room, sitting room, or to us common folks, living room, that helps the sparkling dialogue to reach our eager ears with all its freshness intact.
Credit for the execution of all this goes to Jesse Marchese, the Associate Director at the Mint, who has managed to put together a company of actors who understand style, who are fully equipped to handle the not simple demands of this kind of writing. It's not indicative acting, it's truth with a little spit and polish applied.
Starting at the top with Kristin Griffith as the lady with that fatal weakness, we are in the best of hands. In an atypical move, Mr. Kelly allows his leading lady to be discovered onstage, alone. Right away, we know he's going to put his mark on the Romantic Comedy, for it's traditional in this genre to allow the leading lady to have an entrance, usually after dialogue that includes "I think I hear her coming" or "That must be she at the door", followed by some offstage banter in which the star mentions the rain, or the heat, or the condition of the elevator from which she's just escaped. No, Mr. Kelly has Mrs. Ollie Espenshade onstage alone, fussing with the furnishings after which she disappears into her bedroom behind a mirrored wall before Anna, her maid, and Mrs. Mabel Wentz, her close friend, (there's always a maid, and often a best friend) come in to hand us a little expository material before the play moves on into first gear. Ms. Griffith, who has played the Mint several times before, has found herself a role which gives her beautiful face and form a chance to float about the stage in full command even as we learn of her insecurities and inability to cope with the growing evidence of her husband's ongoing affair with an offstage woman. She knows how to hurl Mr. Kelly's dialogue in all directions at once, not missing a beat to reveal a woman of intelligence and grace who will learn a great deal about who she really is in the course of the next two and a half hours of playing time.
That's a trifle long for a piece lacking a highly original plot, but in this day of "90 minute wonders" in One Act, I found it refreshing to take our time, to spend five scenes in three acts letting the words take us on a journey into a world now long gone — where people of means had little to do but think about themselves and those immediately around themselves. All the dreary work of daily living seems to be taken care of by others, all of whom remain offstage, except for Mrs. Espenshade's maid Anna, who is a very vivid presence. As played by Patricia Kilgarriff, she gives new meaning to the Stephen Sondheim lyric, "Heck, I'd even play the maid just to be in a show!". In her capable hands, Anna proves to be one of those small roles that define "there are no small parts, only small actors". She's a delight, and doesn't miss a trick.
With more to chew on, Cynthia Darlow as Mabel Wentz, confidante and best friend to Mrs. Espenshade (isn't that a doozy of a name?), is up there with the best of the leading character actresses of yesteryear. I kept hearing the voice of Evelyn Varden, who appeared almost every season, specializing in this sort of colorful busybody, and it was fun to watch Ms. Darlow inhabit those colorful togs, extracting every ounce of humor from her Mabel, whose chief occupation would seem to be chasing after rumors about the secret scandals of her friends. Victoria Mack and Cliff Bemis as Ollie's badly brought up daughter Penny and philandering husband Paul, are also delightfully adept at keeping the play rolling along, managing the difficult task of clearly hurling their incisive and often invective dialogue to us eager recipients out front. Completing the sextet Sean Patrick Hopkins manages to make Ollie's son-in-law Vernon an interesting worm turner, the very ill matched husband of Penny, who may well be better able to work things out with his wife by the end of the play.
As I said, Jonathan Bank is offering those of us who love theatre a chance to explore some of theatre's past, to see what was going on in the times in which these plays were written. Yes, this is an example of the sort of "well made play" dealing with an element of society that really doesn't exist any more. But movies never go away, and we often enjoy having a look at what once entertained and enlightened us in a less entertaining and enlightening time in our history.
I found much to admire in this Mint production, noticing the occasional overindulgence in the writing, and thinking to myself, "No Matter." I think if you love live theatre, you'll be well nourished with a visit to the Mint.
The Fatal Weakness is onstage thru October 26, 2014 at Mint Theater, 311 West 43rd Street, 3rd Floor, New York, NY 10036
Details and tickets
——————
Richard Seff, Broadway performer, agent, playwright, librettist, columnist adds novelist to his string of accomplishments, with the publication of his first novel, TAKE A GIANT STEP. His first book, Supporting Player: My Life Upon the Wicked Stage, celebrates his lifetime on stage and behind the scenes. Both books are available through online booksellers, including Amazon.com.
He has also written the book to SHINE! The Horatio Alger Musical which was a triple prize winner at the New York Musical Theatre Festival (NYMF).
Each year, Actors Equity recognizes the year's most outstanding supporting player with, appropriately enough, the Richard Seff Award.