Helen Bayer (Emily Townley) has multiple sclerosis. And ten minutes into this odd, funny, sad play – God forgive me – I was ready to throw her and her wheelchair down a flight of stairs.
Helen uses her horrible illness as an arrow in her magic box of manipulative resources against her own son, Matt (Chris Stinson), a high school senior who she is desperately trying to get to choose a college in Long Island, near home. Her principal weapons are shame (he was once busted for shoplifting; besides, she insists, he's not smart enough for a better school than the State University at Stony Brook) and guilt (how can he want a car, when so many people in the world lack for food? And worse – a German car! Has he forgotten the camps?) As for Matt, his secret desire is to find admission at the University of Southern California – only because the University of Pluto has not yet been established.
"The only nickname I could think for her was 'Hell'" her ex-husband Jerry (Michael Russotto) says to a friend at a bar, and when he says it he makes perfect sense. Jerry, an amiable psychologist who specializes in self-help books which makes it seem that anything is possible if your attitude is right, appears at first to be a godsend to the young man. Bluff and optimistic, he encourages Matt's aspirations and, wisely, absolves him from the need to be responsible for his parents' feelings. Also, he's buying Matt a nice car, which Matt can use to drive from New York to Southern California when his college term begins.
Having established this template in the first twenty minutes of this two-hour play, playwright David Marshall Grant spends the remaining time disassembling it. Helen's simpering neediness hides the fact that she really is in need, and that it is the moral duty of those who love her to respond to that need, even if they are only seventeen years old. (Multiple sclerosis is a disease which affects the nerve cells in the brain and spinal cord, disrupting communication in the body and often causing mental and psychiatric problems. It reduces life expectancy by five to ten years. There is no known cure.) Jerry's seeming generosity of spirit hides an overweening selfishness. He is the empty-calories pop, whose you-can-do-anything philosophy crumbles in the face of his ex-wife's illness. And Matt, who expresses his rebellion against his mother in fierce, crude, gross terms, eventually reveals a love for her which is even fiercer, and a heart bigger than either of his parents can imagine.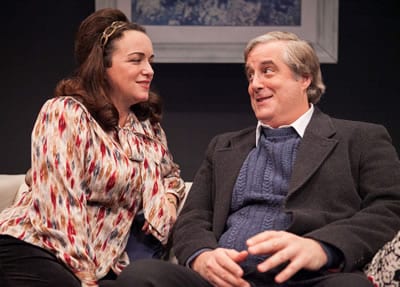 The dialogue in this play is not so substantial that it can succeed without first-rate acting. For this production, the Washington Stage Guild has assembled some of the best. Stinson, who was notably good as the semi-autistic foundling in Hub's Failure: A Love Story is completely convincing as a young man yearning (as young people generally yearn) to break free of his parents. Russotto has previously established himself as the go-to actor for a particular sort of character – the sweet man with the lunatic inside him (remember Woolly's Bright New Boise).
Jerry is as about as far from this man as you could possibly imagine, but Russotto has the acting chops to render him assuredly and – to the extent permitted by the text – sympathetically. And as for Townley – well, simply put, Townley is one of the best actors in the Washington area, on a par with Holly Twyford and Ed Gero. What Townley's Helen carries in her face during a conversation with her ex-husband in the second Act is worth about five pages of text – even though she's wearing sunglasses. They all benefit from being directed by Kasi Campbell, one of the area's best.
__________________
Recommended
PEN
Closes November 23, 2014
Washington Stage Guild at
Undercroft Theatre
900 Massachusetts Ave. NW
Washington, DC
2 hours, 5 minutes with 1 intermission
Tickets: $20 – $50
Thursdays thru Sundays
Details
Tickets
__________________
I must tell you that this play features a Shocking Development, near the end of the first Act. The Shocking Development does propel the action for a while, but, honestly, the play doesn't need it. There is enough here without it for us to understand the important stuff – which is the need to love someone whom illness has made unlovable. In that regard, the story this play is most like is Kafka's Metamorphosis, in which Gregor Samsa, breadwinner and hero to his family, suddenly contacts an affliction which makes him hideous to them. They eventually turn away from him: love becomes too difficult. When Helen reminisces about the days when she worked in an office, she is remembering the days before she lost the ability to walk but also the days before she lost the ability to feel joy.
The story is set in late December, 1969. There is only one reason I can think of for this. As the first scene ends, Matt has stalked off and Helen is alone, with the television. She is watching the Smothers Brothers. They are doing their famous routine: Tommy, whining and sputtering, proclaims "Mom always liked you best!" And Dickie tries to placate him with soft words and assurances. Helen, her hectic face contorted in pain and rage, watches wordlessly but you can tell what she's thinking. God always liked you best, she says, to everyone, to no one. And there are no soft words or assurances.
————————–
Pen by David Marshall Grant, directed by Kasi Campbell, featuring Emily Townley, Chris Stinson, and Michael Russotto. Set design: Shirong Gu . Costume design: Sydney Moore . Lighting design: Marianne Meadows . Sound design: Robert Pike. Stage manager: Arthur Nordlie is the stage manager. Produced by Washington Stage Guild . Reviewed by Tim Treanor.
PEN
EXTENDED!
Closes Nov 30
Website