Down at the Anacostia Arts Center, Brave Spirits Theatre is undertaking a little experiment, or "Shakespeariment", if you're as into silly made-up words as I am (which, if you're a Shakespeare fan, you very well may be.) They've taken A Midsummer Night's Dream, one of the Bard's single most popular, outright comedic plays, and placed it in repertory with The Two Noble Kinsmen, a rarely produced collaborative work between he and John Fletcher. Using the same company, same set, and many of the same creative motifs, the two plays inform each other and create a cohesive audience experience.
On my visit, I viewed both shows in the same day, with Kinsmen leading off. Theseus (Ian Blackwell Rogers) and Hippolyta (Jacqueline Chenault) are planning their wedding but get interrupted by the call of war. Victory comes quickly offstage, but opposing soldiers and titular noble kinsmen Arcite (David Mavericos) and Palamon (Willem Krumich) are captured, put in a prison cell with a courtyard window view, and become instantly smitten with Emilia (Carolyn Kashner), Hippolyta's sister. One man is released, one escapes, they go to war with each other for her hand. Also, Emilia has literally never met either of these men.
That last point, valued in the text but incredibly charged by modern context, speaks to the particular strengths of this production. Director Charlene V. Smith sensitively charges Kinsmen with gender insight into the play's men and women alike. Arcite and Palamon have a deep, sensitive bond, brought to light well by both Mavericos and Krumich. There is a particularly strong scene, in which the two armor each other for their coming battle, speak of their unconditional love, swear the "honor-bound" reasons they must fight…and seem to continually make excuses to postpone the inevitable. Their friendship is the true tragic romance of Kinsmen, and to see it unraveled by competition over a woman they seek to possess for shallow reasons is heartbreaking, and a nice reminder that, hey, feminism is good for men, too.
Speaking of feminism, Smith is especially strong with the women, from the robbed-of-power, pleading queens of the opening scene, to Hippolyta's solidarity with them, to Emilia's doubts and pressure from the complex role she has in the men's conflict and survival, to a subplot involving an unnamed Jailer's Daughter (Jenna Berk) who assists Palamon in his escape from prison and falls in love with him for her trouble.
For whatever reason, likely the combination of Berk's stellar performance and a ferocious clarity of purpose in Smith's direction of this storyline, The Two Noble Kinsmen crackles to life with the Jailer's Daughter in a way it never quite does in the rest of the scenes. Berk is often very funny, always deeply sensitive, and full of a magnetic stage presence. Her story flies forward, barreling towards its inevitable conclusion, and you never doubt for a second the complex arc of emotions played out by Berk, or the confidence with which Smith uses the storyline thematically. Between both shows, the Jailer's Daughter is the best reason to visit these productions.
However, it must be said that the company is unilaterally strong, with other highlights including Kashner's Emilia pleading to the gods for a just solution to the men's conflict, to Ben Lauer as a shady doctor tasked with treading the Jailer's Daughter.
——————–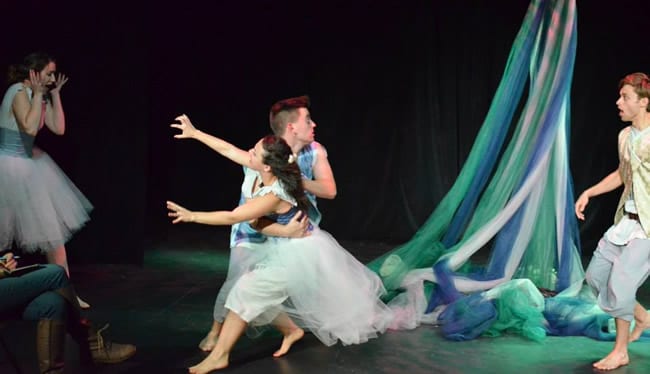 Midsummer, directed by Jessica Aimone, is much more familiar to audiences, and much easier to find on regional stages (I myself saw and quite liked Chesapeake Shakespeare's production just a few weeks before this one). Thankfully, it's one of my favorites, and much like my favorite cookie, I'm always ready for another.
__________________
Highly Recommended
THE TWO NOBLE KINSMEN AND A MIDSUMMER NIGHT'S DREAM
Closes December 7, 2014
Anacostia Arts Center
1231 Good Hope Road, SE,
Washington, DC 20020
Tickets: $20 each or $30 both
Fridays thru Sundays
Details and Tickets
__________________
Once again, we meet Theseus (still Rogers) and Hippolyta (still Chenault), ready to get hitched. But something is different this time. Now they bristle with comic lightness, and their planning is interrupted not by the cries of war widows, but by Egeus (Joshua D. Brown) complaining about a familiar lovers quandary: Lysander (Lauer), is pursuing Egeus' daughter Hermia (Renana Fox), but he's already promised her to Demetrius (Mavricos), who has already…created expectations, shall we say, with Helena (Amber A. Gibson). Everyone runs off into the woods, mischievous fairy Puck (Anderson Wells) uses magic to change who's in love with whom, rustics rehearse a play, and everyone lives happily ever after. You know the plot of this play.
Comic energy does a service to the already great cast, who almost unilaterally up their games from Kinsmen. Wells makes for a particularly sensuous Puck (aided by some well-timed guitar riffs from an offstage Joshua D. Brown), Rogers and Chenault get to bristle to life when they double into the fairy regency of Oberon and Titania, and Mavericos and Lauer get to have some fun playing male competition for love for laughs.
Once again, things go particularly well for the women, as Aimone guides a pair of unique and deeply grounded performances from Fox and Gibson. Fox's Hermia is physical, fast, bubbly, and highly optimistic, which leads to a very memorable musical sequence to close the first act, and also forms the most overt emotional connection to Two Noble Kinsmen in that moment. Gibson, meanwhile, offers a much more anchored, seriously wounded Helena, less crazed than coping. Her comedy gets to come in once all the spells have been cast and the tables turn for the men, and the more serious set up for the character actually pays off with bigger laughs in the latter action.
And the of course there are the Mechanicals, led by Bottom (Kelly Elliott). Elliott is appropriately over-enthused as the stage-struck weaver, working overtime to keep her stage from being stolen by ringleader Quince (Brown), lady dudebro Snout (Kashner), tall and deep-voiced Flute (Krumich), poised lantern-wielder Starveling (Zach Roberts), and introverted techie Snug (Berk), the latter of whom becomes ohmygodthecutestlittlelionyoueverdidsee!…err, sorry, the Lion. The company's Pyramus and Thisbe is, naturally, the highlight of the show, a successful showcase for a crew of very well developed supporting characters. And for the trouble of actually, y'know, appearing in other parts of the show, Elliott's Bottom undergoes a pretty funny transformation with a good vocal bray, and one other "major addition", which was a great idea with the casting of Kelly Elliott, and one that I only wish was comedically set up and paid off a little bit more.

For both shows, the costuming by Melissa Huggins is simple and effective, though there are occasional doubts over whether new pieces are meant to represent new characters (primarily in the less familiar Kinsmen). A ribboned maypole, devised by the directors and constructed by Mike Salmi, offers a colorful backdrop and some clever staging variety. And with a fairly limited lighting rig, Jason Aufdim-Brinke creates a number of lovely stage pictures, and ably assists in the comic "pop" of Midsummer.
However, the secret weapon of both shows is the use of music, curated to weave between both shows, certain songs symbolizing certain ideas, and developing over the course of some 4-plus hours with a company. Arranger, composer, and music director Zach Roberts has done some great work in that regard, while the entire rest of the cast lends their voices, along with various other instruments, to create this highly effective through-line. One would never have presumed that Billy Idol and Pete Townsend could create such emotional resonance.
I certainly highly recommend visiting. The two plays working together, along with the rareness of Kinsmen, make it too good an opportunity to pass up. My experience has me preferring that you see Kinsmen first with the happy payoff of Midsummer, but I can't speak to it being configured the other way. It certainly did feel that seeds sowed during Kinsmen were meant to bloom during Midsummer. I don't even know for sure if I would be so strongly recommending each play separately.
But such is the power of good repertory.
—————
Two Noble Kinsmen by John Fletcher and William Shakespeare . Directed by Charlene V. Smith .
A Midsummer Night's Dream by William Shakespeare . Directed by Jessica Aimone .
Repertory cast: Jenna Berk and Ian Blackwell Rogers. Performing with us for the first time are
Joshua D. Brown, Jacqueline Chenault, Kelly Elliott, Renana Fox, Amber Gibson, Carolyn
Kashner, Willem Krumich, Ben Lauer, David Mavricos, Zach Roberts, and Anderson Wells. The
production also includes lighting design by Jason AufdemBrinke, costume design by Melissa Huggins, and puppetry design by Genevieve Beller. Produced by Brave Spirits Theatre. Reviewed by John Dellaporta.
A MIDSUMMER NIGHT'S DREAM and THE TWO NOBLE KINSMEN
Closes Dec 7
Website